Sometimes, one problem in a garden layout can get in the way of everything else. Yet, this same problem, however impossible it seems, could be the making of your outdoor space. In my new book, My Garden is a Car Park: and other Design Dilemmas published next month, (US title: The Problem with my Garden), I tackle problems big and small—many of which we also will solve, starting today, in a new Gardenista column, "Can This Garden Be Saved?"
Problem: Your garden climbs steeply upwards or drops out of view, making it difficult to mow and use, since no one feels like venturing up or down.
Solution: Create zig zag paths and plant grasses (or wildflowers) that you don't need to mow.
Photography by Jim Powell.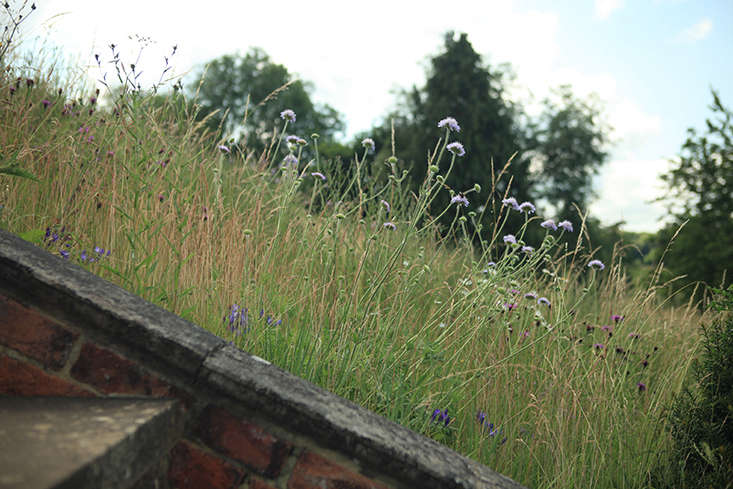 Above: Mowing on a steep slope is not fun; even on a ride-on mower. An idea of of grass would be more interesting if it was in the plural; with grasses allowed to grow long and supplemented with wildflowers.
Above: A steep garden doesn't need steep paths. Horizontal widths of short green grass can zig zag across colorful and wilder 45-degree slopes. There has to be some horizontality to steady a garden and give it a sense of calm. Any flat planes will be handy for lawn games or eating. If there are none at all, get the diggers in.
Above: Some of the best gardens have been made on hillsides. Think of Hidcote Manor in the English Cotswolds, divided into a series of garden rooms, separated by stout yew hedges. The gardens are never seen all at once, while the problem of exposure is simultaneously addressed.
At Easton Walled Gardens (shown Above), the river that runs through the lower part of the garden had for a long time been accessed via wide terracing. In the old days, before the main house was demolished, the staggered lawn was kept immaculate, by a team of gardeners. The wide horizontal paths, bisected by a staircase, have been maintained, being a good solution to the steep incline. They are simply shaggier, and alive with pollinating insects.
Above: The grass on the terraces at Easton is allowed to grow long. It has become a meadow, with wildflowers added either as plugs or sown from seed into bare patches of earth. To reduce the vigor of grass, yellow rattle (Rhinanthus minor), a good-looking grass parasite is useful. Effective germination relies on winter chill.
Above: The soil at Easton Walled Gardens was depleted and poor when Ursula Cholmeley, who has reclaimed the garden from the wilderness since 2001, took over. She saw this as an advantage: limestone soil with low fertility is perfect for wildflowers. Besides scabious (Above), the terraces support colonies of knapweed, wild marjoram, lady's bedstraw, fox-and-cubs, and umbels of wild carrot.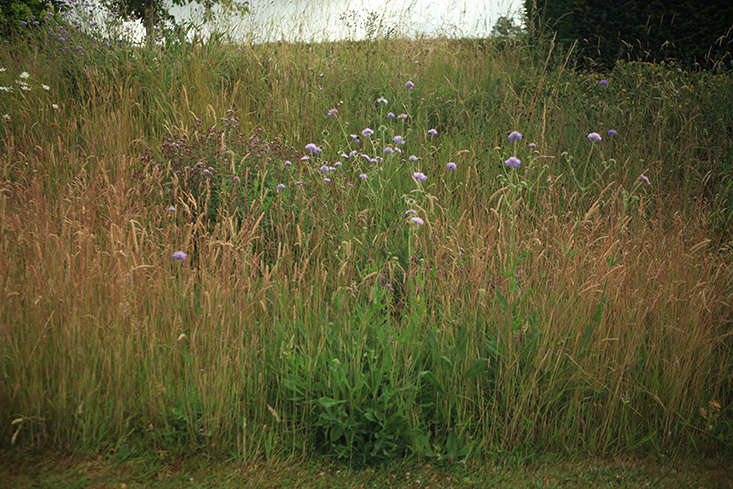 Above: A real advantage of gardening on a slope is the view of plants, which can be appreciated from new angles. Outside a window, or by an outdoor seating area a change in level (with the aid of a holding wall) is an excuse to plant things that deserve closer inspection, like hellebore, or to enjoy the scent of ground hugging wild flowers like primrose and violet.
N.B.: For more garden design solutions, pre-order My Garden is a Car Park: and other Design Dilemmas for £12.99 from Amazon UK. For US readers, pre-order The Problem with my Garden for $17.99 from Amazon.com.
(Visited 450 times, 1 visits today)