Gaura, G. lindheimeri: "Dancing Ballerinas"
Thank goodness that gaura, a once-obscure Texas roadside wildflower, was "discovered" in the 1980s and became widely bred for the garden. These days I routinely add perennial gaura, which also goes by the name beeblossom, to garden designs if I want to create a sense of movement and informality.
Please keep reading to learn more about this whirling beauty.
What I love about this clump-forming perennial is that gaura is a plant contradiction. When gaura is in glorious full bloom, its slender stems are topped with demure ballerina-like flowers that dance to the slightest breeze. A gardener might deduce it is therefore a delicate, fussy prima donna. But on the contrary, gaura is remarkably low maintenance and withstands tough elements such as deer, wind, and heat.
Because I am fascinated by the origin of names, I find it interesting that the genus name comes from the Greek word "gauros," meaning superb. Obviously this refers to the extraordinarily charming flowers. While I must admit that gaura can look disheveled at times, I plan for this period by making sure its plant neighbors are supportive and can tolerate being leaned on by the swirling flowers. A quick trim and corralling of gaura's wayward stems, and it is back to being superb.
Among my favorites: 'Whirling Butterflies', with arching stems topped with pink flower buds that open to white flowers. This variety is compact and floriferous. Another of my favorites is 'Siskiyou Pink', with rose pink flowers on its notably wispy stems.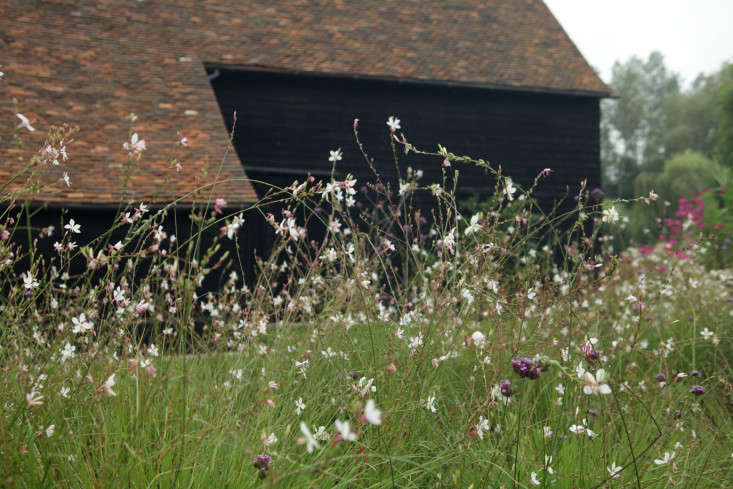 Cheat Sheet
Combine gaura with other low-water perennials such as coneflower, ornamental grasses, and yarrow in a wildflower garden. Gaura also moves and sways sweetly, so consider adding it to coastal gardens where the wind is appreciated.
Gaura grows to about three feet tall and wide when in bloom.
It blooms from late spring well into fall, with flower colors ranging from white to shades of pink.
Butterflies and bees are frequent visitors for the nectar.
Keep It Alive
Gaura needs full sun and plenty of room to spread its arms.
It thrives in well-draining, sandy soil and doesn't require much fertilizer; too much rich soil actually makes gaura floppy.
Cut back the spent stems by half after the first bloom to encourage new tidy growth and repeat flowers.
Gaura does not always overwinter reliably, so in colder regions consider it an annual.
For more growing tips, see Gaura: A Field Guide to Planting, Care & Design in our curated Garden Design 101 guides. See more design ideas for perennials:
(Visited 1,522 times, 5 visits today)