The winner of the 2018 Gardenista Considered Design Awards Best Amateur Garden is Kielian DeWitt for her project Floral Serendipity in the Bitterroot Valley of Montana.
The project was chosen as a finalist by guest judge Erica Tanov, who had this to say: "I love the cacophony of color and interesting choice of flowers with varying height levels in this lush garden—especially the white snakeroot towering above the hollyhock and echinacea."
N.B.: This is the second of six posts spotlighting the winners of the 2018 Gardenista Considered Design Awards. Go to this year's Considered Design Awards page to see all the entries, finalists, and winners, and to have a look at the Remodelista Considered Design Awards.
Kielian DeWitt's Design Statement: "Established in a valley between the Bitterroot and Sapphire mountain ranges, this high-altitude garden entertains us with its evolving and often unusual combinations of blooms composed of nature's brilliant palette. The 10-year-old gardens boast a colorful English garden design theme."
Gardenista: Where do you live?
Kielian DeWitt: I live in a narrow valley between the Bitterroot and Sapphire mountain ranges in western central Montana. Our home sits on a beautiful 66-acre ranch along a three-quarter-mile stretch of Skalkaho Creek. The house design was inspired by a trip to Argentina; there we saw Patagonian rustic stone and log houses that seemed perfect for the base of our two rugged mountain ranges. The finished home appears to have been here since frontier days—chinked log walls mix with native Montana rock and batten board. Massive fir timbers and arched fir braces adorn the exterior and interior, and rusted Cor-ten roofing covers passageways and overhangs.
The expansive gardens cover two acres and are designed for four-season color. The gardens sit within native cottonwood and aspen forests, which have been supplemented by approximately 150 blue and green spruce trees, Lodgepole, Austrian, Scotch, Ponderosa, and Bosnian pine trees, and cedar and tamarack trees. A small orchard with plum, pear, cherry, apple, and peach trees sits at the southern edge. A quarter-acre vegetable garden is situated near a large pond stocked with colorful rainbow trout.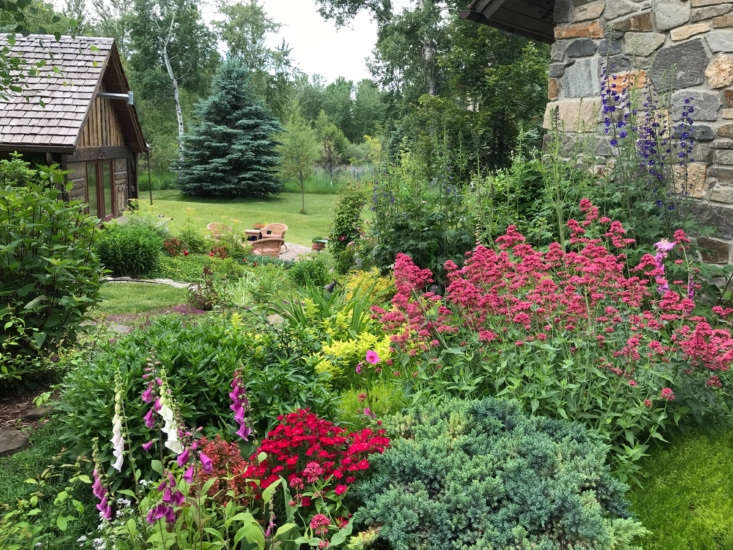 GD: What were your practical goals for the project?
KD: My goals were a little less practical than my husband's. I envisioned a vast garden covering several acres, but common sense (my husband) prevailed and we downsized the extensive plan. I wanted to limit weeding as much as possible, so I covered every bit of ground with flowers, ground cover, and shrubs. This resulted in the cacophony of color I wanted. However, despite all my planning, Mother Nature ultimately decides which plant ought to grow where. Spontaneous reseeding, nature's hybridized cultivars, the appearance of native species, and seed-dropping birds all altered the intended design. But, as I've learned, Mother Nature and I together can make the most beautiful "Serendipity Gardens."
GD: What solutions did you find to your design problems?
KD: Once house building was completed, we had to manage steep and varied ground level. We began hardscaping with mortared and stacked stone terraces, flagstone patios, stone pathways, and retaining walls. Delightfully, some areas became sunken gardens crazed with meandering pathways. Management of bothersome spring and summer runoff near the house required the design of a seasonal creek bed with a wood-and-stone bridge. This practical requirement is now one of the most charming locations in the landscape as Mother Nature adorned either side with pink and rose yarrow, columbine, alyssum, and reseeding veronica.
GD: What are your favorite features of the project?
KD: The decks in the front and back of the house are lovely. The shady front porch offers 270-degree views of the gardens: the bridge and horse barn to the north, the Sapphire mountains to the east, and the greenhouse with adjacent sunken garden and creek to the south. The back deck opens to a view of the Bitterroot mountain range, 25-foot towering maple trees, blue spruce trees, and the pond complete with its waterfall and small stone pump house.
GD: What were the hardest lessons you learned along the way?
KD: Although now it seems like the most obvious thing to avoid, I planted three aspen trees on either side of the front walkway. They are beautiful in the spring when their rounded leaves flutter in the wind and they are dreamy in autumn covered in brilliant gold, but they produce baby trees everywhere their root system wanders. I am constantly cutting "shooters." These aspens will slowly be removed as adjacent trees mature.
Another lesson I learned the hard way was the limitations of weed cloth. It is a fine option for a stagnant landscape where only shrubs and mulch are used. However, in a constantly evolving garden where additional plants and annuals may be needed or shrubs expand or reseeded areas grow unwieldly, the cursed weed cloth must painfully and slowly be pulled, cut, and eventually tossed.
GD: Where did you cut corners?
KD: Particularly at the very beginning when our landscape budget was tempered by the shock of building costs. I bought sale plants, accepted any and all donated plants from friends, and dug up native plants from elsewhere on the ranch. It took a few years before specific cultivars and designated plantings were incorporated. However, serendipitously, necessity also contributed to the resulting English garden style.
GD: What projects would you tackle if you had an unlimited budget?
KD: The three-quarter-acre pond west of the house is surrounded by grasses on the north side. My dream is to create a Piet Oudolf–inspired meadow garden with swaths of native shrubs, drought-tolerant plantings, and reseeding annuals interspersing the tall native grasses. A stacked stone wall outlining the far reaches of the Odoulf meadow—also visible from the back deck—would create the feeling of enclosure yet still allow wildlife to wander freely to the water. I would love to build a similar wall to encircle the front gardens, orchards, and grass area adjacent to the house entrance and greenhouse. My last major project would be to create a tree allée in the meadow connecting the house to the horse barn.
GD: What is your day job?
KD: I am retired now but worked as an environmental scientist for the National Renewable Energy Lab. I spend my days gardening, traveling, cooking, and raising gaited Morgan horses.
GD: Which garden designers, gardeners, or landscape architects do you admire?
KD: Obviously Piet Oudolf, the Dutch 'natural garden' designer who challenged gardening convention, is an inspiration: "Everyone in life tries to control things all the time, but when you get older you know that you can't, so you try to find a way to control less, and that's what I do in gardens." As I too age, I find I am increasingly embracing his concept of "controlled garden chaos."
Beatrix Potter, the famous creator of Peter Rabbit, designed a romantically whimsical cottage-style garden. She acquired plants wherever she could, "shamelessly taking them from other people's gardens." She very well may have been the  first "seed guerilla."
Gertrude Jekyll, the prolific British horticulturalist, designed a beautiful and inspirational wild garden at Upton Grey manor. Her apple orchard with spring bulbs planted at the base is ethereal and her relentless cataloging of acquired plants, enviable.
See more of the winners in our 2018 Considered Design Awards, including:
(Visited 216 times, 1 visits today)