Cedar of Lebanon: Cedrus libani: "The Protector"
Its prevalence around solid houses of a certain age shows us that once, this was a must-have tree. Towering, yet slightly eccentric, Cedar of Lebanon has a grandfatherly presence, adding distinction to any landscape.
Photography by Kendra Wilson, except where noted.
Above: Despite its name, Cedar of Lebanon is synonymous with English  country house gardens. Despite its exceptional size and susceptibility to wind damage, it is often found close to buildings. Of course, the people who planted them did so in good faith; they knew that they were unlikely to see them at maturity. Photograph by Britt Willoughby Dyer.
Above: Around the Mediterranean, and indeed the Lebanon, where it is most at home, Cedrus libani is more of a consistent spruce-like shape. It is well-adapted to growing at altitude, yet when Cedar is transplanted to more exposed areas, like an English park, it takes on a hardier character: still growing tall and wide, while losing a limb here and there.
Above: Planting a Cedar of Lebanon requires foresight, as it takes at least 50 years to reach maturity. Were gardeners of an earlier time more generous, planting this magnificent tree in the knowledge that they'd never see its full effect? It could and should be planted more frequently now, though we seem to require more instant results.
Cedar is a tree associated with the Landscape Movement and "Capability" Brown. He gave the owners of Elvaston Castle in Derbyshire some cedar seedlings as an apologetic gift, having turned down a commission for developing the park there, for "a want of capability" in the flat terrain.
Cheat Sheet
Native to the eastern Mediterranean. Cedrus libani happily reaches 115 feet, in favorable conditions. The trunk can reach a diameter of about 8 feet.
Cedar trees contrast brilliantly with any building, whether brick, stone, or render.
Cedar of Lebanon is a conifer, a member of the Pinaceae family.
Above: When you own your view, the distinctive shapes of Cedar of Lebanon are useful markers. Sezincote in the Cotswolds, surveyed here from the high ground behind the house, was remodeled in the Mogul style by a British colonialist. The trees would have formed part of the older estate around a Jacobean house.
Keep It Alive
Cedar has thrived in northern Europe since at least the 17th century and deserves to be planted more, as long as it is given the space it requires.
It grows at altitude, in dry conditions; hailing from the eastern Mediterranean. It is native to the Lebanon.
Cedar of Lebanon is not difficult to source. In the United States, it will tolerate temperatures from zones 5b through zone 9.
Above: The Cedar at Cottesbrooke Hall in Northamptonshire has lost a few branches over the years and even a companion tree, which toppled over, perilously close to the house. It gives drama to the Terrace Border, designed by James Alexander-Sinclair.
Above: At Cottesbrooke, the gardens around the house do not have the feeling of being overlooked by the house but by the cedar tree.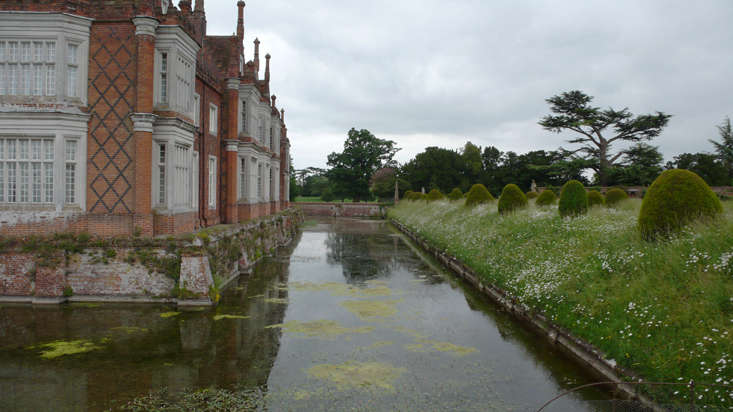 Above: Helmingham Hall in Suffolk has it all, including a moat and several Cedar of Lebanons, both young and old. They perfectly complement the Tudor architecture, though this could be said for Queen Anne, Georgian, Victorian, or Edwardian buildings. Let's see more pairings with 21st century architecture.
Above: For such a loved tree, it is worrying that old stock is not being replenished. Yet some people with space are still planting them, for instance at Grimsthorpe Hall in Lincolnshire and Helmingham Hall (above). Young cedars are difficult to spot, since they don't look like Cedar of Lebanon when young, (as shown by the tall tree here, on the right).
Above: At Le Manoir Aux Quat'Saisons near Oxford, the perfection of the lawn near the house is made complete, not by the croquet set or the most fabulous tea-time spread, but the presence of the comforting old cedar.
For more of Le Manoir, see: Le Manoir: World's Best Overnight Stay?
See also: Sezincote: Garden Visit: Sezincote in Gloucestershire
The heaven of Helmingham: Helmingham Hall in Suffolk: Shouldn't Every Garden Have a Moat?
N.B.: Trying to choose the right tree for your setting? Begin with tips from our Garden Design 101 guides including Trees: A Field Guide to Planting, Care & Design. More suggestions:
Finally, get more ideas on how to successfully plant, grow, and care for cedar of lebanon tree with our Cedar of Lebanon Tree: A Field Guide.
Interested in other types of trees? Get more ideas on how to plant, grow, and care for various trees (specimen, deciduous, evergreen) with our Trees: A Field Guide.
(Visited 657 times, 5 visits today)