"At Le Manoir aux Quat' Saisons, the garden is at the heart of the gastronomy," says Raymond Blanc, the proprietor and chef de cuisine. Gastronomy is such a French word; most people in the UK would hesitate to use it because of their shy attitude to good food. But Le Manoir, as its name suggests, is not about the British and their hangups.
If I could spend the night anywhere–anywhere–it would be at Le Manoir aux Quat' Saisons near Oxford. The place is full of laughter, not always a given with luxury, and this is underpinned by the service. It's everybody's special occasion, and there is joie de vivre in the air. Gastronomy may have put Le Manoir on the map but it's pretty clear from spending time in the gardens and getting a sense of the organic whole, that this French oasis has a good heart.
N.B.: Raymond Blanc contributed to the book featured in Required Reading: Heritage Fruits & Vegetables.
Photographs by Kendra Wilson, except where noted.
Above: The 16th century lake, fed by natural springs, was made by the monks who once lived here.
Above: A perfect mini-manor, complete with croquet lawns. Playing is encouraged; mallets are set out in good weather as an invitation.
Above: An ivy-clad arch leads from the formal garden to the vegetable and herb gardens.
Above: Some of the vegetable garden viewed from the entrance arch. Raymond Blanc grew up tending his father's "vast" garden, which provided for the Blanc table all year round. When he came to England as a young man, he was equipped with the knowledge that the variety of fruit or vegetable grown was the key to a dish.
Above: Artichoke Gros Vert de Lí¢on, in the organic vegetable garden. Diversity is a good reason to grow heritage varieties, and 70 different vegetables are grown at Le Manoir, with 300 different varieties. However, flavor drives the choice of variety grown. Heritage varieties often have the advantage of greater flavor despite a smaller yield.
Above: Every flower in the vegetable garden is grown as companion planting or because it is edible. Love Lies Bleeding, above, would look at home in any cutting garden but it is grown here for its nutritious seed. Wonderful in muesli…
Above: La Maison des Fleurs overlooks the kitchen garden. This is the florist's work place, where she puts together the flowers for guests' rooms and the public areas. Each guest room has a completely different look and feel, with their names as a clue. Whether 'Opium' or 'Provence', the flowers complement the rooms.
Above: Rhubarb forcers, part of a large group from Whichford Pottery. Photograph via Le Manoir aux Quat' Saisons.
Above: Ordered yet informal. A pumpkin escapes toward a path, via a hedge of silver birch.
Above: Chili peppers in one of the six polytunnels. Vegetable trials are always underway at Le Manoir. "Trials are flavor," says head gardener Anne Marie Owens, who has worked with Raymond since the beginning. "Nothing is more important than flavor: thirty organic carrot trials were carried out this year alone."
Above: Shitake mushrooms, growing on fruiting blocks, which are drying out in the polytunnels. One of the ambitious projects taking place at Le Manoir, besides the implementation of a carefully planned orchard, is La Vallée de Champignons Sauvages (Valley of Wild Mushrooms), which is next to the vegetable garden. It looks like a rock bed at the bottom of a stream, with a wooden bridge at one end. "Our aim is to grow mushrooms outdoors and provide our kitchen and cookery school with up to seventeen varieties," says Raymond Blanc. "Under the bridge we have concealed a growing and fruiting room, which will give us mushrooms all year round."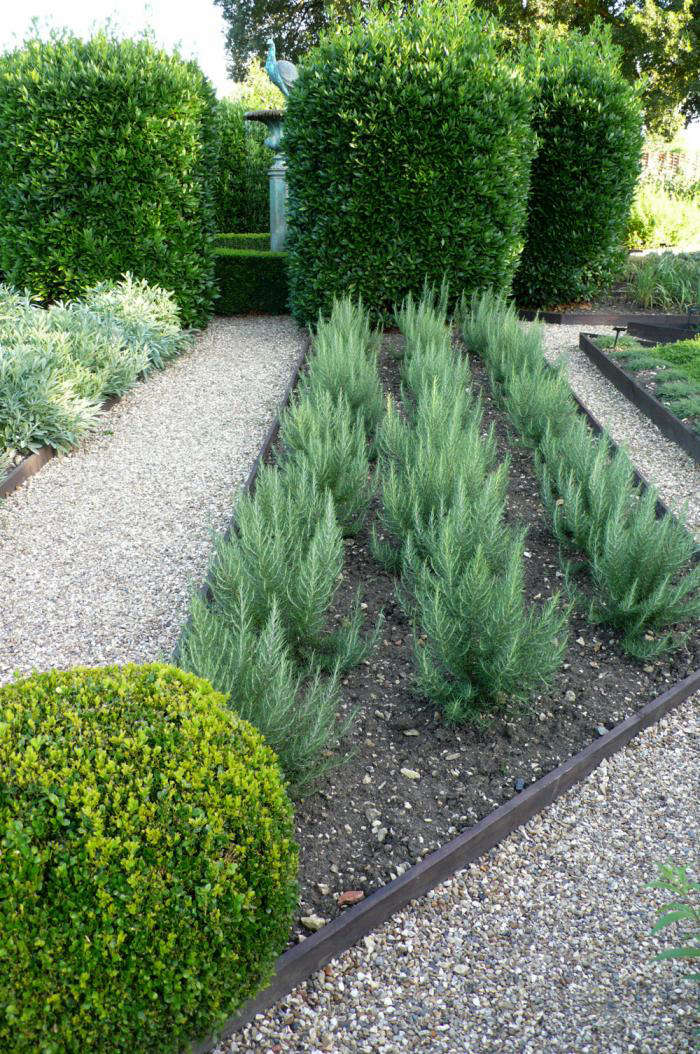 Above: The herb garden, which was developed with the expert help of Jekka McVicar.
Above: Highly ornamental papyrus grass.
Above: The planting in the garden around the house is exuberant and romantic: rose mingles with vine around a chink in the wall surrounding the large lawn. The lake is below.
Above: Lavender and box line the path to the main house, at dusk.
N.B.: This is an update of a post published on Nov. 23, 2012.
(Visited 78 times, 1 visits today)