In Brooklyn's leafy Park Slope neighborhood, a young couple with a son asked architect Kim Hoyt (a member of the Gardenista Architect/Designer Directory) to transform their narrow backyard into a garden to enjoy as a family and a welcoming place to entertain guests.
The first time Hoyt saw it, the garden had a narrow planting strip, an irregularly shaped patio, and a four-foot border of gravel (wasted space) alongside the house. According to Hoyt, the layout of the existing garden plan emphasized the garden's narrow dimensions (it's only 16 feet wide). But she had a plan to make the garden feel spacious:
Photography by Dan Wonderly, courtesy of Kim Hoyt Architects.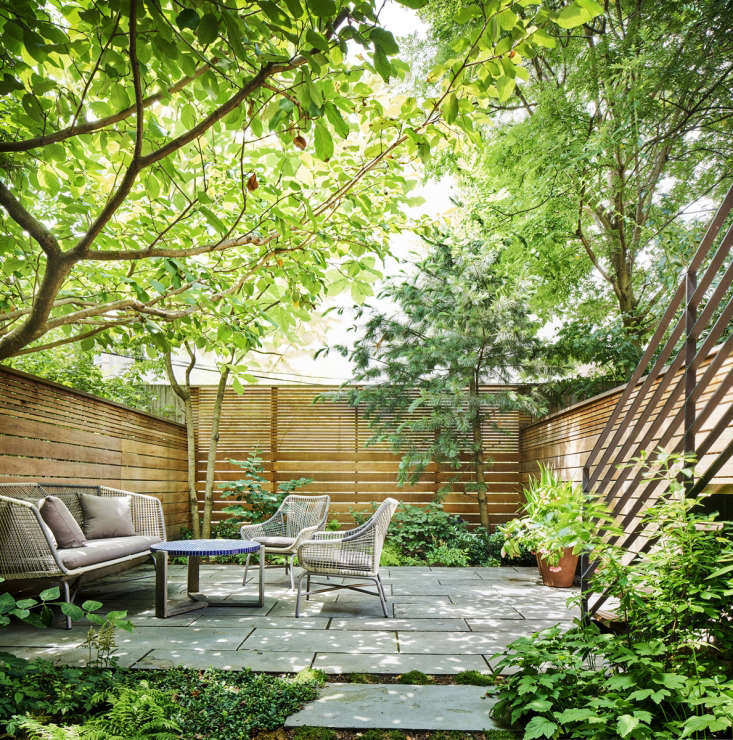 At the back right corner is a white pine tree (Pinus strobus), with an umbrella magnolia (Magnolia tripetala) at left; both were already on site when Hoyt arrived. She kept them and planted witch hazel (Hamamelis virginiana 'Little Spire') between them.
Hoyt's clients selected the furniture themselves; it's the Huron Sofa collection from West Elm.
Hoyt planned the deck, plant palettes, and paving to complement the Siebold's magnolia ("an uncommon specimen," she says), along with the white pine and umbrella magnolia at the back of the garden.
"This configuration for the deck not only helps preserve the tree, but has the added effect of making you feel like you are standing within its canopy when you're on the deck," said Hoyt.
The client plans to grow Actinidia kolomikta 'Arctic Beauty' on the trellis from a pot on the deck.
On the garden level, a door leads to a guest bedroom (the balcony connects to the kitchen). Hoyt's team did minor work to clean up the rear facade, including painting.
For more of our favorite Brooklyn gardens, see:
N.B.: This post is an update; it was first published March 2017.
(Visited 668 times, 1 visits today)