Pink Breath of Heaven, Coleonema pulchellum
Fragrance is such an important component in gardening. Not only does scent perfume the air and lure pollinators but it can conjure nostalgic memories. Honestly, when I see a lovely flower my instinct is to get my nose right in there and sniff. Luckily, fragrance isn't limited to just flowers; foliage can be amazingly fragrant as well—and in Coleonema's case, quite heavenly.
I remember the first time I told my son this plant's common name and encouraged him to brush his hand across the soft wispy stems, and then take a smell. After doing so he said with a dreamy smile, "So is this what heaven smells like?" Jeepers, quite a question. I told him I hoped so.
To learn more about this heavenly shrub, please keep reading:
Originally from South Africa, Coleonema is an evergreen shrub grows four to six feet tall and about five feet wide. This plant sports fresh-smelling, soft needle-like leaves that produce teeny-weeny starry pink flowers at the tips of the slender branches. The blooming profusion starts in late winter and can continue through the fall!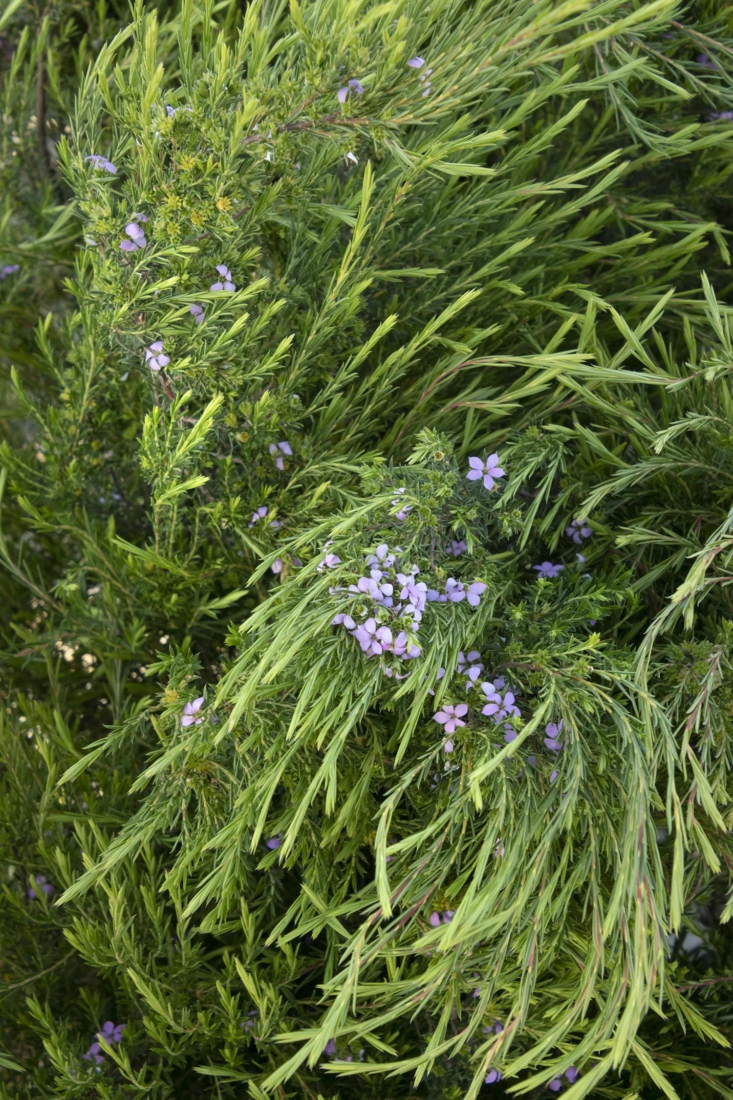 Where this attractive shrub shines is in a garden needing year-round interest and structure without a ton of maintenance, or water. Oh, and if  hungry deer are regular visitors, this plant is luckily not appealing to them. Hardy to 20 degrees F, Coleonema is also visually versatile, mingling with a variety of plant styles, from flouncy flowers in a cottage garden to more solid and strict succulents.
There are other Coleonema varieties to chose from to suit your garden needs. There is a compact form that only reaches two to three feet tall and four to six feet wide, and then there is my favorite: 'Sunset Gold', with bright chartreuse foliage and the same ballet slipper pink flowers. This variety grows to two to four feet tall and spreads four to six feet. Last, there is an equally charming white flowering species, Coleonema album, that grows to four to five feet tall and produces an airy cloud effect when in bloom.
Cheat Sheet
Coleonema tolerates coastal conditions and salty air; plus, it's wispy and light enough to gracefully move with the wind, so consider adding one or a bunch to a seaside garden.
The stems make a stellar and unexpected filler in floral arrangements.
Creates an informal small hedge or is perfect massed on a hillside where it gently cascades like a stream.
Plant near paths or walkways so visitors who bush up against the soft foliage can appreciate the sweet scent.
Perfect for cottage gardens, modern city gardens, coastal gardens, or actually any garden needing year-round interest.
Keep It Alive
Plant in full sun. Part shade will do, too, but do know that your plant will just be a bit more loose-looking.
Avoid heavy clay soil; well-draining soil is a smart choice.
Give this shrub regular water while getting established, then it can stand some dry times.
Right after flowering, usually in the late summer, prune this plant for shape and to lightly reduce its size.
Pro Tip: Avoid cutting into very old wood and if a severe rejuvenation is needed, it's better to remove the mature one out and plant a new smaller one as Coleonema will not happily bounce back from harsh pruning.
(Visited 2,868 times, 14 visits today)