Sturdy greens like chard, kale, and collards are standbys in the garden throughout their entire growing season, which extends into the cold weather, sometimes even beyond the first killing frost. Thank heavens, since they are absolutely essential in the kitchen and for good health. Oh, and delicious.
Read on for step-by-step instructions for creamed winter greens:
Photography by Laura Silverman for Gardenista.
Above: In our garden, leafy greens are planted in several beds, and they seem to thrive in both full sun and shadier spots. Though similar in construction–wide center rib and big, ruffled leaves–kale is a member of the Brassica family and chard is an Amaranthaceae.
Above: Chard resembles beet greens, becoming quite silky when cooked, but its flavor is more delicate and refined. Its leaves have a high water content and, as with all these greens, cooking reduces their mass impressively. Always start with a generous quantity, about half a pound per person minimum.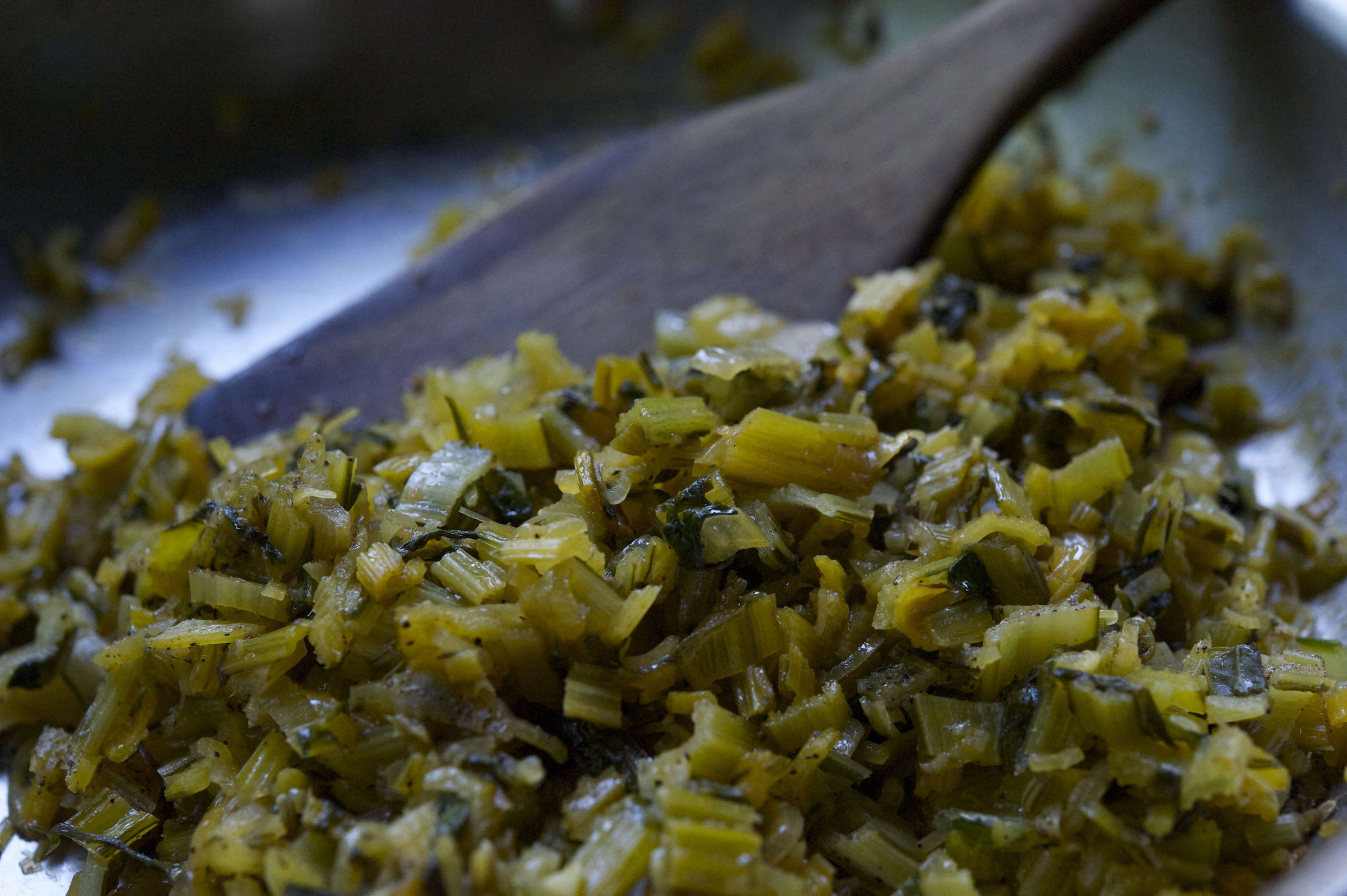 Above: Because the thick ribs have such a distinct texture from the leaves, they tend to cook at a different rate, so it often makes sense to treat them separately. Resist the temptation to simply discard the stems and you can pickle them or add them to stir-fries. 
Above: I like to combine sautéed chard stems with onions and cheese and wrap them in a buttery dough for a rustic galette. With a radicchio and walnut salad, this makes for a quick, delicious weeknight dinner.
Above: Stately and robust collards, also a member of the Brassica family, are actually used as garden ornamentals in countries as diverse as Brazil and Croatia. Their name is a corruption of "colewort," a wild cabbage plant. 
Above: In our gluten-free household, where interesting sandwich substitutes are always welcome, we love to use tender young collard greens as wraps. Caramelized tofu, crunchy sprouts, and the house "secret sauce" add up to a wonderful–and portable–lunch.
Above: Among the numerous kale cultivars, cavolo nero, also known as Tuscan or lacinato kale, is my favorite. Its bumpy leaves are susceptible to the cabbage worm, which perfectly matches the pale green ribs. Spraying with a mild soap solution early in the season helps ward off the pests.
Above: Although kale chips (and kale in general) have become something of a cliché, they are nevertheless delicious and very easy to make. I coat mine with an addictive paste of garlic, cashews, lemon juice, nutritional yeast, chile powder, and smoked salt that amazingly replicates a "nachos" flavor.
Above: Creamed greens are an enduring classic. Make them with any combination of kale, collards, chard, amaranth, spinach, and mustard greens for a hearty and nourishing dish. My version is baked with a layer of crunchy puffed rice on top. Who knew something so good for you could be this good?
Creamed Winter Greens
Serves 2-3
Ingredients:
1 pound kale, collards, and chard 

1 generous cup buttermilk (the real thing)

2 tablespoons unsalted butter

1/2 cup minced shallots

1 tablespoon minced garlic

2 tablespoons flour 

1/2 cup grated sharp Cheddar or pecorino

1/4 teaspoon ground cayenne

1/2 teaspoon sea salt

1 cup puffed rice

1 tablespoon olive oil
Preheat oven to 350 degrees. ҬBring a large stockpot of water to the boil over high heat. Ҭ 
Meanwhile, remove the thick stems from the greens. Rinse greens and drop them, along with a tablespoon of salt, into the boiling water. Cook for from three to five minutes, then remove with tongs to a colander in the sink. Ҭ
While the greens drain and cool, pour buttermilk into a small saucepan and gently heat. Ҭ
Melt butter in a medium saucepan over medium heat. Add shallots and garlic and sauté until translucent, about 10 to 12 minutes. Stir in flour and cook, stirring, until golden, about 10 minutes. Lower heat if garlic starts to brown. "¨
Slowly add warmed buttermilk, a quarter cup at a time, stirring to incorporate each addition. You may want to increase the heat a bit to help the sauce thicken. Stir in cheese, cayenne, and salt. Remove from heat. Taste and adjust seasoning.
Squeeze all the water out of the drained greens, either with your hands or by wringing them in a dishtowel. Roughly chop them and stir them into the sauce. Pile greens into a small casserole. Ҭ
Heat olive oil in a small skillet and add puffed rice, stirring to coat. Sauté until it starts to turn golden. Remove from heat and season with salt and pepper. "¨
Sprinkle puffed rice over the top of the greens and slide the casserole into the oven. Bake until bubbly, about 20 minutes. Serve hot or at room temperature. (This dish may be reheated, covered with foil, in a 375-degree oven for 15 minutes. Uncover for the last 5 minutes.)
Getting ready for Thanksgiving? See all our Holiday Prep tips for entertaining.
For more recipes from Laura's garden, visit Glutton for Life. 
N.B.: Laura has been harvesting and cooking from her upstate garden all month. For more of her recipes, see Fried Green Tomatoes; Flower-Flavored Butter, and Basil's Last Stand.
(Visited 139 times, 1 visits today)