Do you have tomatoes coming out of your ears? The time to gorge on them is now, when they are perfectly ripe, their voluptuous contours packed with sweetly fragrant juices and powerful antioxidants.
For my recipe for fried green tomatoes, read on:
Photography by Laura Silverman for Gardenista.
Above: Tomatoes, a seedy fruit, were known as love apples when they were introduced to Europe from the new world, most likely because of their alleged aphrodisiac qualities. Our word derives from the Aztec xitomatl, meaning "plump thing with a navel."
Above: We grew about 18 tomato plants this year in our raised beds, most of them heirloom varieties. Some flourished, a few developed the dreaded blight, and many suffered from the unseasonably cool temperatures.
Above: Our cherry tomato plants seemed a bit hardier and have been vigorous producers. They do well even when grown in containers. Among my favorites is the Sun Gold variety, which has an almost tropical sweetness.
Above: Cherry tomatoes are perfect in salads, tossed raw with hot pasta, combined with cucumbers in a vinegary dressing, or simply eaten as a snack with a sprinkling of salt. I also love them sliced and baked with herbs on a bed of puff pastry.
Above: As summer winds down, I am always thinking about ways to preserve these treasured fruits of the season. We all know there isn't a fresh tomato worth biting into between October and July. Drying them is an easy method for stockpiling their delicious flavor.
Above: To dry them, slice the tomatoes and lay them cut side up on a parchment-lined baking sheet. Sprinkle with a little salt and add a few herb sprigs, then dry in the oven on the very lowest setting (or in a dehydrator). Wrinkled and wizened, they lose none of their charm and continue to hold summer in their hearts.
[
Above: After they're nice and dry–but still pliable, not crisp–pack them into jars and pour olive oil to cover. They keep beautifully like this (always covered with oil), and are delicious tucked into a grilled cheese, added to soups, or pureed and mixed into salad dressing.
Above: Have you discovered Green Zebra tomatoes? Not strictly an heirloom, this variety has a wonderfully clean flavor with a zingy tartness. And its chartreuse hue with stripes a shade darker is so very chic. These can occasionally be mealy, so choose firm ones and hope for the best.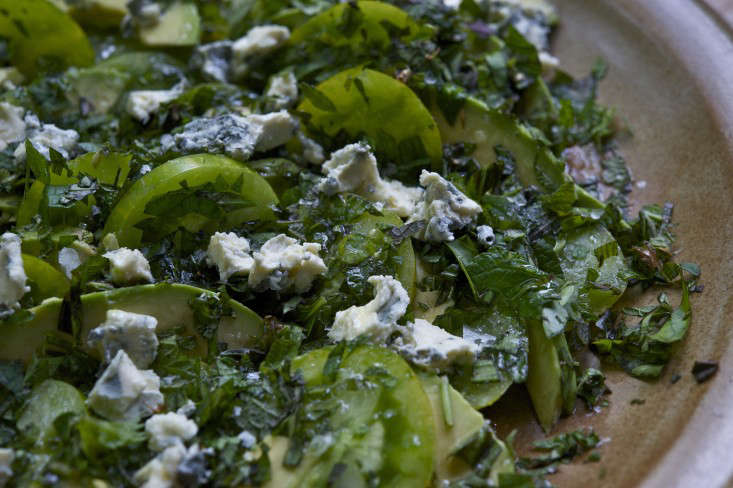 Above: I make a delectable salad full of all things green: wedges of Green Zebra tomato, slices of buttery avocado, and tons of slivered basil and mint. Add a few blobs of creamy blue cheese–gorgonzola piccante is perfect–and finish with a squeeze of fresh lime, plenty of good olive oil, and flaky sea salt.
Above: Truly green tomatoes–those that are still not ripe–have their own charms. Combined with thinly sliced lemons and sugar, they make a terrific marmalade; cook them with Indian spices for chutney, or stew them with a chunk of ham.
Above: And there's always the classic Southern dish of fried green tomatoes, an inspired way to enjoy your unripe specimens. They hold up well to a light cornmeal batter and high heat cooking, ideally in your perfectly seasoned cast-iron skillet. Nothing makes a better bridge between summer and fall.
Fried Green Tomatoes
Serves 4-6
Ingredients:
4 large, firm green (unripe) tomatoes
1 cup all-purpose flour
2 large eggs
½ cup buttermilk
1 cup cornmeal
Lard, bacon fat, or vegetable oil
Core tomatoes and cut into ½-inch-thick slices. Set aside.
Spread the flour on a plate and season with salt and pepper. Beat the eggs with the buttermilk in a medium bowl. Spread the cornmeal on another plate.
Heat about ½ inch of lard, bacon fat, or vegetable oil over medium-high heat in a cast-iron skillet until almost smoking. Meanwhile, dredge the tomato slices in the flour, shaking off any excess. Next, dip them in the egg mixture, letting excess run off, then dredge them in the cornmeal.
Slip slices into the hot pan in batches, so as not to crowd them. Cook about 2 minutes per side, until nicely browned. Transfer to a paper-towel lined plate. If desired, keep warm in a 225-degree oven as you fry the remaining slices.
Season with salt. Serve warm with mayonnaise, chutney or the condiment of your choice.
For more recipes from the garden, visit my blog Glutton for Life. And see my recipes for Nasturtium Butter and Summer Pickles in Gardenista's Garden-to-Table Recipe archives.
Finally, get more ideas on how to successfully plant, grow, and care for tomatoes with our Tomatoes: A Field Guide.
Interested in other edible plants for your garden? Get more ideas on how to plant, grow, and care for various edible plants (including flowers, herbs and vegetables) with our Edible Plants: A Field Guide.
(Visited 166 times, 1 visits today)