In fall, when I move my potted citrus trees indoors until spring, I know that it's time to start hunting blewits. These pretty edible autumn mushrooms pop up in lawns and in woodlands after a serendipitous combination of a cold snap and rain. Blewits feed on fallen tree leaves and evergreen needles (they like wood chips, too), and the mushrooms appear in the same spot annually, often in fairy-like rings, or clustered closely. In the Northeast, they fruit in time for Thanksgiving dinner. Mildly flavored and substantial, their juicy nature makes blewits a succulent substitute for canned mushroom soup (sorry, Campbell's), in that icon of the Thanksgiving table: the green bean casserole.
Here's a guide to identifying blewits, and a recipe ready for the season.
Photography by Marie Viljoen.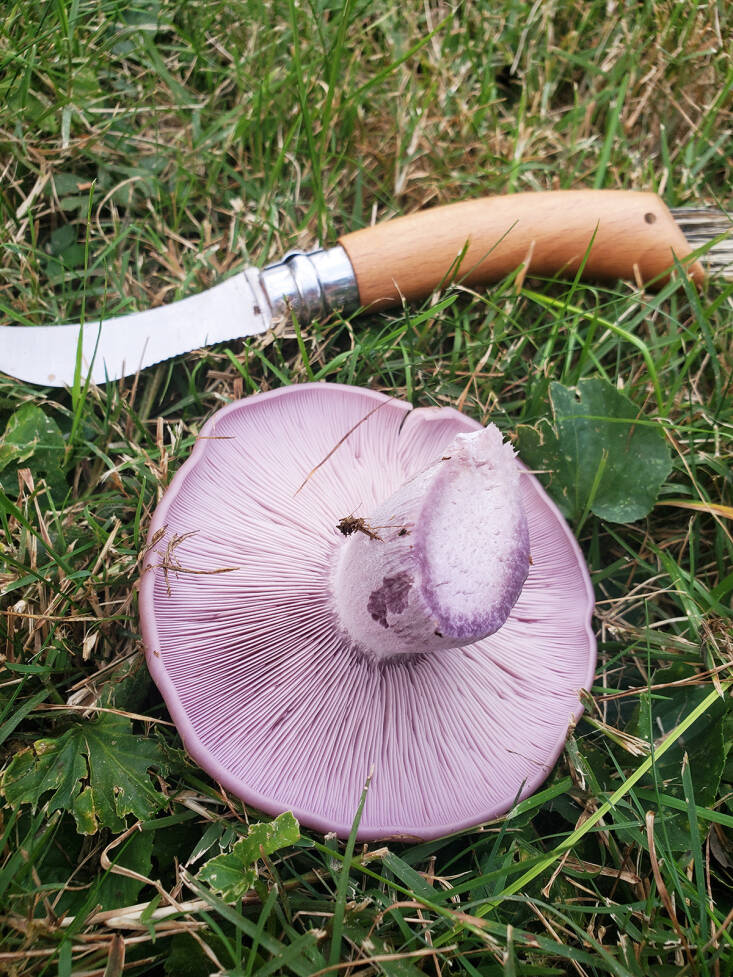 The name "blewit" generally refers to two* species of mushroom. One is the so-called wood blewit, classified as Lepista nuda and sometimes as Clitocybe nuda (the names are synonyms). The other, the field blewit, Lepista personata (also called Lepista saeva), is associated more with Europe. Despite two common names that seem to decree where your blewits must grow, the so-called wood blewits I find grow in wide lawns (near leaf-dropping trees) that look a lot like fields, to me.
For mushroom-hunting cooks wanting dinner, the precision of names is less important than knowing what a blewit looks like, and being sure that its spore print is white, or very pale. That's an essential tell, when distinguishing blewits from a potentially toxic lookalike.
* As the science of mycology evolves, more blewit species may be parsed.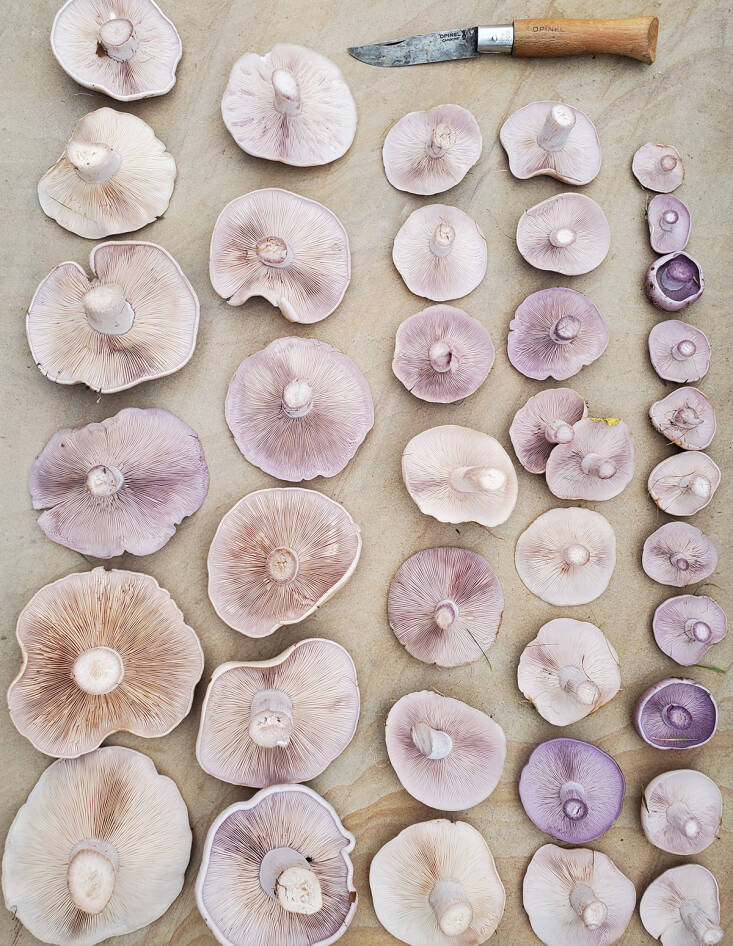 Blewits are chameleons. When they are young the color of their cap, stem, and gills can include swoon-worthily deep or ethereally delicate shades of amethyst and lavender. But these vivid colors may fade to pale buff and cream, sometimes pale tan.
Observing that color transformation is key to learning how to identify blewits, a view endorsed by MushroomExpert's Michael Kuo.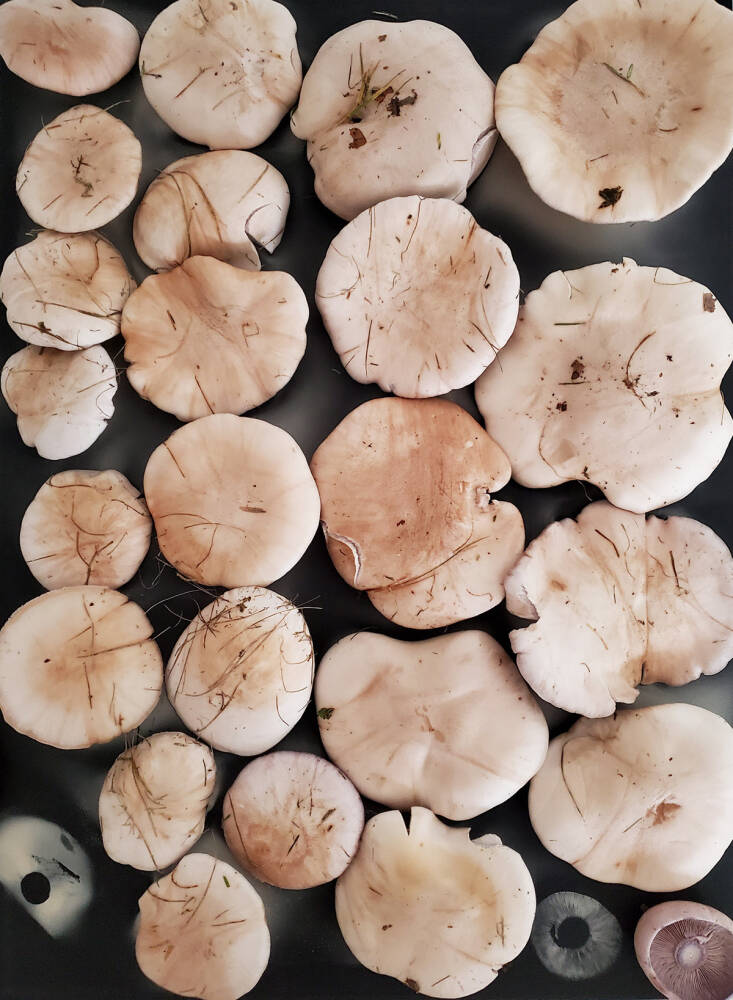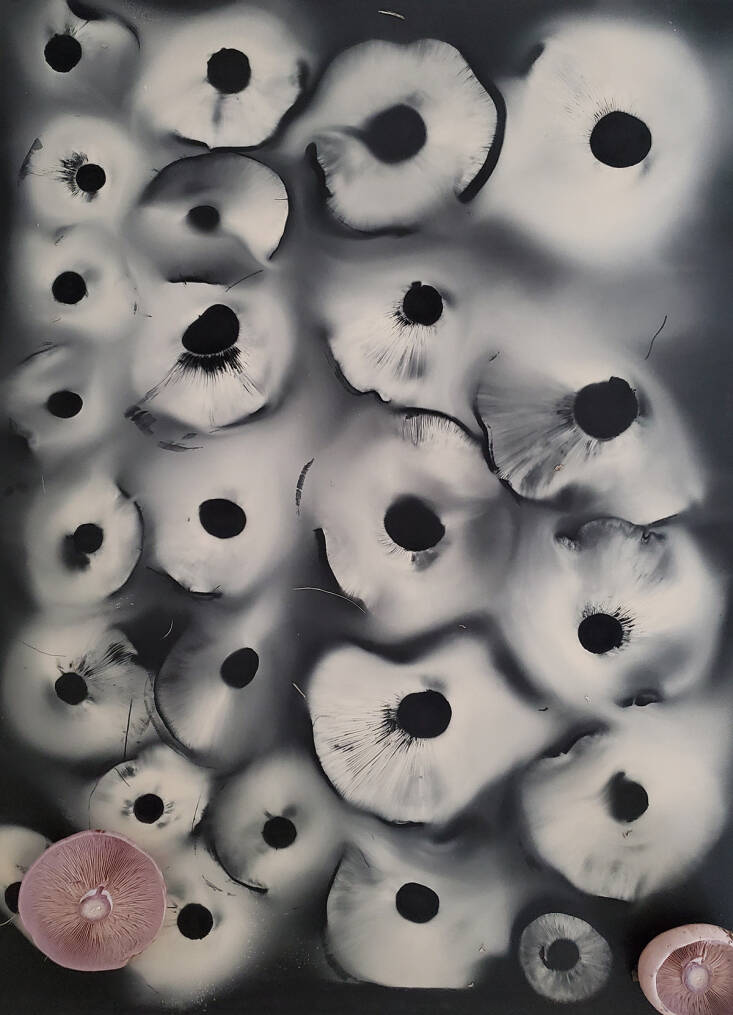 Essential to identifying blewits is the color of their spore print. A blewit's spore print is white or very pale. Never brown.
To make a spore print at home, slice the mushroom's stem from the cap. Lay the cap gill-side down on paper (a recycled shopping bag is perfect), foil, or cardboard. Cover the mushroom with an upturned bowl, or a cloth if you have lots, to protect the dust-like spore from drafts. Leave overnight. Unless the mushroom is ancient and has already shed them in the field, in the morning its spores will be beautifully arranged in the shape of the gills.
A potentially toxic blewit lookalike (at first glance) is a pretty purple Cortinarius. The essential test is that spore print: A Cortinarius spore print is a rich cinnamon-brown, versus the very pale print of blewits. Young corts (as they are known, casually) have a cobwebby veil attaching their cap's edges to the stem. Blewits never do. Corts do not morph color, like blewits.
Before you learn to recognize their features at a glance, make those spore prints.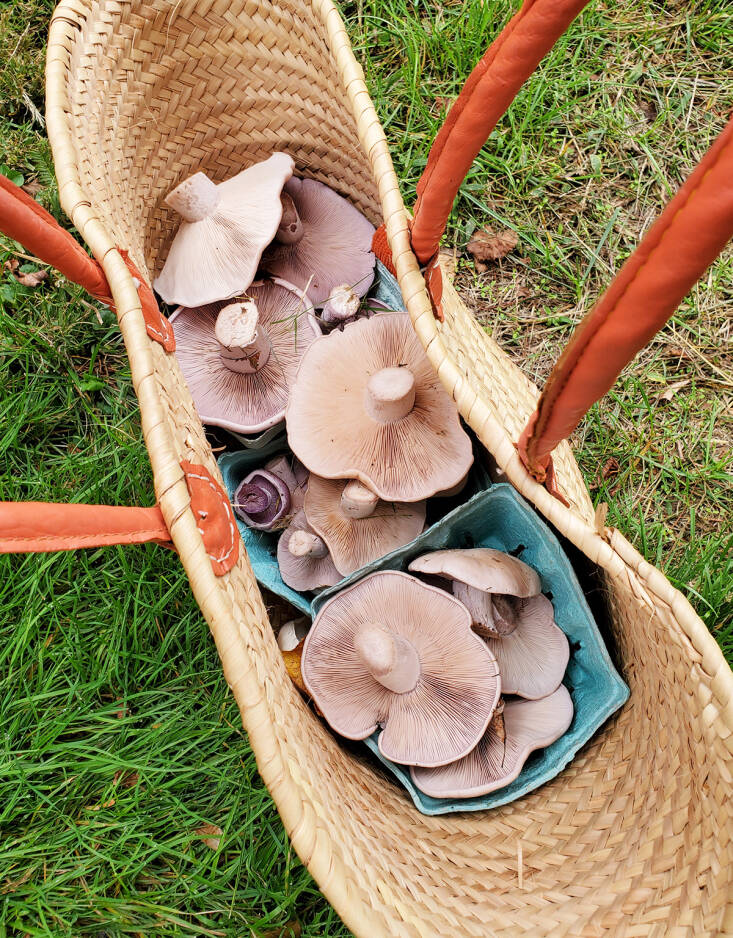 The caps of blewits have a distinctive texture (touch can be an important sense when identifying mushrooms). When dry, the cap feels like soft, springy suede; imagine the upholstery on a plush, miniature, very expensive couch (shrink yourself to fairy size and bounce).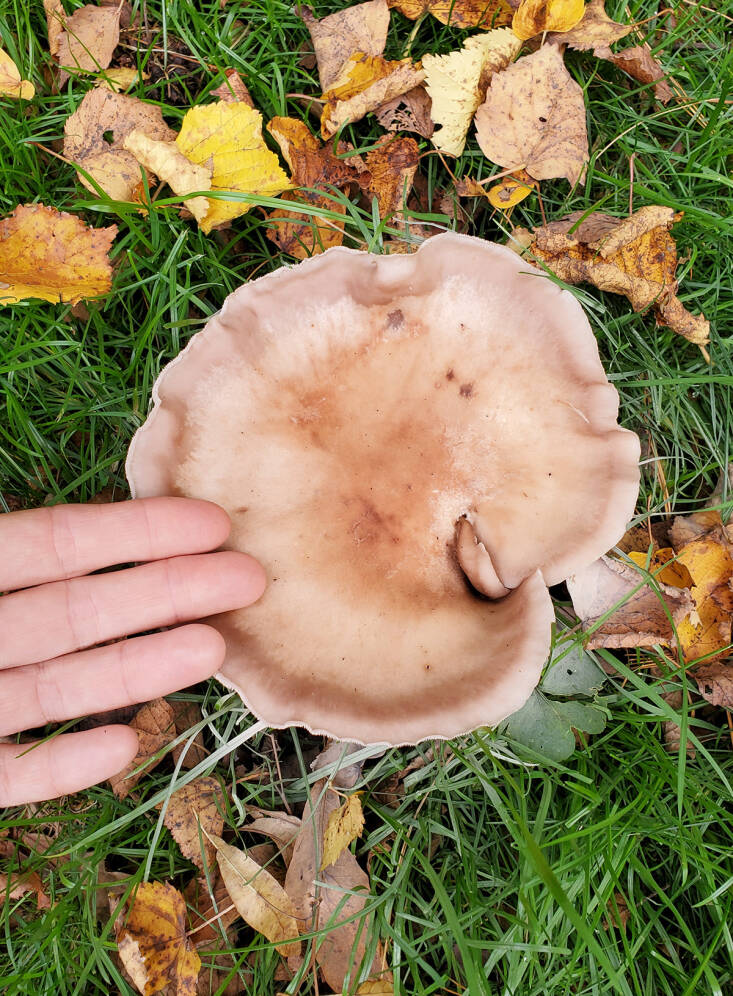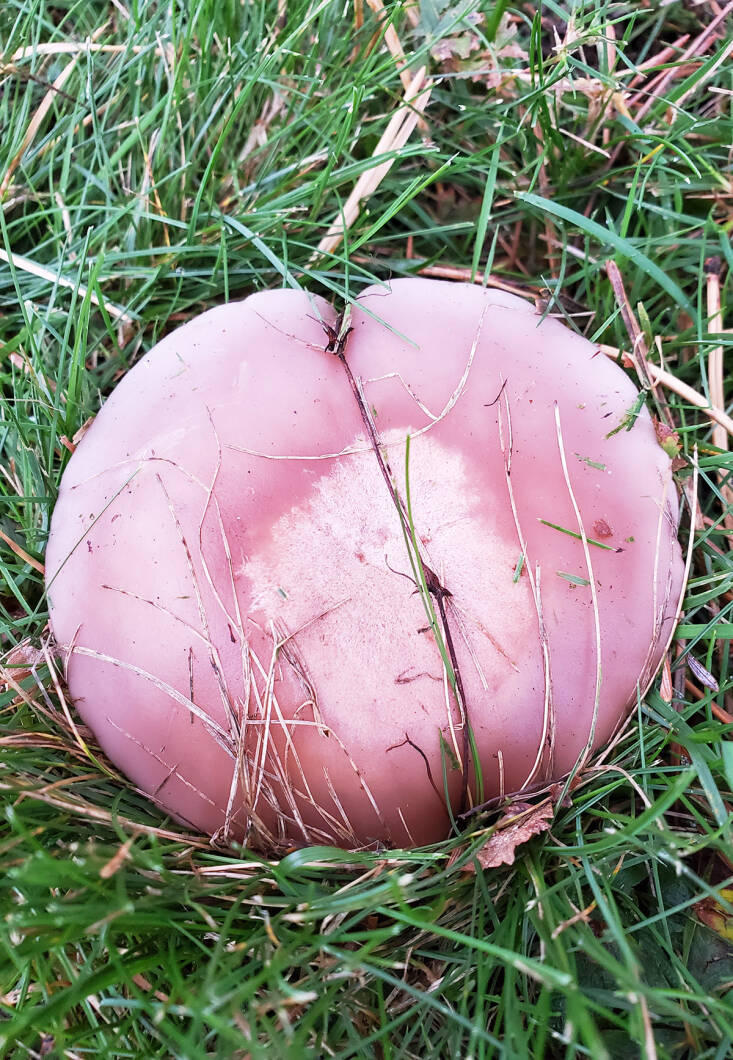 While many sources mention an orange juice smell first attributed to blewits by mycologist and author David Arora, I have never smelled it. (Nor the evocative scent of lilacs, described by other authors.) And I have collected and eaten many blewits, continents apart. It may come down to different species, habitats, or simply to human chemistry. But don't rely on smell alone to identify your blewits.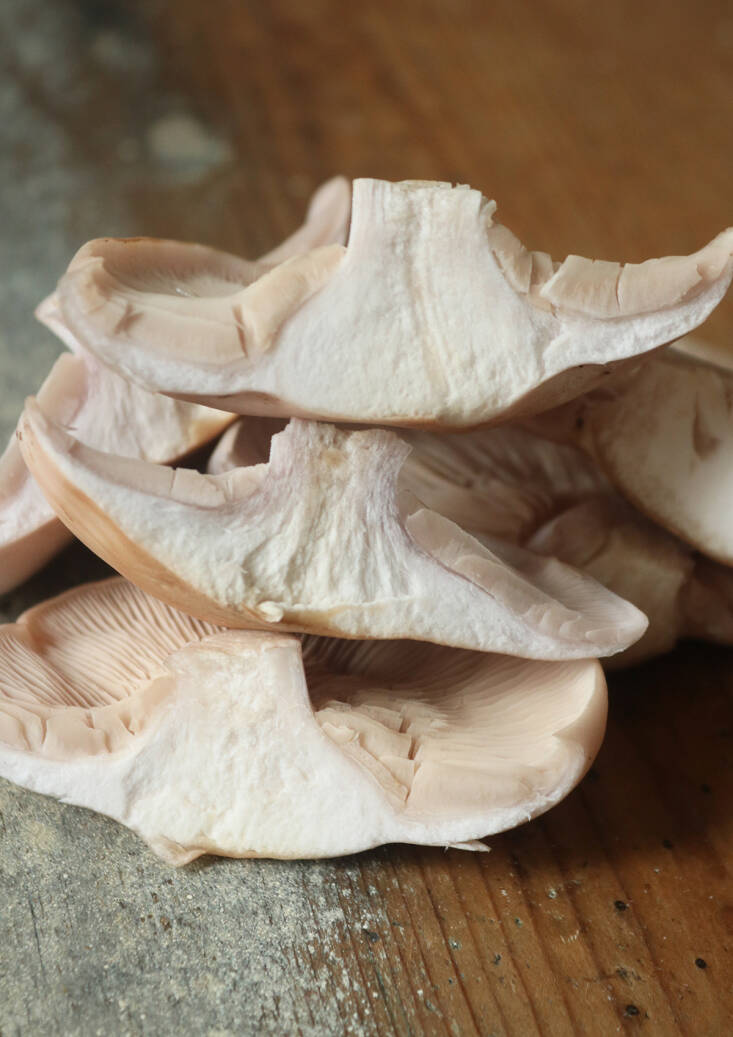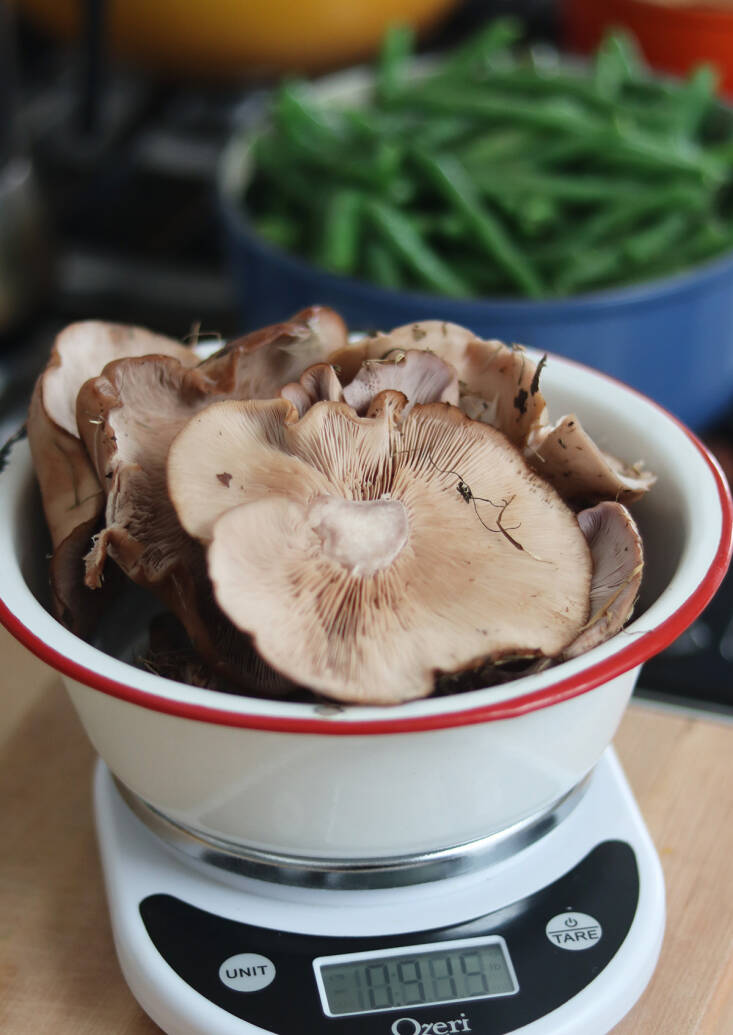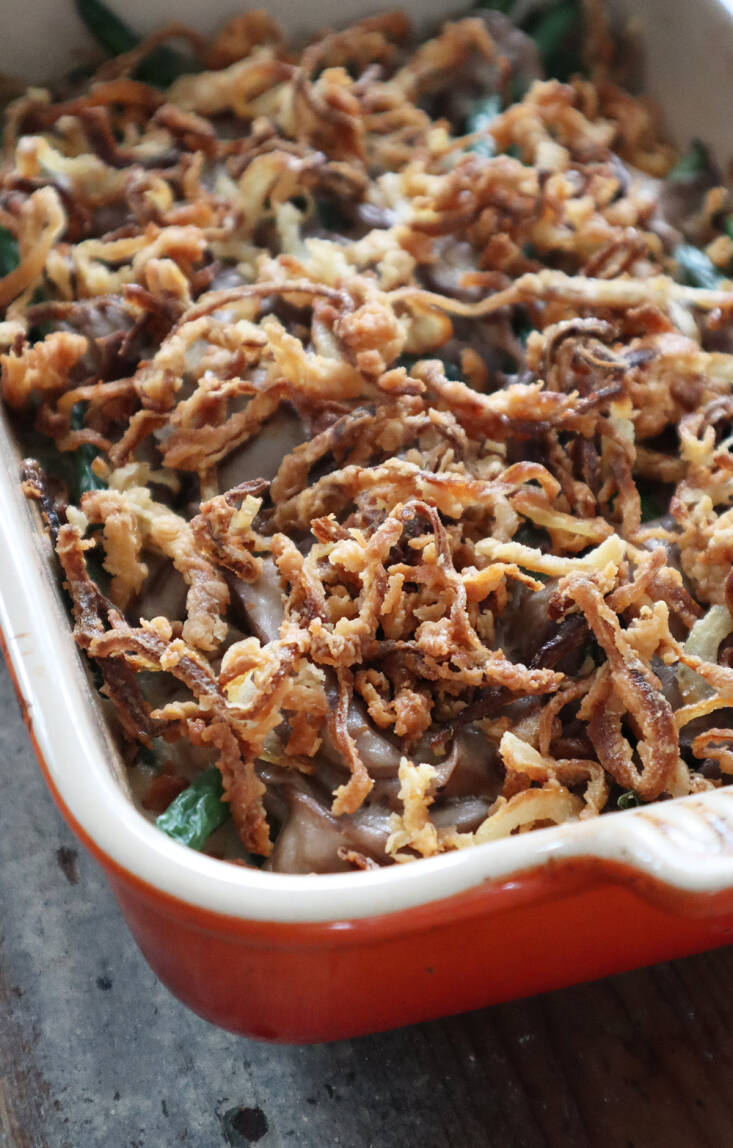 Blewit and Green Bean Casserole
Serves 2 as a substantial entrée, 6 as a side
The copious juice that blewits exude wile cooking becomes the perfect mushroom broth, to make the all-important sauce for the beans. No blewits? Try shiitake (but add extra broth), or portobello mushrooms, instead.
1 ¼  lbs green beans, stalks trimmed
4 Tablespoons butter
1 garlic clove, finely sliced
1 lb blewit mushrooms, washed and sliced
3 Tablespoons all-purpose flour
½ cup mushroom broth (from cooking, see below)
1 cup milk
½ cup heavy cream
½ cup finely grated parmesan
¼ teaspoon salt, plus extra
Freshly ground black pepper
Fried Onions
1 large (about 8 oz) yellow onion, thinly sliced
2 cups half-and-half
2 cups flour
½ teaspoon salt
Avocado or vegetable oil, for frying
Preheat oven to 375'F.
Boil the green beans in a large pot until bright green, and barely tender, about 6 minutes. Drain and cool.
Heat 2 Tablespoons butter in a large skillet over medium-high heat. Add the garlic slices and the mushrooms. Cover, and cook until the mushrooms exude their juices, about 5 minutes. Uncover, and scoop off ½ a cup of the juices to use as your broth. (If you have substituted less juicy mushrooms or do not have enough, supplement with prepared broth.)
Continue cooking the mushrooms over high heat until they are golden and delicious-smelling. Timing will vary, based on how moist they are. Melt 2 more tablespoons butter in the skillet. When it has melted, sprinkle the flour across the mushrooms and stir. Pour in broth, stirring hard to scrape up residue on the bottom of the pan. Add the milk and the cream. Bring the liquid to a simmer, then reduce the heat and cook until this mushroom sauce is thick and bubbling, about 3-4 minutes. Turn off the heat. Stir in the parmesan. Taste the sauce and add salt and pepper.
Arrange the cooked green beans in a buttered baking dish (I use a 10 x 6). Pour the mushroom sauce evenly over the beans.  Cover tightly with foil and bake until the sauce is bubbling, about 30 minutes.
For the fried onions: While the casserole is baking, soak the sliced onions in a bowl with the half-and-half for 10 minutes. In another bowl combine the flour and salt.
In a large skillet over medium-high heat, heat 1 inch of oil (I use avocado for its high smoke-point).
Using tongs, grab a batch of onions. Shake off excess liquid and toss the onions in the flour until well coated.
When the oil shimmering-hot, add the onions in batches, frying each batch until golden, about 10 – 15 minutes, depending on how crowded the pan is. Drain on a paper towel-lined plate.
To finish: Top the baked green bean and blewit casserole with the fried onions and return to the to bake more,  until onions are slightly darker and fragrant, about 4 minutes.
For other mushrooms to forage, see:
(Visited 17,918 times, 24 visits today)