I've always been too intimidated to plant bulbs. If I had ever succumbed to temptation and lived dangerously, I'd have grabbed a handful of the little mounds that promised to one day become dense pink hyacinths, and I would surely have planted them upside down, or in poor soil, or failed to refrigerate the bulbs that require a "frost" before blooming. My impression of bulbs is that they can make a loser out of anyone, fast.
But a year after I purchased my first plants for my window box, I realize my freshman year aesthetic was a little too…verdant. Last year, I left the nursery with an armful of neutrals and–though this strategy works wonderfully in my home–I seriously missed some color in my garden. My only large bloom this summer was a single zinnia…in white.
So when I overheard talk of people planning their spring bulb gardens, I decided that this was the year:
Photographs by Meredith Swinehart.
Above: My goal was to add color to my garden. (This past spring I had unluckily picked a white zinnia from a flat of mixed-color plants not yet in bloom; it was the only big flower in my garden, and its lack of color was disappointing.) I also wanted a mix of heights and flowers that would be in bloom for as long as possible through spring and summer.
I trekked to Sloat Garden Center in San Francisco for advice, and learned a few critical concepts that helped immensely in planning my bulb garden: 
Outdoor bulbs that bloom from late winter through summer can all be planted now. 
Tulips, hyacinths, and crocuses need to experience a "frost" before they will bloom. In a climate like San Francisco, that means buy them now and refrigerate them for from four to six weeks before planting. (Or buy bulbs rated hardy for a warm zone.) 
Most bulbs will continue to bloom year after year. This time next year, I will dig out the tulips, hyacinths, and crocuses and chill them again for from four to six weeks. (I hear there is some eventual maintenance you may want to do on more mature bulbs, but that's for Bulbs 102.)
Different bulbs (even within one flower type) will grow at different heights, bloom at different times, and require more or less planting space from neighboring plants and bulbs. 
Finally, in case anyone else needs to ask this question: One tulip bulb does indeed equal one tulip, so buy accordingly. 
Above: My inspiration photos. Top row, L to R: Amaryllis 'Belladonna,' photograph via Wikipedia; Muscari 'Blue Spike,' photograph via Flora Bulb Shop, and Tulip 'Pink Diamond,' photograph via VanBloem. Bottom row, L to R: Double White Freesia, photograph via Longfield Gardens; Hyacinth 'Splendid Cornelia,' photograph via GardenerHelp; Double Purple Ranunculus, photograph via Project Wedding, and Bearded Iris 'Cloud Ballet,' photograph via Schreiner's Gardens.
Above: At Sloat Garden Center in San Francisco, I found seasoned garden staffers who explained that at the nursery, boxes of bulk bulbs are labeled with their season of bloom, height in bloom, and the depth at which they need to be planted (and distance from other bulbs). Most will also list if the plant prefers full sun or partial shade. These are the critical basics to keep in mind when choosing bulbs. 
Above: Bulbs clockwise from top: Hyacinth, tulip, ranunculus, freesia, bearded iris, and amaryllis. In the center is the muscari bulb.
In all, I picked five pink hyacinths, five blue muscari, five pink tulips, and a pack of 12 deep purple ranunculus, all for spring blooming (hyacinths in early spring, muscari mid, tulips late). For summer, I chose five fragrant white freesias, two pale pink amaryllis, and one blue bearded iris (all listed as mid-summer bloomers).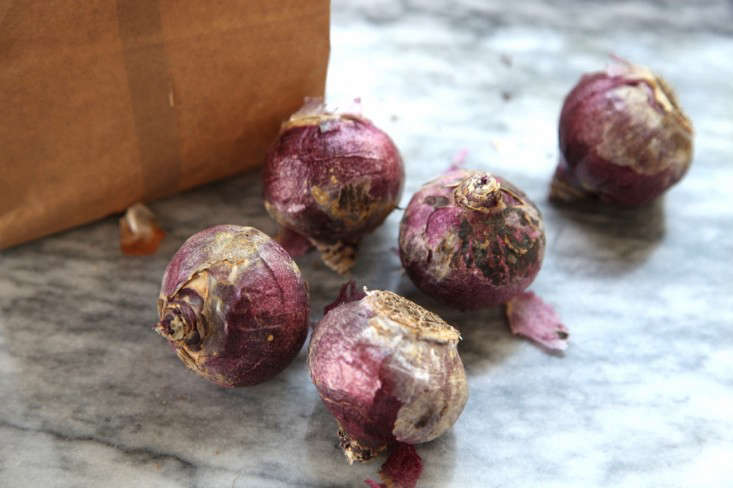 Above: 'Splendid Cornelia' hyacinth bulbs will bloom in early spring; they should be the first in my window box to appear and should grow to about 10 inches tall.
Above: 'Pink Diamond' tulip bulbs. These late-spring bloomers will grow to roughly 20 inches in height. These, along with the hyacinths shown above, need to chill in a refrigerator for from four to six weeks before planting (if you live in a cold climate where the ground freezes, you can plant them directly in the ground this month instead of putting them in the refrigerator first). 
I was told to avoid storing them in a plastic bag that could collect moisture, and not to store near apples, which give off a gas that could cause the bulbs to rot. 
Above: Dark purple ranunculus will grow to about 16 inches tall and should bloom sometime in spring. Ranunculus are an exception to the common "points up" planting rule for bulbs. For ranunculus, the pointy spikes should face down. 
Above: There's no "correct" way to do this, but it will help immensely to make a plan of where you're going to put your bulbs. My idea was to arrange the bulbs so that I'll have flowers across the planter box all spring and summer long, and so the shorter bulbs can be seen from the front of the box and taller blooms in the back. I first made a quick sketch of available space and location of existing plants.
Above: I use tracing paper when sketching any design that is likely to change. Here, I've filled in my spring-blooming bulbs, nested over my map of existing plants. Though bulb expert Scott Kunst suggests avoiding planting in height order for an overly "garden-y" look, I made an exception for my very shallow window box. 
Above: On top, I laid a second page of tracing paper for summer-blooming bulbs. Most people plant bulbs in bunches of one type; this is the "traditional" look of blooming bulbs. But I wanted to experiment with the box and note which bulbs flourish on the sunnier side of the box and which on the part-shade side. I also want some flowers in bloom across the whole window box all spring and summer long, so I planned to spread out the bulbs a bit. (I'm going against common advice; I'll let you know if I regret it.) 
Above: Though no one recommended I do this–in fact, my Sloat guru recommended I not do this–I tore out my annual herbs to make room for the bulbs. She had suggested I wait for them to die on their own, conjecturing that my basil would certainly die but the oregano and mint might survive. But my basil was already wilting, and I had dramatically over-harvested the oregano. And the mint was thriving frighteningly well. Worried that it would overtake the box (a very reasonable assumption; I've been warned several times), I decided to revisit mint again next year. The weeding session was delightfully scented.
When I'm ready to plant, the staff at Sloat suggested I refresh the soil with basic potting soil, and add a small handful of organic bulb food beneath each individual bulb.
Above: I was told to avoid planting while summer weather is still underway and to wait until cooler fall weather has begun. (I bought my bulbs on one of the hottest days of the year, so they're waiting inside with me for a few days.) The reason is that the heat can trick bulbs into thinking it's spring and prompt them to try to bloom now.  
When choosing your bulbs, each box should have listed on it the depth at which that bulb should be planted. If not, you can use this handy guide from Sloat on Planting Depth. 
Two other quick planting tips: Do not plant bulbs right beneath the root of another plant, and don't water too much throughout the fall and winter; bulbs will rot if they get too wet. For more tips, see Sloat's guide to Planting Bulbs. 
Above: After I ripped out my summer herbs, I made so much space for the bulbs that I was worried that my fall/winter garden would look bare. At Sloat, I learned that you can plant "over" the bulbs (not directly on top of them) as long as the new plants' roots won't get too deep. One gardener suggested pansies, violas, and wind poppies.
I expressed a fondness for piney plants and ornamental cabbages, because both look nice all winter long. She denied me the pine (none are appropriate for a 12-inch-deep window box, she said) but enthusiastically approved of the ornamental vegetable–in my case, kale. She also suggested festuca 'Elijah' grass for looking pretty all year long, being easy to grow, and living in harmony with the bulbs.
(Visited 453 times, 1 visits today)