From dusk to dawn, outdoor lighting is your garden's secret weapon. A well-placed uplight can focus attention on a specimen tree (and away from that problem area where you store the trash cans.) Strategically sited pathway lights will make a garden feel expansive. And the golden glow of a porch light will welcome you home.
Use our field guide, Outdoor Lighting 101, to learn everything you need to know to design a landscape lighting plan. We've done the sleuthing on the best designs (and well-priced styles) of solar lights, floodlights, wharf lights, stairway lights, bulkhead lights, wall lights, porch lights, underwater lights, uplights, and down lights (to name a few).
From design ideas (place pathway fixtures from 10 to 15 feet apart to create pools of guiding light) to energy-saving tips (use low-watt bulbs for a soft uplighting effect), we cover the basics.
Here's a glimpse of what you'll find our our Outdoor Lighting 101 guide:
Uplights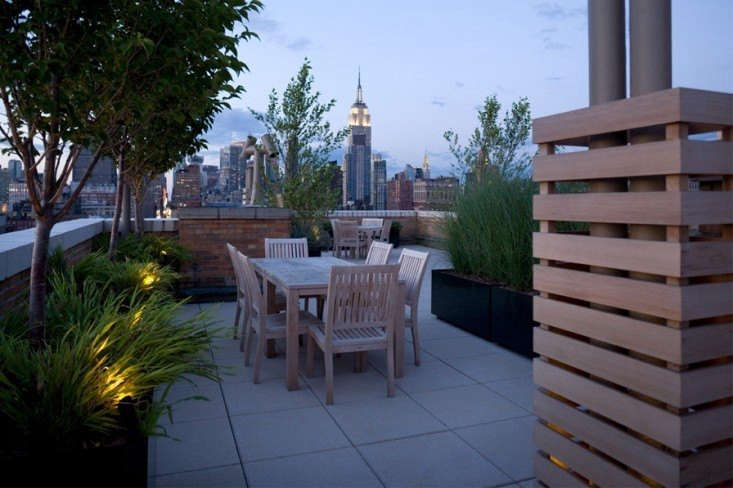 Mounted below or at ground level to focus attention upward, uplighting includes wash lights, floodlights, well lights, and spotlights. See more in Hardscaping 101: Landscape Uplighting.
Wall Lights
"Able to mount on virtually any vertical surface, outdoor wall lights are one of the most versatile types of landscape lighting, perfect for use on decks, patios, stairways, and pathways (with walls)," writes Janet.
Tip: Place lighting at or near tripping hazards such as stair risers or low walls.
Smart Outdoor Lights
Outdoor lights for entryways, porches, and landscapes that you can control using an app installed on your mobile device give you more control over how you light a landscape. For more, see
Hardscaping 101: Smart Outdoor Lights
.
Stairway Lights
Riser lights, under-tread lights, recessed wall fixtures, and pathway lights all can be used to illuminate outdoor stairways. "By day, the best stairway lighting is barely noticeable. After the sun goes down, well chosen lights can transform staircases to glowing jewel boxes," writes Janet.
See more in Hardscaping 101: Stairway Lighting.
Porch Lights
A covered porch offers protection from the elements. Be sure to get a light rated for damp conditions but consider this an opportunity to add personality and curb appeal to your home. For more porch light ideas, see 11 Ways to Add Curb Appeal for Under $100 and 10 Easy Pieces: Flush Mount Porch Ceiling Lights.
Solar Lights
Izabella has the low-down: "Solar lights are powered by light from the sun, and have three essential three parts: a photovoltaic solar panel, a rechargeable battery, and an LED lamp. The solar panel harnesses energy from the sun during the day time and stores this energy in a battery.
"Usually, solar lamps come with sensors to automatically turn on the LED light when energy from the sun is no longer available. The stored energy in the battery lights up the lamp."
See more design tips (and our favorite outdoor lights) in our Garden Design 101 guide on lighting, and don't miss:
(Visited 235 times, 1 visits today)