The Three Sisters method of growing crops has long been regarded as an ingenious way to combine corn, beans, and squash in a limited space. It's not strict either: perhaps you'd rather grow plants that are from a different continent than the Americas—like Africa—in which case you might grow egusi melon, with black-eyed peas twining themselves around towering seed heads of sorghum. This is what Yemi Amu has been doing at Oko Farms, since she has a personal preference for these plants. If spectacle is as important to you as productivity, sorghum does not disappoint, but there's more: it survives droughts and floods.
Photography by Valery Rizzo.
"Every culture has different ways of companion planting," says Yemi, who grew up in Nigeria. "I thought it would be interesting, instead of growing native American crops, to grow things that are native to where I come from." The plants grown on the lower and middle stories benefit plant health in the same way as their cucurbit and legume relations in the Three Sisters method. Melons and squash shade the soil and reduce the need for watering, while peas and beans attract microbes that fix nitrogen in the soil, aiding continued fertility.
On the top tier of a Three Sisters setup—Sorghum bicolor, a type of grass with a deep root system that is effective at sourcing water while adding structure to soil. It has been shown to thrive weather-related events, such as monsoons. To top it off, sorghum is notably effective in sequestering carbon from the atmosphere.
Cucurbits need maximum light, especially during pollination. Planted in an open position, they will not be overshadowed by grains but where light is less guaranteed over long periods, they can be planted as a ring around the grains and beans.
At the end of the day, most people grow sorghum because it is ground into flour and is useful as a food. "The grain can be eaten immature; you make a porridge with it," says Yemi. "When it's fully mature, it's so easy to thrash, you just run it over something that we call chicken wire, so that the hull comes off. You can pop it like popcorn, and the kernels are full of sugar. The red-leaf variety that we have is really iron-rich."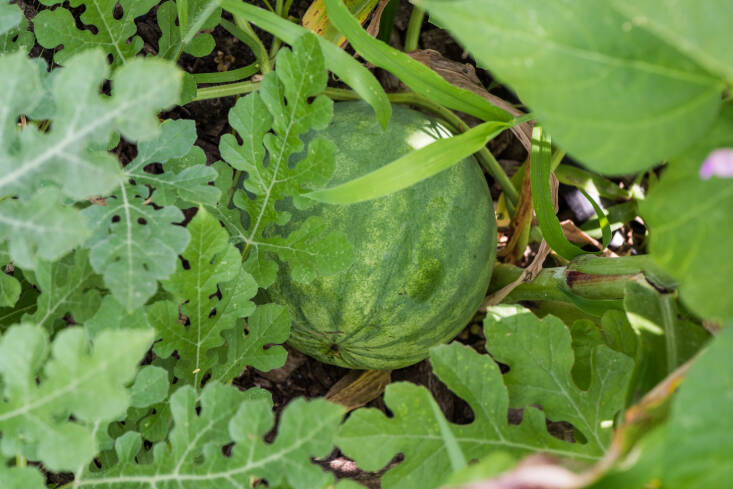 Egusi melon is too bitter to eat as a melon, but its seeds are high in protein and are used as a flour for thickening soups and stews in Nigerian cooking.
For more on the goings-on at Oko Farm, see Aquaponics: Is This Closed Loop System for You?
Also, see:
(Visited 360 times, 2 visits today)