Is there any romance in aquaponics? If, like us, you are somewhat apprehensive about the geekiness (not to mention equipment) behind a system that combines aquaculture with hydroponics, join us for a visit to Oko Farms, the largest, and most romantic, aquaponics farm in New York City.
Photography by Valery Rizzo.
The thinking behind aquaponics is based, in brief, around two tanks of water and a pump. One tank holds fish, the other, plants. Fish waste is broken down with the help of natural microbes into plant nutrition, while aerated water allows the fish to breathe. The only outside contribution is fish food.
Oko Farm's main site, run by founder Yemi Amu, is at River Street, Brooklyn, and looks out onto the East River, with glorious sunsets over Manhattan. Edged with trees and host to a great variety of vegetables, fruit, and flowers, it is a hub for birds and insects in this high-density neighborhood. "With aquaponics, you're limited in terms of organic or inorganic pesticides," says Yemi. "We cannot add anything that could potentially kill the fish, even if it's labeled organic. So, being able to attract natural predators is extremely important."
Part of the beauty of Yemi's approach is that she is interested in simplicity. "People have been growing food for thousands of years. Any growing system that's complicated just doesn't make sense, because food is primal."
"This is an ancient method, where you're growing directly on top of a body of water, and you have fish below. Rice cultivation, and water hyacinth [for textiles and paper] has been looking like that for thousands of years, right? All you're doing is replicating it in an urban environment or in your home.
"These are systems that exist right now around the world," continues Yemi. "There are people who don't have a fifth grade education that are doing this; it's just the way in which we talk about it and the way in which we present it that makes it feel accessible or not accessible."
Aquaponics can be an off-grid system, with the use of solar pumps. The River Street site of Oko Farms (the original and smaller site continues in Williamsburg) uses electricity but only one pump to shift thousands of gallons of water, reducing reliance on the grid. Aquaponics is also very water efficient. "You're creating this microbial-rich environment that's cleaning the water that allows you to raise the fish, but it also allows you to use less water. You just have to think about how you can re-circulate the water from your fish to your plants, and then back to the fish."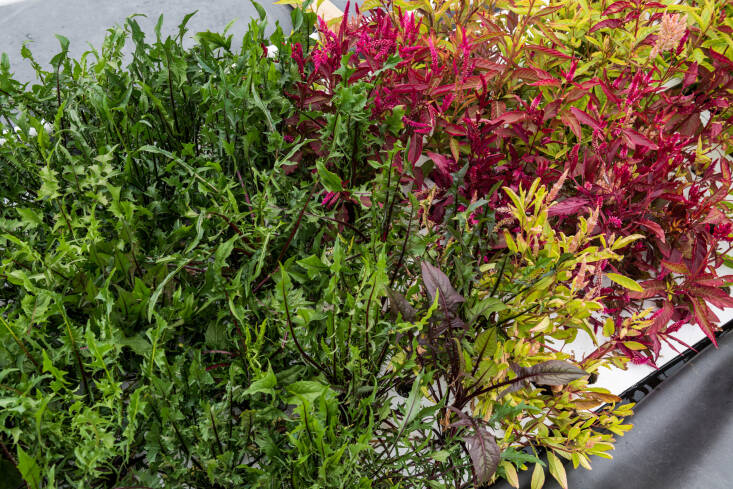 Yemi's personal leaning is toward plants that appeal to her, as a born-and-raised Nigerian. Vegetables would be grown for stews and soups rather than for salads, but at Oko Farms in Brooklyn, there is no shortage of  tomatoes and lettuce. "We do aquaponics farming for food production, and medicine, and environmental conservation. And we also do education as part of it. I don't separate it in my head; it's all the same thing."
The aquaponics method allows a lot of unusual plants to be packed into one small space. "If we're talking about the ecosystem and biodiversity, then we really do need to be growing more than just broccoli, kale, collard greens, mustard, things like that—they're all in the same family."
Yemi Amu has a master's degree in health and nutrition from Columbia University and her approach is calmly experimental: "It's 90 percent instinct for me, but I am the granddaughter of a professor," she laughs. Growing plants for dyes as well as cotton for weaving is just one of the projects going on at Oko Farms. It is essentially a collective, with seriously professional composters over the fence (Compost Power) and the Island Bee Project who oversee hives, to one side. Each component is interconnected in this mini natural system, in the heart of the city.
Aquaponics can take on many forms. "People do the most creative things, like finding an empty bathtub and converting it into a fish tank. And then there are folks who convert their swimming pools into aquaponics…"
"I select fish that can survive both the heat and the cold. In winter, they go into hibernation; they stop eating, they just literally go on the ground. Right now they're mostly at the top because people feed them, you know? But once they stop being interested in food they're regularly hanging out at the bottom." At the other farm site, the fish tank is in the ground, so the fish (koi) have grown accordingly and are much bigger than the goldfish above.
See also:
(Visited 276 times, 2 visits today)