Does your earliest holiday memory involve strings of colored Christmas lights? When I was little, my parents would wait until nightfall and then bundle all four of us kids into the backseat. We drove slowly around town to inspect the magically transformed houses: lighted reindeers on rooftops, glowing snowmen in the front yard, and tree trunks turned into red-and-white-striped candy canes.
Usually my brothers and I fell asleep (the plan all along) before we arrived back in the driveway, next to our own blinking crabapple tree.
This holiday season as you untangle the strings of holiday lights you put away a little too hastily last time, here are a few facts to ponder (and share with the children as you drive through the frosty fairylands in your own town): 10 things nobody tells you about holiday lights.
1. Holiday lights barely make it onto the Top 5 list of favorite decorations.
Here, in order of popularity, are our favorite Christmas decorations, according to a Christmas Lights Etc. survey of 2,000 people nationwide:
Trees
Wreaths
Ornaments
Mini string lights
Garlands
2. It's a bad idea to attach holiday lights with blobs of silicone.
If you have a similar silicone situation, you can fix it with a fresh coat of paint. See the before and after at my house in Curb Appeal: A Paint Makeover for a Stucco House, California Edition.
3. A better way to hang outdoor holiday lights is metal gutter clips.
4. Don't plug more than 600 incandescent mini lights into one outlet.
See more safety tips at Hardscaping 101: Holiday Lighting Safety Tips.
5. White lights aren't really white.
Some white lights are incandescent, others are LEDs. It's a well-known fact that incandescent lights glow yellow (creating that old-fashioned look of candlelight) and LEDs look icy blue (which makes them a good choice for more modern, streamlined designs).
6. Most people prefer LED to incandescent lights.
Only 18 percent of people prefer incandescent holiday lights to LEDs, according to a Christmas Lights Etc. survey of 2,500 people nationwide.
"While LED lights are still generally more expensive, you can use far more of them without all the electrical hassle that comes with powering larger incandescent displays and there are cost savings longer term because of less power cords, timers and plug strips that are needed not to mention the overall energy savings," notes Christmas Lights Etc.
7. The world's first holiday lights display was in New Jersey.
In 1879, Thomas Edison wired a street in Menlo Park, New Jersey with electric lights to show off his newly invented incandescent bulbs.
8. You can get a Lite-Brite effect with string lights.
Outline the main details of a house—roof line, windows, doorway—with straight lines of holiday lights.
9. More people than you think leave up their holiday lights all year.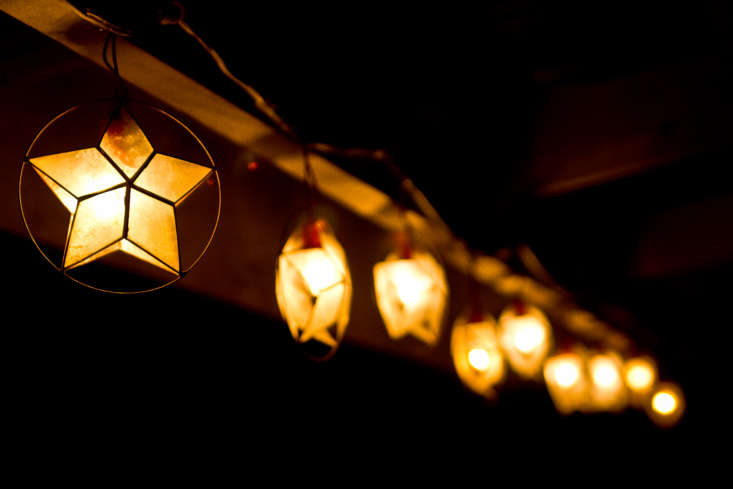 About 35 percent of people use their holiday string lights to decorate at other times of year, according to Christmas Lights Etc.
10. The average American will spend $58 on holiday decorations such as lights this year.
According to the National Retail Federation, the average U.S. consumer will spend $58 on holiday decorations, including lights, this year (43 percent say they plan to decorate a home or yard).
See more holiday decorating ideas in our curated guide to Exteriors & Facades 101 in our curated guides to Garden Design 101. For more holiday decorations, read:
(Visited 64 times, 1 visits today)