If there are any messages at the Chelsea Flower Show, they are firmly nailed on to that of the sponsor of each show garden. Designer Kazuyuki Ishihara, the dapper genius of small spaces, brings his own messages and, he would argue, they are about gardening.
"No Wall, No War" is the name of his Chelsea offering this year: a hut with transparent walls and floors that rises from the water on stilts, the better to survey its setting of impeccable harmony:
Photography by Jim Powell, for Gardenista.
Mr. Ishihara is famous for his exquisite moss gardens, flanked by the unmistakable shapes and colors of acers. The palette is essentially green and red, with a dependable accent of turquoise, provided by the aged copper detailing on his structures. This year the building might have disappeared, given the name of the work. Ishihara's desire was to create something "where one can see everything without physical obstacles."
Weathered copper provides a frame and is continued in the lowest of perimeters, between the densely planted garden and minimal rocks. Mr. Ishihara's inspiration for this garden was the Emperor's residence in Kyoto.
The garden is the guard. "You can admire the scene from all aspects," Ishihara notes, and this includes from inside the building, looking out at bumps of moss, or through a filter of acers over water.
Kazuyuki Ishihara's plant list on this garden includes one Acer reticulatum and six A. palmatum: 'Bloodgood', 'Deshojo','Inaba-shidare', 'Linearilobum', 'Sango-kaku', and 'Seiryu'. Many of these, plus the evergreen shrubs and feature rocks, were supplied by the Japanese Garden Centre, Kent.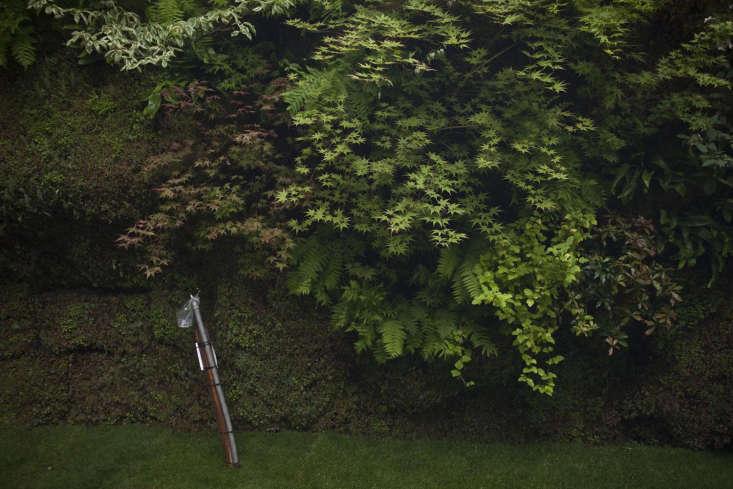 In a garden with no walls, no moats, no obstacles, it is fitting that there is no hidden "behind the scenes" area. This has always been true of Ishihara's Chelsea show gardens. The designed rear is popular with picnickers who have discovered that if they sit at the back, they can gaze at a tapestry of green under the shade of the showground's London plane trees.
For more of Kendra's coverage of this year's Chelsea Flower Show, see:
(Visited 154 times, 1 visits today)