The first sign that I was not at a typical college were the axes protruding from students'  backpacks. Then, there were the 15 bushels of onions being cleaned by students in the courtyard. The clincher, though, were the draft horses cutting their way across campus. It's all part of Sterling College's mission to prepare the minds and hands of tomorrow's environmental stewards.
As it says on the School's website, "Many colleges have a farm. Sterling College is a farm." Located in the quaint town of Craftsbury Common, Vermont, Sterling was one of the first schools to link academics with ecology. Majors offered include Sustainable Agriculture and Food Systems, Outdoor Education, Ecology, and Environmental Humanities. Sterling is also one of seven federally recognized Work-Learning-Service Colleges in the US. All students, regardless of financial aid, contribute at least 80 hours per semester to the day-to-day operations of the school.
Photography by Justine Hand for Gardenista.
Above: One of the oldest sustainable agriculture programs in the US, "farm work is integrated into the academic study, work program, and everyday community life." You can read more about the Sterling farm here. 
Above: Located in the vibrant community of Vermont's Northeast Kingdom, Sterling benefits from active partnerships with local farms and business. During my tour of the region, I ran across Sterling alums at Jasper Hill Farm (See One Cheese at a Time: Jasper Hill Farm and the Rise of Vermont Local Food Movement) and High Mowing Seeds, whose founder Tom Stearns is on the Sterling College board, and at Caledonia Spirits. The school also collaborates with Pete's Greens, Vermont Natural Coating, and Vermont Soy. You can read more about these partnerships in Edible Green Mountains article, "The Town Saved by Food: A College Joins Hardwick's Blossoming as Ag Hub," by Sterling Trustee and long time NYTimes Food Writer Marian Burros.
Above: Animal care and husbandry is an integral part of the Sustainable Agriculture major. Draft Horse Manager Rick Thomas teaches a student how to properly change a horse shoe. In a "mixed power model" sustainable ag majors learn how to use both tractors as well as the school's four draft horses to work the fields.
Above: Another aspect that sets Sterling dramatically apart from other schools and colleges? The food. Freshly made by chef Simeon Bittman and students, it's nutritious and delicious. 20 percent (including organic vegetables, meat, even maple syrup) is sourced from campus, with the rest coming from within 100 miles on campus.
Above: My tour guide for the day was Sustainable Agriculture major Melissa Eckstrom, shown here with some hops in the Edible Forest Garden. A native of urban Philadelphia, Melissa fell in love with farming when she and some roommates turned their tiny city plot into a fertile garden. After graduating this year, Melissa will join the Peace Corps in Jamaica where she will embark on a sustainable food program.
Above: "Dress to be outdoors. Whatever the weather." Most Sterling classes happen outside in the fields and forest that make up the school's 130-acre campus. Every winter, students embark on a four-day, back-country hike through the mountains.
Above: Goats from Oak Knoll Goat Dairy in Southern, Vermont are being raised and studied in partnership with Vermont Chevon, which promotes the meat-goat industry. It's all part of the college's research in sustainable agriculture as well as their active partnerships with local farms and educational institutions.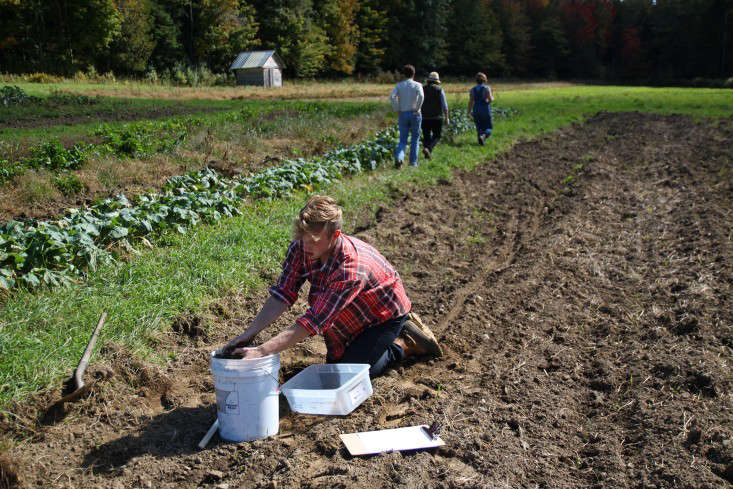 Above: "Working Minds. Working Hands" is Sterling's motto. Work and service are an integral part of a Sterling education. In exchange students receive practical life skills, a deeper sense of community, and tuitution relief.
Above: The season's last tomatoes include a rainbow of varieties.
Above: Named for a former trustee and community leader, The Rian Fried Center for Sustainable Agriculture & Food Systems includes the school's farm, Alfond Draft Horse and McCarthy Barns, as well as instructional facilities such as the Farrier Shop, which was constructed in collaboration with Yestermorrow Design/Build School.
Above: Free-range chickens provide meat and eggs for the kitchen. The college also raises turkeys, which grace faculty and staff tables at Thanksgiving. Extras go to local food banks.
Above: No ivy-covered buildings here. The Shaker-style structures of Sterling College's campus blend in seamlessly with the surrounding Vermont farm houses.
Above: It looks like a scene from any student dining hall…except for the axes, which are part of a required course for first years: "Tools and Their Appreciation."
Above: As part of Animal Science 1, the School purchased ten Holstein bull calves from a neighboring cow dairy. Students have full responsibility for all the health care and management of the calves, including de-horning, castrating, ear tagging, and vaccinating. Sterling Animal Science Students are also helping UVM with a research project to help raise livestock more efficiently.
Above: Sterling is an intimate community with just under 130 students. The School also offers summer study and continuing education courses such as: "Artisan Cheesemaking" with Jasper Hill Cellars; "Fermentation with Sandor Katz," whose latest book,"The Art of Fermentation," received a James Beard award; "From Forest to Forge," to develop skills in carpentry, timber harvesting; as well as canoeing, hiking, charcuterie, writing, and more. To plan a trip to Sterling College, visit their website here.
Interested in exploring more sustainable farms? Alexa takes us apple picking at Fishkill Apple Orchard: A Family Farm Goes Sustainable. Erin gets some advice from the pros in "Ask the Expert: Winter Garden Tips from Stone Barns."
(Visited 58 times, 1 visits today)