Even an invasive flower like Bermuda buttercup can be delightful (when it's in a vase).
Here in Portugal, winter can be dreary but it can also be colorful. With the right amount of rain, pastures begin to green up around the end of the year, and in early January break out into yellow blossoms. With blue skies on many days, and citrus groves in full bloom and fruit, it makes for the most cheerful winter I've ever seen. The undergrowth and fields of yellow are often Bermuda buttercup (Oxalis pes-caprae), an invasive species that can be hard to control for gardeners and landscapers.
But the yellow fields are undeniably charming in winter with their clover-like leaves, long, delicate stems, and trumpet-like flowers. I like to gather handfuls, cut the stems and put them into clear glass to enjoy the bright green stems and yellow flowers for days on end. It's like having a mini meadow indoors.
Read on for step-by-step floral arrangement instructions:
Photography and styling by Chelsea Fuss.
The flowers will open in warmth and light and close at dark and with cooler temperatures. Though they will last longer by cutting the stems shorter and removing the leaves, I love the look of the entire plant in a vase.
For a fleeting floral display at home, I've gathered the entire plant, bulb and leaves, to display in a special glass bud vase by The Golden Rabbit, a Dusseldorf-based garden shop that is my go-to for functional but beautiful garden pieces.
In additional glass vases (a recycled yogurt jar, and a special Portuguese goblet by A Vida Portuguesa), I've arranged the leaves and long stems of Bermuda buttercups.
Here's how I arrange these delicate, wispy flowers:
Step 1: Foraging for Flowers
Bermuda buttercup is also edible. A member of the sorrel family, it has sour stems (everyone I speak to in Portugal remembers chewing on the stems as a kid and the other day my wise, older neighbor showed me how you can eat the bulbs and stems).
Step 2: Conditioning Flowers
Step 3: Arranging Flowers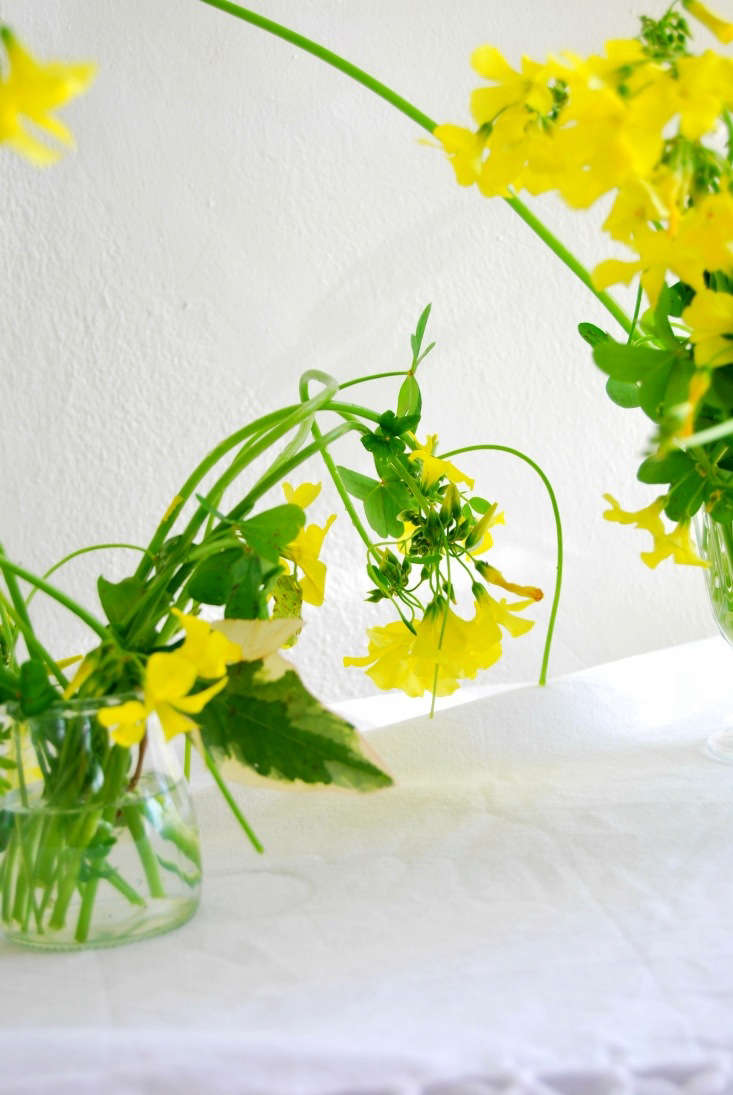 Step 4: Bud Vase
N.B.: Rethink more under-appreciated flowers. See our Rethinking Flowers archives, including:
Finally, get more ideas on how to plant, grow, and care for various perennial plants with our Perennials: A Field Guide.
(Visited 131 times, 1 visits today)