Most people put more brain power into deciding what top-quality decking material they should use than into agonizing over the type and design of a railing. But the truth is  the railing is what ultimately creates the first impression of your deck—or porch or stairway—for your neighbors and visitors, and is the element providing a sense of security.
So please keep reading to learn the importance of a railing for both its architectural element and for safety.
Above: Photograph courtesy of Claesson Koivisto Rune. For more of this modestly scaled vacation retreat in the Stockholm archipelago, see Architect Visit: Claesson Koivisto Rune in Ornö.
What is a railing?
Like a seat belt in a car, a railing is the seat belt for a deck, balcony or next to a staircase. It is the barrier that keeps people from accidentally falling off and hurting themselves.
My front steps, unfortunately, do not have a railing and this was a major issue when my aging father came to visit (notice the past tense—he doesn't come anymore because there is no rail to help him). While railings are a significant visual and design element, they exist for the simplest of functions: safety.
Above: A metal balcony railing in Brooklyn turns a corner and continues down a stairway. See more in Before & After: A Modern Townhouse Garden in Brooklyn. Photograph by Pia Ulin courtesy of Bangia Agostinho Architecture.
What are the parts of  a railing?
There are a few major components to a railing. How these are executed decoratively is another story, but here are the building blocks:
Posts: The posts on your deck railing can vary from 2-by-2-inch steel to 6-by-6-inch wood. Posts do the heavy work of keeping your deck railing upright, sturdy, and safe. The posts hold up balusters or spindles, or can provide the framework for a cable rail system or tempered glass panels.
Balusters, Spindles, or Cables: Balusters and spindles are the traditional pickets that run vertically along a railing and provide both protection and visually define the space. Newer options such as horizontal metal cables do the same job and look more contemporary.
Handrail: The handrail runs across the top of the posts and balusters and should have a comfortable grip when walking down stairs.
Above: A simple but elegant decorative element: architect Barbara Chambers' railing has posts capped in copper. A similar 4-by-4 inch Ornamental Copper High Point Treated Post Cap is $9.68 from Lowe's.
Post Caps or Finials: Post caps sit atop the post and add a decorative element to complement your architecture or give the post a finished look. Many brands of composite railing offer posts with lighting included.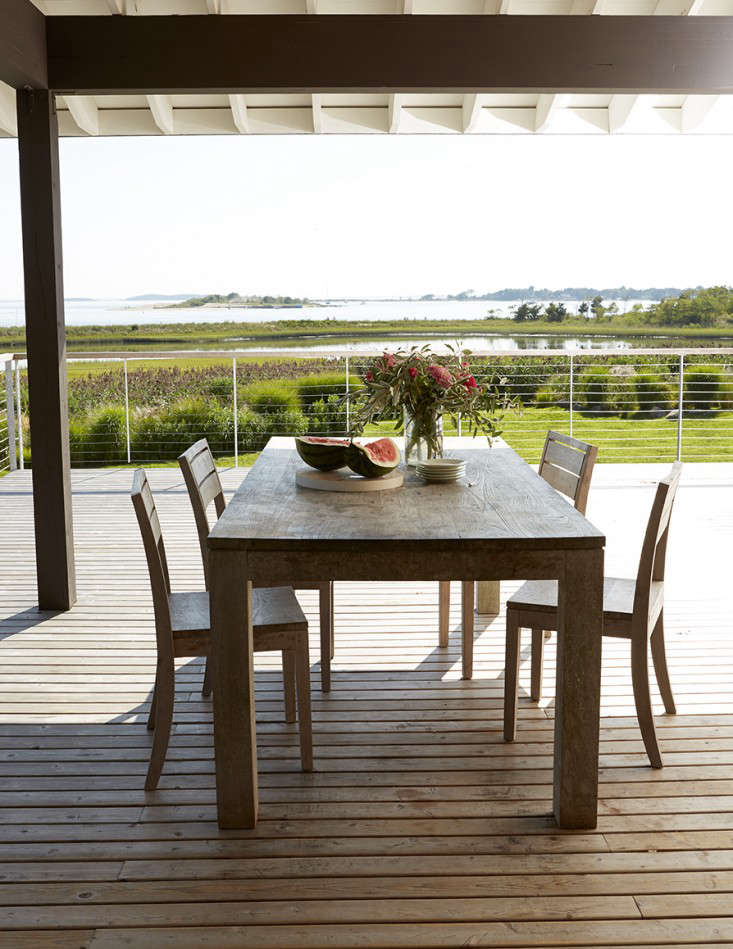 Above: A stainless steel and cable railing nicely mirrors the horizontal wood decking. Photograph by Gentl & Hyers. For more see Garden Visit: A Design Couple's Scenic Shelter Island Retreat.
Which railing designs are best?
Let me answer that question with a question: how imaginative are you? There are endless railing designs but it is easier to start by focusing your design on a look that will complement your deck. A railing creates the "walls" of your deck, defining the space and giving it a frame. Also take into consideration any architectural details of your home, materials best suited to your environment, and to building codes.
Above: A wooden railing complements the architectural style of a covered front porch in Mill Valley, California. Photograph by Matthew Williams for Gardenista.
What are the best materials for railings?
There are many materials to choose from including wood, metal, cable rail, tempered glass, and composite. Here's the breakdown:
Wood: This material is the most traditional and probably the most affordable.  And many people love the solid look and feel of a wood railing. It is also one of the most customizable materials because it can be stained or painted to match any home. The downside of wood is that it needs regular maintenance such as cleaning, staining, or painting to stay structurally sound and continue to look good. Depending on your location, environmental factors including moisture, sunlight, and snow may even speed up this weathering process. Durable wood types include cedar, redwood and ipe.
Composite: Composite decking products offer matching railing components, which is convenient. Solid composites can be found in standard railing sizes and can be cut and installed much like wood.
Above: Gardenista editor Michelle Slatalla has an ornate wrought iron railing that complements the Spanish-colonial architecture of her bungalow. Photograph by Matthew Williams for Gardenista. For more of her garden, see our new book, Gardenista: The Definitive Guide to Stylish Outdoor Spaces.
Metal: There are many types of metal railing available, but the most common are aluminum, galvanized steel, and iron. One of the advantages of using metal balusters is that they usually have a slimmer profile than composite or wood, so they are less likely to block views.  Aluminum railings come in a variety of colors with custom paint options available. This product is able to withstand the elements and is very sturdy whereas steel is susceptible to rusting unless protected with a sealer (see evidence of this in the picture below). Metal railing surrounding decks and balconies have become more popular in modern and industrial style homes.
Above: An ornate welded steel railing can also be an art piece. Notice, however, the rust staining the concrete. Photograph by Kier Holmes.
Tempered glass: If you want an uninterrupted view from your deck, the clear (sorry) choice is tempered glass panels. Some manufacturers offer a post-and-railing system that can accommodate clear panels, matching balusters, or a combination of both. Tempered glass perfectly pairs with most modern or minimalist deck design. With small metal top rails, a glass wall railing goes beyond the transparency of the cable railing. The sleekness of clear glass is perfect for those who want an almost invisible barrier between them and their garden.
Above: A steel garden staircase in the Flatbush neighborhood of Brooklyn has a cable railing and wooden treads. For more of this garden, see Designer Visit: Brook Klausing Elevates a Brooklyn Backyard. Photograph courtesy of Brook Landscape.
Stainless steel cable: Stainless-steel cable is also great for viewing the scenery, although some building codes prohibit the use of such horizontal railing systems. Like glass panels, stainless steel cables fit well into modern and minimalist home designs. If properly installed, the thin cables provide excellent safety and coverage without blocking  views.
Tip: Remember that you can use different materials together to create a unique aesthetic that complements your home. Talk to your architect or designer about all the possible railing combinations.
Above: A decorative wood railing surrounds a porch in Mill Valley, California. Photograph by Kier Holmes.
What are the design rules for railings?
To give you an idea, railings should really be called "rulings." They are all about codes, regulations, and other rules.  I will not attempt to explain them all; the final authority on when and where railings (stair rails or guards and handrails) are required on steps, stairs, landings, balconies, and decks rests with your local building code official. Here is a sampling of rules to get you started:
The building code requirement for stair railings typically requires hand railings on stairs that have a total rise of 3 feet or more.
When figuring out spacing of spindles or cables there is this esoteric sounding rule called The 4-inch Sphere Code (meaning a 4-inch sphere can't pass through an opening). When talking to your architect or designer about your railings, mention this and sound well-researched.
All decks higher than 30 inches above grade must have a guardrail.
Stair rail systems and handrails must have a surface that will not cause injuries such as punctures or cuts and which does not snag clothing. Sorry, no barbed wire railings.
Tip: Your deck or entry might not need a railing because of code or because it is an older house without a railing, but this is no reason not to install a railing for safety and/or as a design element. Related, older decks and entries being remodeled will be forced to contend with new codes. This means that if you are gathering design inspiration, try not to get attached to designs that might not pass muster these days.
Above: The design of a fire escape railing must follow strict rules in New York City. Photograph by Erin Boyle.
Can I install my own railings?
If you have read the above section on rules and visited your local building department to learn even more rules, then you might be able to install your own railings. Also, you need to be handy with some basic power tools.
If you are intrigued by cable railing, you can buy cable rail kits online for a DIY weekend project to update your deck design but warning: this can be a costly choice depending on style and amount needed.
N.B.: If you're designing a deck, stairway, or porch, get inspiration from our Hardscape 101 design guides, including: Decks & Patios 101, Hardscaping 101: Entry Stairways, and Hardscaping 101: Wood Decks.