Most people put more brain power into deciding what top-quality decking material they should use than into agonizing over the type and design of a railing. But the truth is  the railing is what ultimately creates the first impression of your deck—or porch or stairway—for your neighbors and visitors, and is the element providing a sense of security.
So please keep reading to learn the importance of a railing for both its architectural element and for safety.
Above: Photograph courtesy of Claesson Koivisto Rune. For more of this modestly scaled vacation retreat in the Stockholm archipelago, see Architect Visit: Claesson Koivisto Rune in Ornö.
What is a railing?
Like a seat belt in a car, a railing is the seat belt for a deck, balcony or next to a staircase. It is the barrier that keeps people from accidentally falling off and hurting themselves.
My front steps, unfortunately, do not have a railing and this was a major issue when my aging father came to visit (notice the past tense—he doesn't come anymore because there is no rail to help him). While railings are a significant visual and design element, they exist for the simplest of functions: safety.
Above: A metal balcony railing in Brooklyn turns a corner and continues down a stairway. See more in Before & After: A Modern Townhouse Garden in Brooklyn. Photograph by Pia Ulin courtesy of Bangia Agostinho Architecture.
What are the parts of  a railing?
There are a few major components to a railing. How these are executed decoratively is another story, but here are the building blocks:
Posts: The posts on your deck railing can vary from 2-by-2-inch steel to 6-by-6-inch wood. Posts do the heavy work of keeping your deck railing upright, sturdy, and safe. The posts hold up balusters or spindles, or can provide the framework for a cable rail system or tempered glass panels.
Balusters, Spindles, or Cables: Balusters and spindles are the traditional pickets that run vertically along a railing and provide both protection and visually define the space. Newer options such as horizontal metal cables do the same job and look more contemporary.
Handrail: The handrail runs across the top of the posts and balusters and should have a comfortable grip when walking down stairs.
Above: A simple but elegant decorative element: architect Barbara Chambers' railing has posts capped in copper. A similar 4-by-4 inch Ornamental Copper High Point Treated Post Cap is $9.68 from Lowe's.
Post Caps or Finials: Post caps sit atop the post and add a decorative element to complement your architecture or give the post a finished look. Many brands of composite railing offer posts with lighting included.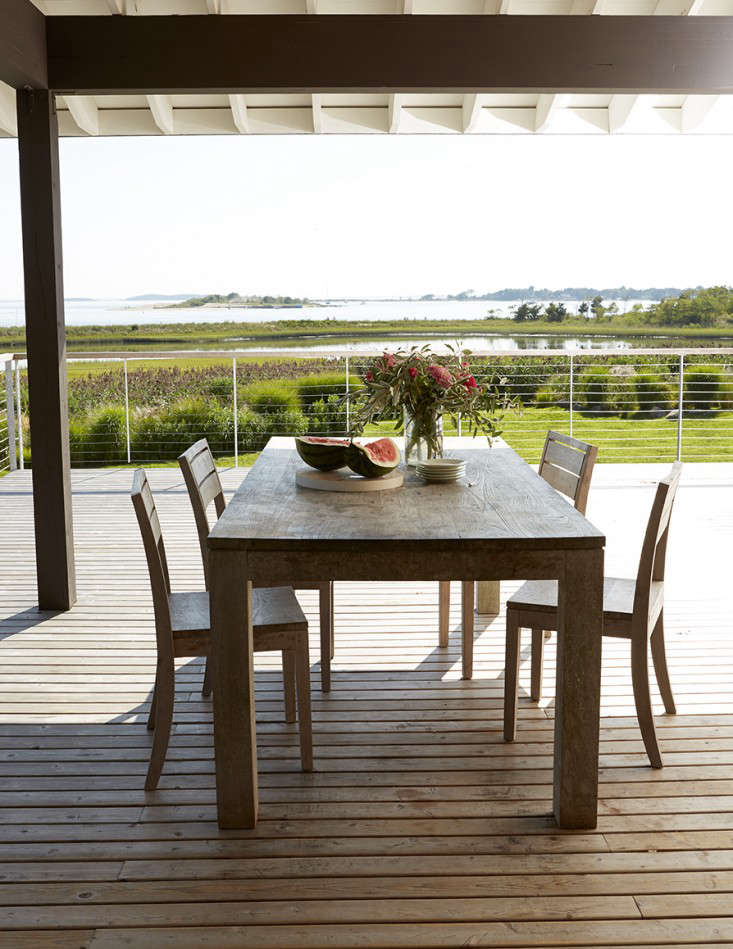 Above: A stainless steel and cable railing nicely mirrors the horizontal wood decking. Photograph by Gentl & Hyers. For more see Garden Visit: A Design Couple's Scenic Shelter Island Retreat.
Which railing designs are best?
Let me answer that question with a question: how imaginative are you? There are endless railing designs but it is easier to start by focusing your design on a look that will complement your deck. A railing creates the "walls" of your deck, defining the space and giving it a frame. Also take into consideration any architectural details of your home, materials best suited to your environment, and to building codes.