Less than an hour and a half's journey by train north to London's Charing Cross Station is the tiny East Sussex village of Hooe, where a cottage that dates to the 17th century has a modern, glass-walled addition and a rolling green landscape to connect it to both past and present. It's for sale for £650,000; for details, see the listing at The Modern House.
Photography by French & Tye courtesy of The Modern House.
Above: Castlehurst Cottage sits on Barnhorn Road, a quiet country lane.
Above: Architects Barker Shorten designed a modern glass-and-timber addition, matching the roof line of the original structure.
Above: Clipped boxwood hedges flank a walkway. "The new section of the house, with its sharp lines and geometric forms, has been designed deliberately to contrast with the more roughhewn textures of the historic building," notes the listing at The Modern House.
Above: A wooden deck wraps around the addition.
Above: The timber beams are original to the older part of the house.
Above: The brick hearth is original to the house.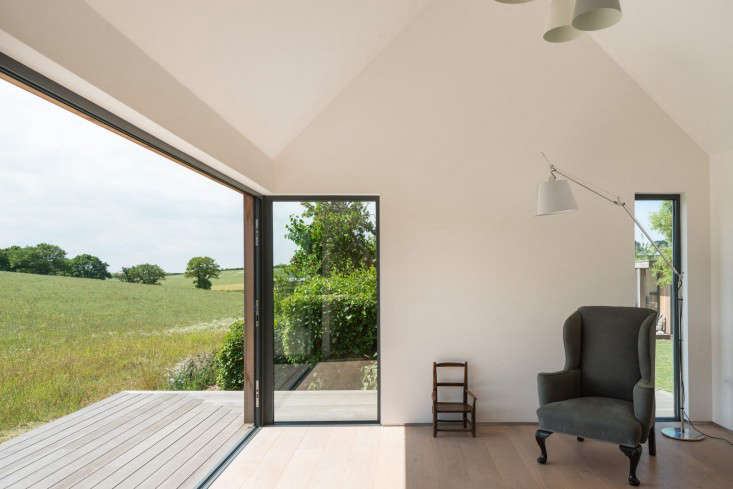 Above: In the living room, a vaulted ceiling and a wall of full-height folding doors create a seamless transition between outdoors and in.
Above: Window placement ensures a panoramic view.
Above: In the kitchen, modern appliances and original detailing.
Above: A bedroom window perfectly frames a view.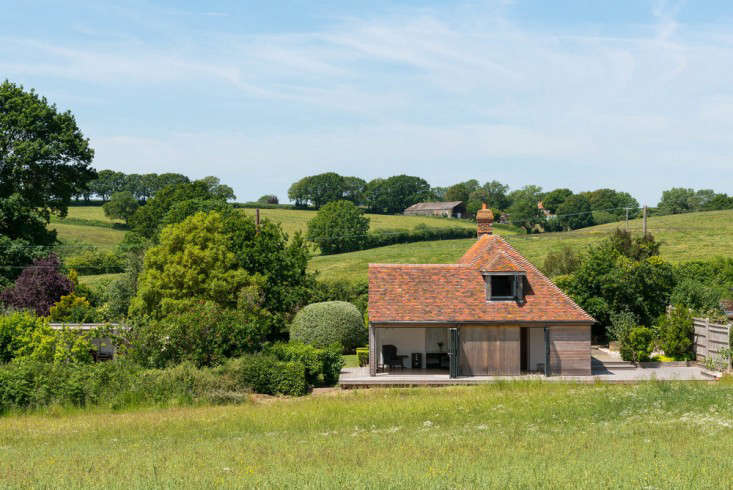 Above: From the house it is a ten minutes' drive south to the sea at Normans Bay.
For more gardens in southern England, see Bloomsbury in Sussex: Garden Visit to Charleston Farmhouse and The Unique Charm of Glyndebourne in Sussex.
(Visited 108 times, 1 visits today)