Designed as overflow quarters behind a summer house in northern Sealand, a tiny prefab plywood studio has one of everything: a door, a window, a skylight, a shelf, a table, a bed.
Copenhagen-based Dorte Mandrup Arkitekter designed the freestanding box to provide both work and sleep space in a compact cube–instant backyard accommodations for summer guests.
Photographs courtesy of Dorte Mandrup Arkitekter.
Above: In a sunny backyard off the coast of England, the studio is clad outside in striated wood slats and inside with waxed-birch plywood.
Would you live in a backyard Shipping Container Cabin?
Above: A hidden foldaway bed disappears during the day to turn the space into a work studio.
Need a Summer Clubhouse in the backyard? Us too.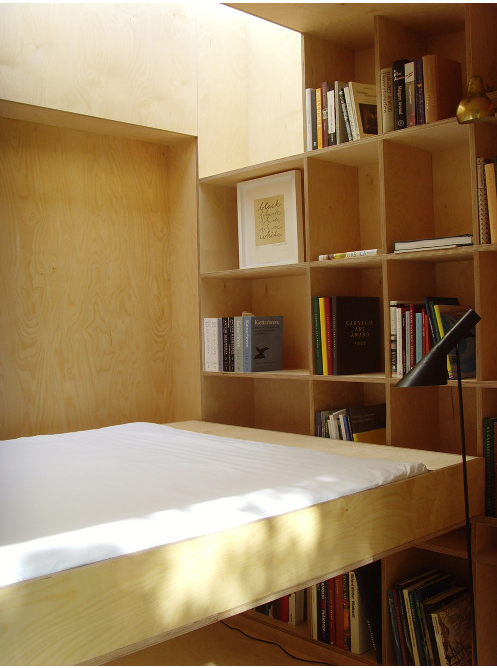 Above: A wall of shelves and a skylight above the foldaway bed.
Above: The exterior slats are made of thuja wood.
Above: Related to cedar, thuja trees are coniferous.

For another of our favorite writing studios, see A Backyard Shed in the Garden.
(Visited 21 times, 1 visits today)