We always suspected our readers are incredible gardeners. Now we're thrilled to have hard evidence.
After asking you a couple of weeks ago to send us photos of your gardens, we've been deluged with beauty. Thank you for sending us so many secret gardens: glimpses through a gate of a meandering path strewn with succulents; great sweeps of misty lawn bordered by seaside flower beds, and tiny, perfect jewel box balconies. We'll be featuring several of our favorites in upcoming weeks.
To kick off the series, today we're visiting screenwriter Maria Nation in western Massachusetts, at her home in Ashley Falls where she's taught herself cloud pruning to create a garden with good bones. Excellent bones, actually. Here's the story of how it got that way:
Photographs by Maria Nation.
"I had lived in New York in the Eighties, and loved it, and then moved to Boston and didn't love it, and I got the idea that if I could afford it, if I could buy a weekend house in the Berkshires, all my New York friends would come up and visit me," says Nation. "I found an old farmhouse, and that was it. I bought it, and I've lived here ever since."
That was in 1997. There were eight acres. There was no garden. "There was grass, and more grass, and shrubs here and there," Nation says.
Eight acres, from scratch? Was this daunting?
"I've always loved having my hands in dirt," she says.
That was the start of her first garden.
"The first two or three years, I worked feverishly, but without a plan," says Nation. "I just put stuff in the ground."
One day local horticulturalist Barbara Bockbrader, who owns the nearby gardening store Campo di' Fiori, came over to give Nation a one-hour consultation. Says Nation, "We were walking around, looking at basically this mess I'd made, and she said, 'Take a mower and mow where you walk from point A to point B in a day, and make that a path. Make the rest garden.' "
That was the start of Nation's second garden.
Nation dug out all the old beds and gave away plants to friends. She tore down a stone wall and rebuilt it. And she put in new gardens all along her daily route, building, building, building, until one day she had a massive perennial garden. And word got out. "People kept coming over, and admiring it, and everybody said, 'It's exuberant.'
"The garden was so big, it wound around the house, and it went down the hill, and there was a greenhouse and a wood fired bake oven and … something went off in her head: "I started thinking that it was like a migraine headache."
"I realized the garden owned me now," Nation says. "It was like a monster. And I was in a pit of despair because now I'd spent a decade doing it, and I hated it, and it owned me."
Then she discovered the work of French gardener Nicole de Vésian, in Provence. "Her private garden was like some cosmic thunderbolt. It took my breath away — it was all boxwoods, clipped and shaped, and it was so serene and beginning a garden at age 70."
That was the start of Nation's third garden.
Now she has boxwoods and evergreens and shrubs, instead of flower beds, and it's all about structure, and the play of light on the shapes, and the color of the foliage. And it's exceptionally beautiful.
"That was three years ago," says Nation. "I remember when I put it in, it was late October, and it was raining and it was dark and I was standing out there and looking at my dirt, studying how to do this, how to plant things so that the garden could grow into itself over the years, and the tools were muddy, and the dogs were looking at me like I was crazy.
"And I couldn't believe how happy I was," she says. "It was then that I realized that the line between ecstasy and insanity is really thin, and I was standing on it."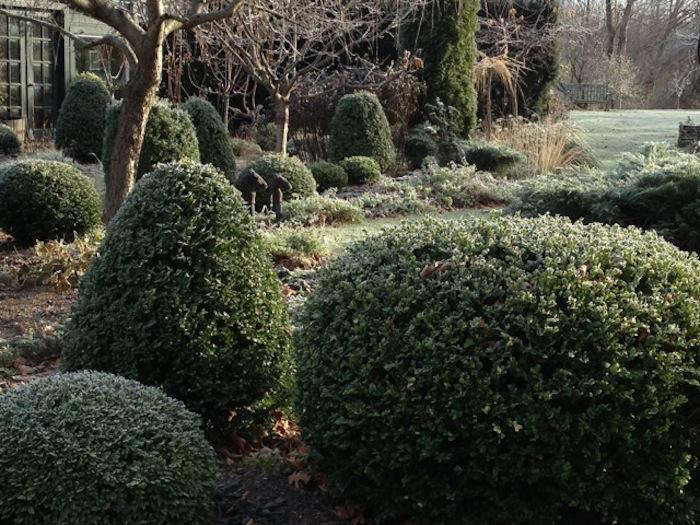 "That was the beginning of what you see now, and it's no longer exuberant, but it's right," says Nation.
Because it is built around evergreens, the garden maintains its structure and beauty year round. Armed with books by sculptor Jake Hobson, who trained at the Slade School of Fine Art in London and spent several years in Japan learning pruning techniques, Nation started to shape her shrubs into soft, billowy shrubs.
(N.B.: For more about Hobson's pruning techniques, see "Topiary: Cloud Pruning as Arboreal Art.")
On the eight acres, Nation and her partner Roberto also have a working farm, and supply local restaurants with produce. They keep a rescue donkey, and a rescue horse, so they also have a pasture. And there are dogs, of course—she named the property Good Dogs Farm because "there are always good dogs around."
In the autumn, the spirea leaves turn bright yellow, a foil for the green boxwood.
The view from the porch: a maple tree in late autumn.
"Everybody loves their garden, but I don't think anybody loves their garden as much as I love this garden," says Nation. "I really worked for it."
Would you like us to feature your garden in an upcoming post? If so, send us some photos. For more information, see "In Search of Secret Gardens, Reader Edition."
(Visited 213 times, 1 visits today)