If you happen to drop in on Louesa Roebuck's new flower shop, you might find she's just returned from a farm, having gleaned armfuls of lemon verbena, cardoon blossoms, and branches ripe with plump black olives. Why? She's filling her newly opened shop in San Francisco's Hayes Valley with her latest crop of flora.
Louesa got into gleaning when she arrived on the West Coast and landed a job at Chez Panisse. She went on to open an edgy clothing store, now closed, but continued working with foraged flowers for special events and dinners. Why a flower shop? "It's really hard to communicate the scope and texture of what I do," she says, "so I wanted a physical space where people can walk in and smell lemon verbena and quince and Saint Helena sage." The narrow sliver of a store is furnished with pieces from H.D. Buttercup, which owns the adjoining organic bedding store. "I want people to feel disoriented by the size and scale; it's a little trippy and unexpected," she says.
Photography by Mimi Giboin for Gardenista.
Above: "What I find is green, wild, and unpatterned," Louesa says. "Not things that are manipulated, manicured, sprayed, and uniform."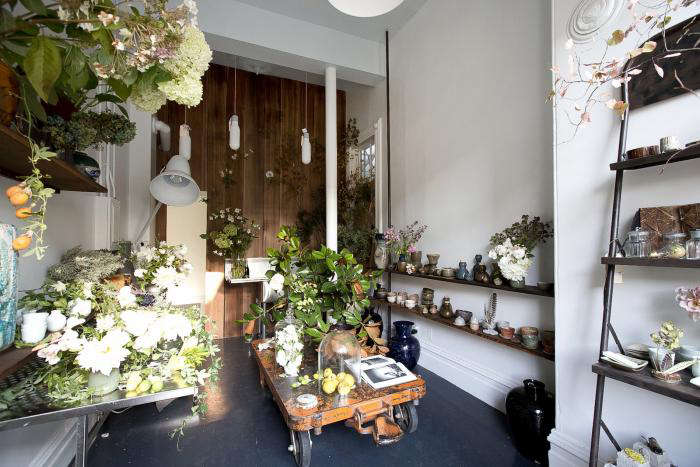 Above: Louesa covered the back wall with salvaged western red cedar. "I love salvaged wood," she says, "but it's overused, so blow-torching and scorching it takes it to a different place." The doorway leads to the newly opened organic bedding store In Bed with H.D. Buttercup.
Above: An assemblage of organic elements and handmade pottery.
Above: Pottery by Yuko Sato. Louesa has included all the pieces she uses for events, including ceramics by Jared Nelson and waxed canvas aprons by Matt Dick.
Above: Huge dahlias from her friend Lauren's garden, mixed with English roses, passion flowers, and vines.
Above: Louesa forages in her friends' gardens and from an extended network of organic farmers in a 60-mile radius. To see more, go to Louesa Roebuck.
Above: A book from Louesa's offerings.
Above: Louesa sitting on the barn door of her Hayes Street store. She had the door cut in half to create a Dutch door and painted it in Railings by Farrow & Ball, the same color she used on the floor.
(Visited 137 times, 1 visits today)