Make a small garden look large by planting espaliered trees and boxwood together in side-by-side planters. Now that we think about it, the same technique will improve any size garden. Here's how to recreate the look: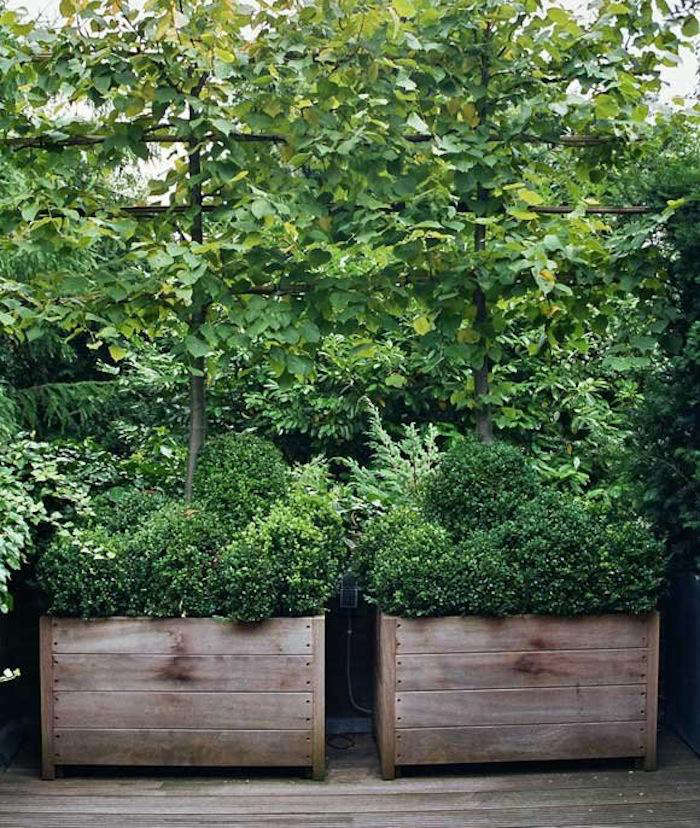 Above: Two Ort planters from Out-standing, a Belgium-based woodworking shop that produces handmade planters and other garden accessories, mostly from rustic oak (to see the full line, go to Out-Standing). In the US, the planters are available through March in SF and Emily Joubert in Woodside, CA.
A slightly more compact choice is the Elite Square Wooden Planter; it's £51.95 from All for Gardening. It's made from pressure-treated timber certified by the Forest Stewardship Council.
Above: Dwarf varieties of fruit trees are easily trained into the two-dimensional form of espalier. For a large selection of espaliered apple and other fruit trees, go to Yamagami's Nursery in Northern California or Henry Leuthardt Nurseries on Long Island. Image via Dennis' 7 Dees.
Above: For a variety of boxwood varieties including American Boxwood (L) and Dwarf English Boxwood (R), go to Brighter Blooms; a one-gallon pot of each variety is $19.95 and $29.95 respectively. Images via Southern Living.
For more ideas, see our favorite designs for a rolling plant stand.
(Visited 324 times, 1 visits today)