What's on the horizon for outdoor and indoor gardens for fall 2018 (and beyond)? Here are nine landscape, garden, and floral design ideas we're admiring:
British Petunias
Purple planting palettes are among our favorites (watch for our upcoming post on surprising ways to mix shades purple flowers in a garden bed). Thanks to UK-based plant breeders Kerley & Co, who just introduced  'Ovation Dark Heart', we've got a new favorite purple petunia for containers, pots, and the front of a border. We're hoping it will make its way to US gardens soon, as well.
Dried Leaves as Decor
The latest twist in the dried-flowers-as-decor trend? Dried leaves as decor.
Think of dried leaves as dried flowers, grown up. Admire them for their architectural qualities and for all their shades of brown. See more step-by-step DIY projects in 7 Ideas for Grasses, Seedpods, and Branches.
Biodynamics
Nearly a century ago Austrian philosopher and edible gardener Rudolf Steiner came up with some pretty original ideas about how to nourish soil. His techniques included burying stag bladders full of flowers, animal skulls packed with bark, and cow horns brimming with dung.
Steiner's principles of biodynamic gardening are having a moment, rediscovered by "winemakers and organic farmers who say a holistic approach to replenishing the soil promotes healthier crops and ecosystems," writes our contributor Clare Coulson. Should you order stag bladders on Amazon next spring to help your tomatoes flourish? Read more in Landscaping 101: Biodynamics for the Edible Garden.
Twig Soda
Forager Pascal Bauder, who calls himself a culinary alchemist, is at the forefront of a growing movement of preserving, brewing, and fermenting invasive plants and other exotic ingredients found in nature. Bauder's twig soda recipe (and more) are in his newest book, The Wildcrafting Brewer. Read more in The Wildcrafting Brewer: A Guide for Botanical Alchemists.
Rewilding
Rewilding, a worldwide conservation movement with a goal to restore landscapes to their original, undisturbed selves, has enjoyed growing support from environmentalists for the past three decades with efforts to bring back brown bears, restore prairies, and build nests for endangered birds.
The latest twist? Rewilding resorts around the world are luring wilderness junkies, enticed by the prospect of bumping along dirt roads to bathe in the forest or sleep overnight in remote yurts where they can see all the stars in the evening sky. Accommodations are available from Montana to Romania.
Swedish Forest Axes
Your new most versatile garden tool? An axe or hatchet, for log splitting or limbing up trees (or chopping them down). Sweden-based Gränsfors Bruk has been making blacksmith-forged tools in northern Hälsingland for a century, and now the company's hand-stamped collection—including mauls, splitting axes, and hand hatchets—is available in the US via Garden Tool Company.
Prairie-Style Gardens
Just as floral prairie dresses have emerged as one of fashion's most popular looks this autumn, prairie-style gardens—with meadow flowers, no-mow grasses, and just enough messiness to create habitats for wildlife —are a trend we're seeing nationwide.
In other words, you don't need to live on the prairie to have a prairie garden. The landscape design of NYC's High Line park is an object lesson, and so is High Ridge Farm (shown above) in Maine. See more of it in 13 Ideas to Steal from Maine's Young DIY Farmers.
Zero Waste Market Bags
A new sustainable storage solution from San-Francisco-based Àplat is a set of sturdy canvas bags, which you can use as shopping bags at the farmers' market and as storage for fresh fruits, herbs, and vegetables in the refrigerator or pantry (they're designed to stand upright on a countertop).
No more plastic, no more waste; wash the bags in the laundry as necessary.
White, the New Black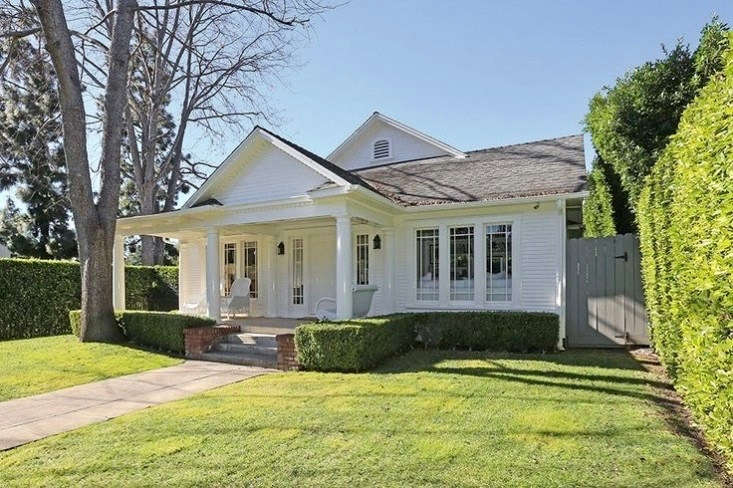 White is the new black? We're seeing a new trend: dark matter is giving way to the light. For curb appeal (and to make a small house look bigger), brighten a facade with a monochromatic paint palette that showcases shades of white.
Wondering which color to choose? See 10 Easy Pieces: Architects' White Exterior Paint Picks.
Are you designing a new garden or rehabbing an existing one? Start with inspiration from our curated Garden Design 101 guides, including Annuals 101, Perennials 101, and Decks & Patios 101. Wondering how well we predicted previous trends? See:
(Visited 32 times, 1 visits today)