Serena Bass may be well known as the executive chef of a trio of successful Harlem restaurants (Lido, Bixi, and The Fox), a caterer whose career was launched by a last-minute dinner for Andy Warhol and 60 guests, and the author of a James Beard Award-winning cookbook-slash-memoir (Serena, Food and Stories – Feeding Friends Every Hour of the Day), but she is also a true plantswoman and gardener. "I think I know every leaf on every plant," she says, referring to the botanical denizens of her garden in the Bed Stuy neighborhood of Brooklyn. And "garden" should read gardenssss, because Ms. Bass is also an inveterate plant collector, with a designer's gimlet eye for color and texture. You know you're approaching the right address when the sidewalk becomes voluptuous with flowers a full two house numbers before you reach her front door. Planted in a collection of containers, this front garden spills seamlessly across a wrought iron railing and up the townhouse's stoop, while a thicket of shrubs guards the garden level entrance. Behind the house is the hidden and true (blue) oasis.
Photography by Marie Viljoen.
The warm, south-facing steps of Ms. Bass's townhouse are flanked by pots filled with fiery hues tamed by cool shades of yellow: orange Calibrachao (tiny petunia lookalikes), daylilies, variegated Pelargoniums and Crocosmia, brick-red Petunias, and dark pink Echinacea, whose international origins neatly reflect the chef's own culinary scope.
All those containers are thirsty.  "I water everything at night, at dusk," says Ms. Bass. "The petunias really need it. Watering usually takes me an hour, front and back." She recently added a 5oth pot to her outward-facing collection.
Until a year ago "this was solid shade," says Ms. Bass. The deep shade, created by a towering neighboring tree, caused a succession of four lawns, to fail, "no matter what kind of grass" was planted. She solved that problem with tumbled travertine pavers. But then came some magical sunlight, whose sudden appearance was due to a windfall. Literally. Desperate for more light, Ms. Bass had offered to pay for a tree service to take down the offending branches. Arborists were in those branches when the neighbor changed their mind. Disappointment. Then, two months later, after a storm, "the entire tree came crashing down," says Ms. Bass. "It was biblical." Enter sunshine, enough to grow hitherto impossible Clematis.
It wasn't always this lush. When she moved in, ten years ago, "it could never have been called a garden. It was a yard," says the English Ms. Bass witheringly. The yard was full of empty beer bottles  ("no Ming") and the soil was clogged with roots. Another neighbor, John Williams, helped clear it all out and new soil was brought it. Mr. Williams, a carpenter and mason, also laid down the herringboned brick that links the garden and porch (designed by Ms. Bass and built by Mr. Williams).
The blues, purples, lilacs, and dark pinks of the garden are orchestrated around the chartreuse foliage of Cotinus and Spirea, two shrubs whose luminescence Ms. Bass found inspiring at the Brooklyn Botanic Garden.
The garden was transformed again in 2021, when the fence was painted blue (Benjamin Moore 840, Blue Heron, solid stain) and topped with a heavy hawser and finials. "It was one of the many COVID pluses," says Ms. Bass, who tends toward unaffected optimism. "I had so much time to look at things." Mr. Williams executed her sketches.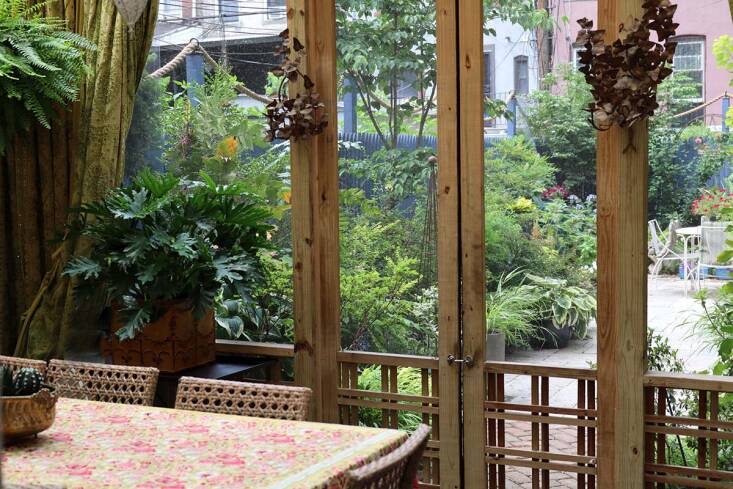 The porch is the perfect dining room where friends often gather, to be fed exceptionally well. And it is the ideal vantage-point from which to appreciate the constant changes.
"The honeysuckle is getting up to the rope," notices Ms. Bass. "It's very exciting."
You can find Ms. Bass on Instagram @serenabass23
(Visited 1,006 times, 1 visits today)