Worm London is a floristry studio that is run out of a tiny basement in Stoke Newington, East London. The business began two years ago when friends Katie Smyth and Terri Chandler decided it was time to work for themselves at something they love. They started delivering bunches and books around London.
Now, their distinctive arrangements appear on the pages of Elle Decoration UK and Harper's Bazaar, and on the tables of restaurants and supper clubs across the city. Their website describes them as "two girls, a stack of books, and loads of flowers." Between early mornings at the New Covent Garden flower market and late-night launches, they've written a book, Wreaths: Fresh, Foraged & Dried Floral Arrangements. I caught up with them over coffee in their sweet-smelling studio.
Photography by Kristin Perers in Wreaths, courtesy of Quadrille Publishing.
Gardenista: How did Worm London begin?
Terri Chandler: Katie's boyfriend, Paddy, introduced us. We could tell straight away that, creatively, we were really similar, and neither of us was happy with the jobs we were doing.
Katie Smyth: We'd both worked really hard for loads of different people, and we'd just gotten to a point where we thought: 'Why don't we do something for ourselves before we start having kids?' We were both interested in floristry so, over a big Sunday dinner with friends, we decided to enroll in a course together. Both of us always gave our friends books and flowers as presents, and one of our friends said: "There's your business! Do that."
TC: We did a really cheap floristry course for a full day, once a week. The brilliant thing about it was you had to bring your own flowers. Katie and I would go to the flower market together and we'd pick all the unusual stuff we liked, so straight away we were starting to find our style.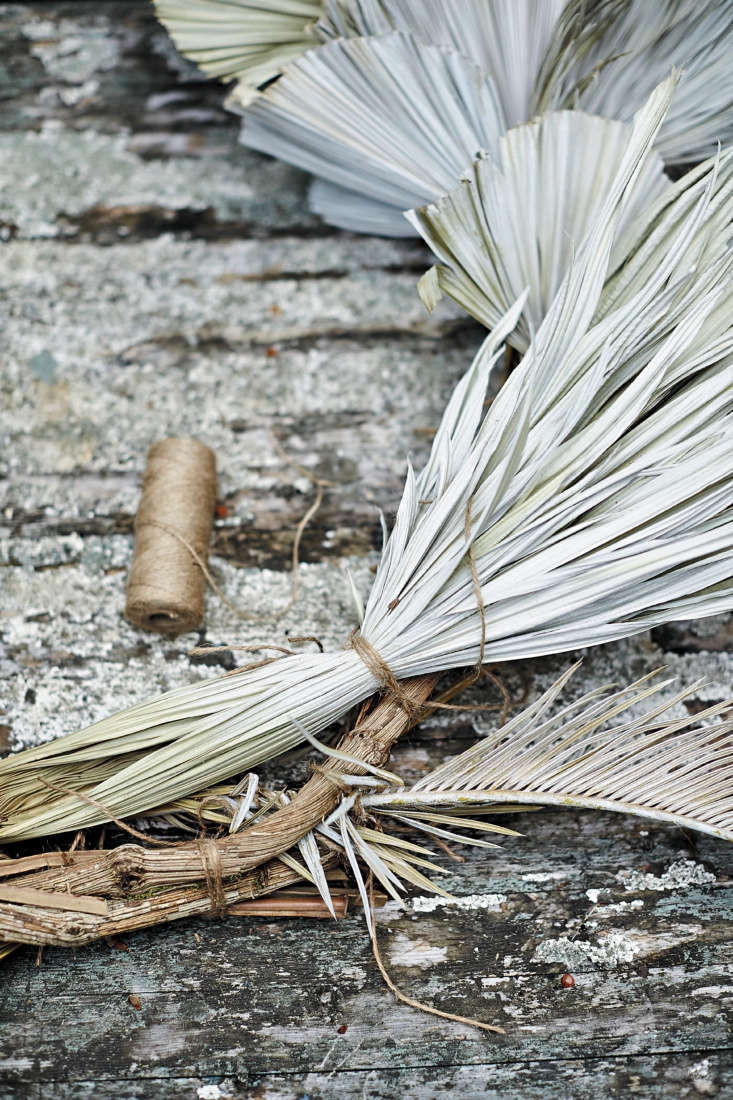 G: How would you describe the Worm London aesthetic?
TC: We have a wild garden style. A lot of it stems from growing up in Ireland, I think [Katie is from Dublin, Terri is from an island off Cork]. When I was growing up, at the start of May, a big Catholic tradition was putting up your May altar for Holy Mary—collecting and arranging wildflowers. When I was a kid, that was really exciting. I think that has really inspired us both.
KS: There are always different textures and sizes to our bunches. And we're not into symmetry in anything. We always stick something in at the end if an arrangement looks too perfect.
G: Why are we seeing more and more wreaths outside of the festive season?
KS: I think it's because people are so much more aware of the seasons. With Instagram, people are so visually clued into it, especially through food. When rhubarb is in season, everyone knows about it. Flowers are following that trend.
TC: I've seen loads of spring wreaths around [Stoke Newington], which is really great. If you're making one at home and you put it on your door, it always feels like a representation of who lives in that house.
KS: When we do workshops, you can really tell a lot about someone's personality by the type of wreath they make. And it's such a simple thing to make. You don't have to be super-arty or anything—anyone can do them.
TC: We also like the thought of a wreath as an ever-changing art project. If you spend a day with somebody, and you pick up some nice bits and add them to your wreath, the flowers become a representation of that day. That feels special.
KS: Even in the book, the Christmas section is the last and smallest chapter. If you have a wreath base in your house, it can be a constantly changing project.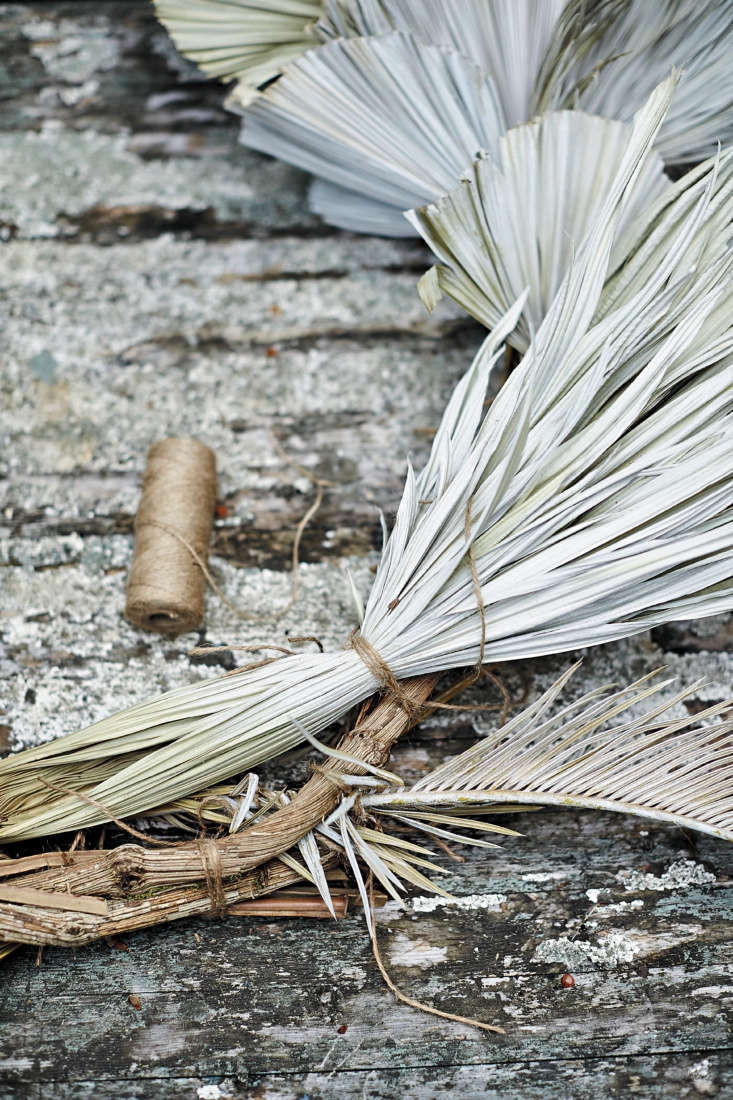 G: Your arrangements often include dried flowers. What's the appeal?
KS: My mum went on a flower arranging course when I was young and came home with these crazy dried flower arrangements with pasta shells and poppy heads. They are still on our wall and they are just so dusty. But dried flowers are becoming really popular in a way that's more refined than in the Seventies.
TM: I think it's part of the home craft movement. People are now drying flowers themselves. The trend for perfect florist flowers has gone and the look is much more wild and natural—which is much more accessible now.
KS: There's obviously a resurgence is self-sufficiency: brewing, pickling, bread-making. People are trying not to be as wasteful and dried flowers is part of that. We get asked so much now to do dried material, I think because they last forever and they can be done in some really interesting ways. We use dried tropical leaves which makes it much less twee than in the Seventies.
TM: Pressing flowers is really big now as well. That had gone totally out, but it's so popular now. We get asked a lot for them on menus and cards.
G: What's next in floristry, do you think?
KS: Some of the flowers that had a bad rep are coming back, such as gypsophila. Fashion is really leading the taste in flowers.
TC: Carnations too. They are hardy, they last out of water, and they come in all these new colors, like raspberry ripple. In fact, when you stand back and look at them, they're actually really beautiful. Honesty is another really popular dried flower that's really hard to get. And pampas grass. It divides opinion, but we love it. It's like Birkenstocks: 10 years ago, no one was wearing them. Now they're everywhere.
KS: There's definitely also a big move toward really creative floristry that we're seeing already. I think floral art is something we're going to see loads of.
TC: We have a few projects in the book like that—mobiles, wall installations. Less in the vase, more beyond the vase, really.
See more of our favorite floral trends (and our favorite flowers to grow in Annuals 101: A Field Guide to Planting, Care & Design:
(Visited 369 times, 1 visits today)