Fireflies-in-a-jar is the level of lighting I want when I dine outdoors at night. Without actually putting fireflies into a jar of course, because fireflies are people too.
To get the same golden glow they emit from their little beetle bellies, here are 10 of our favorite tabletop candle lanterns:
Above: A Smokey Grey Glass Lantern from Danish designer Eva Solo hangs from a sturdy metal wire and holds a tea light. It comes in two heights–20 and 25 centimeters–and is available at prices ranging from €49.90 to €59.90 depending on size.
Above: A Marstrand Candle Lantern from Skaargarden has a leather frame and handle in case you want to hang it from a branch. It is $180 from the Dwell Store.
Above: A tabletop Lanterna Candleholder made of plated stainless steel has a decorative leather handle; 325 SEK from Garden Home.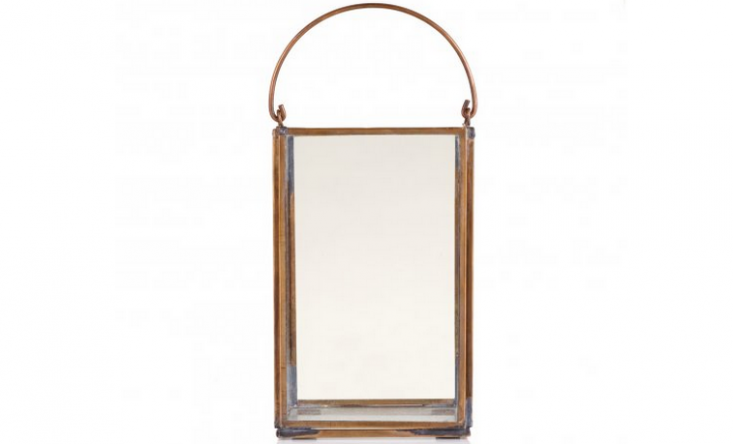 Above: A Copper And Glass Votive Lantern has an open top and padded surface protectors on its base; £12 from Oliver Bonas.
Above: From Roost, Nickel Carriage Lanterns are available in three sizes; at 24.5 inches high, the smallest size is $145 from Modish Store.
Above: A Round Rhode Lantern is 14 inches high and has a metal handle; $90 from Tuvalu Home.
Above: From Danish designers Norm, a  black Carrie Lantern has a powder coated steel frame and a glass bowl that also can be used as a vase. It is €94.95 from Finnish Design Shop.
Above: The German-made Lumbra Lantern from Blomus is $161.99 at Lumens.
Above: Design House Stockholm's Lotus Hurricane Lantern has a steel handle, stands 17.5 inches tall, and is available in black, silver, and white; $74 at Scandinavian Design Center.
Above: A tall, battery-powered LED Washi Paper Lantern from Japan-based designer Hayashi Kougei is $80 from Nalata Nalata.
For more romantic outdoor lighting, see:
(Visited 64 times, 1 visits today)