An outdoor bathtub is the ultimate luxury. We'll travel anywhere from Bali to Tasmania (and lay over in Big Sur, after they clear the road slides) for a soak. Here are our 10 favorite open-air baths:
California Desert
For rent in the southern California desert: A secluded adobe house on 2.5 acres (less than 3 miles away from Joshua Tree National Park), outdoor tub with views of jackrabbits included. For more information, see HomeAway.
Tuscan Countryside
For more of this project, see Il Baciarino: An Off-the-Beaten-Path Retreat in Tuscany on Remodelista.
Big Sur, California
Twin tubs sit next to a wood-burning fire pit to fight the chill when the fog rolls in at Big Sur, California. For more information, see Glen Oaks Big Sur.
Lilydale, Tasmania
Bathe on the deck on a secluded 50-acre property; for more information see Airbnb.
Napa Valley
For more of the Carneros Resort and Spa's "eco-conscious landscaping, and understated (yet subtly luxurious) aesthetic," see Hotels & Lodging: Solage and Carneros Resort and Spa in the Napa Valley.
Los Angeles
For more of this project, see Outbuilding of the Week: A Study in Black by LA Designer Alexandra Angle.
Bali, Indonesia
"Where rice fields meet the bustling town center" on Bali; for more information about these accommodations see Aria Villas.
Jamaica
For more of this project, see The Tropical Life: A Family Camp on Jamaica by Designer Sean Knibb.
Bali, Indonesia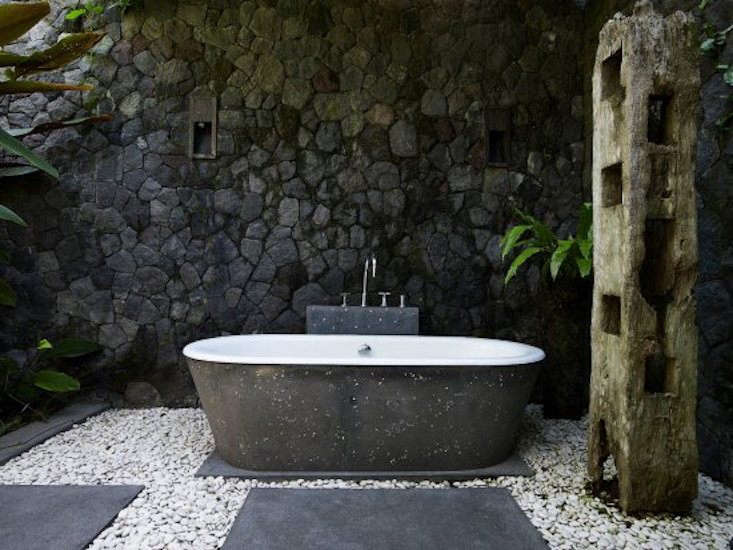 About a 10 minutes' drive north of Ubud on the island of Bali, the resort at Chapung Se Bali has dramatic views of the Osh Valley. For more information, see Chapung Se Bali.
East Coast, Tasmania
Go for the views of Great Oyster Bay; stay for a soak. See more information about Tasmania's east coast at Thalia Haven.
N.B.: For more bathing with a breeze, see:
(Visited 1,511 times, 6 visits today)