Even though it's officially spring, it's too early to plant my vegetable garden, as there's still snow on the ground. But that hasn't stopped me from plotting and replotting it in my head. This year, I'm taking design cues from Pine House Edible Gardens. I've long admired the vegetable gardens they create. They're colorfully lush, highly productive, and ever so beautiful. Lonna Lopez, a designer at the Oakland-based firm, shares some of the secrets to their bountiful success.
Photography by Caitlin Atkinson.
1. Go tall!
You don't need acres of land to have a productive edible garden. Lopez and team grow vertically when they can, to make use of all available space. They incorporate trellises, archways, and obelisks into beds, and utilize fences to encourage vining plants to climb. This frees up space in the beds for more veggies, herbs, and blooms.
2. Don't forget fruit trees.
"We like to incorporate fruit trees into our vegetable gardens," says Lopez, who plants them in borders surrounding the raised beds. "It helps to put them in places where there are already lots of pollinators to maximize the impact. Plus, in areas like California, we like to focus the areas in your landscape where you might need to water."
3. Build seating for gardening.
As my back and I have gotten older, we've come to really appreciate tall, raised beds, and Pine House Edible Gardens has built some beautiful ones. My favorites feature a ledge where you can sit to weed and harvest, rest your pruners or a basket, and store your water bottle. But take note: these caps take up space, so they work best when you have room for larger beds.
4. Put heat-loving plants next to walls.
To grow warm season crops like pumpkins, melons, and butternut squashes, plant them where the fruit can grow next to a sunny wall from raised beds, sheds, or fences. The walls will absorb heat from the sun and help the fruits ripen faster.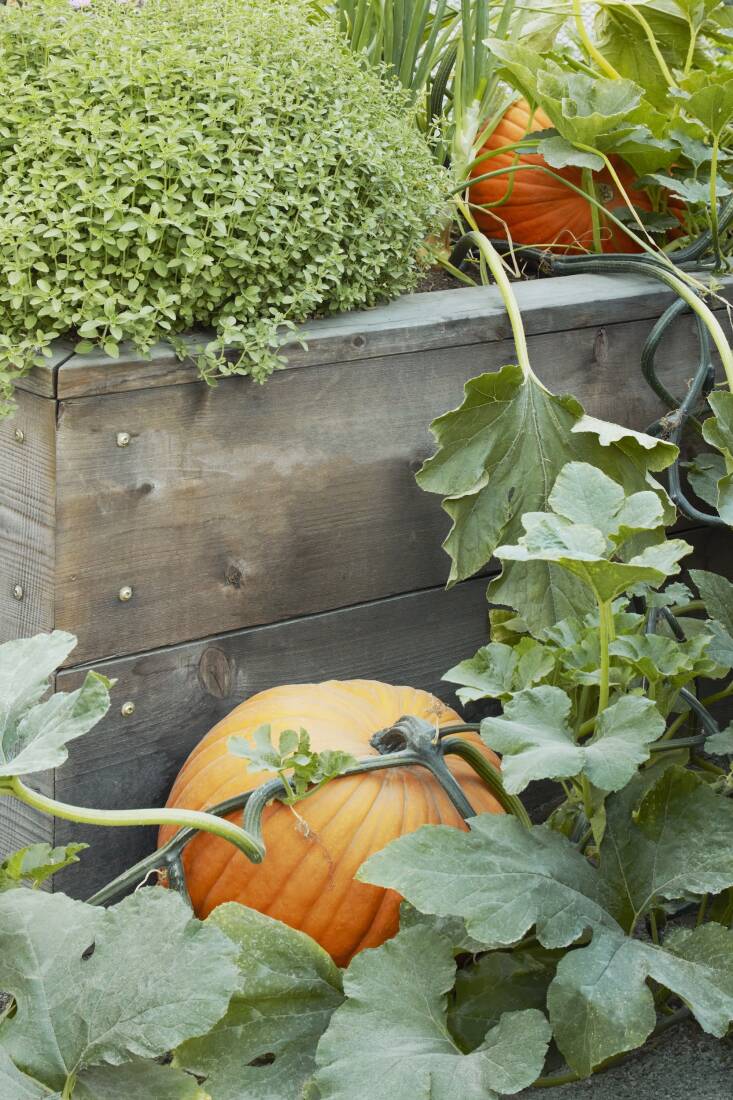 5. Grow pollinator attractors.
A prolific edible garden needs pollinators—bees, wasps, butterflies, and other insects that pollinate plants—to be productive. Lopez and team fill their veggie beds with colorful blooms that will lure them.
6. Tuck annual cutting flowers into beds.
There are many reasons why Lopez likes to plant cutting flowers throughout edible beds. First, they attract pollinators. Second, they can fill in gaps while slower-growing vegetables are getting started. Third, since they're incorporated into a productive vegetable garden where there is lots to see, you won't create gaping holes when you snip them for arrangements, like you might if you were cutting out of your front yard, for example.
7. Blend warm and cool colors.
"When you mix flowers in contrasting colors, they pop," says Lopez. "They have a big impact from a distance." When selecting plant combinations, she recommends searching for varieties that have both warm and cool tones in a single flower to keep the combinations from clashing.
8. Vary texture.
It's not just about color. The Pine House Edible team makes sure to blend different textured foliage and blooms, mixing fine-leafed varieties with larger ones. "One trick I learned from my floral design days to see if your design is working is to take a picture of a plant grouping and convert it to black-and-white. Can you see a difference between tone and shape?" says Lopez. "If not, make changes."
9. Mind the pathways.
Pine House Edible Gardens likes to use decomposed granite (DG) for pathways. The material is permeable and compacts firmly. "Unlike pea gravel, which can make you feel like you're walking on the beach, DG is easy to walk on," says Lopez. "You can practically do it barefoot."
10. Edge beds with herbs.
When planning the design of each bed, Lopez recommends placing herbs along the edges. "When they spill over, they help soften the look of the beds," she says. We think about the color and the texture of every herb and then repeat them throughout the beds," Lopez says. "The herbs keep the beds looking beautiful all season long even when you're transitioning vegetables, such as when you replace cool-season varieties with heat-lovers, for example."
See also:
(Visited 1,441 times, 4 visits today)