Every time I see a Pine House Edible Gardens project, I smile. Simply put: They're joyful—bursting with lush plantings, colorful blooms, and lots of organic fruits and vegetables ripe for the picking. "We jam pack our gardens with reasons for our clients to be in them," says Holly Kuljian, landscape architect and principal of the San Francisco Bay area-based landscape design firm. "We want them to interact with their gardens throughout every season."
For a home in the Fruitvale neighborhood of Oakland, Kuljian and team created a bountiful garden that beckons their clients to harvest produce for meals, snip flowers for arrangements, and stroll through the verdant wonderland before stopping to relax and take it all in. They terraced the previously unusable (ie. extremely steep) backyard, building out distinct areas, including an orchard, kitchen garden, and firepit. To make a "dry tropical" feel, they emphasized foliage over blooms, mixing plants in different hues and textures, and tucking in edibles throughout the property. The result is a drought-tolerant and highly productive landscape that is a feast for the senses.
Every project by Pine House Edible Gardens includes a fee to support Black Sanctuary Gardens, an initiative started by the firm's founder Leslie Bennett to make "a series of garden spaces created in collaboration with Black women and Black communities in and around Oakland, CA," because "creating places of respite and beauty that celebrate our Black communities is essential as we work to grow a more beautiful and equitable world together."
Photography by Caitlin Atkinson, courtesy of Pine House Edible Gardens.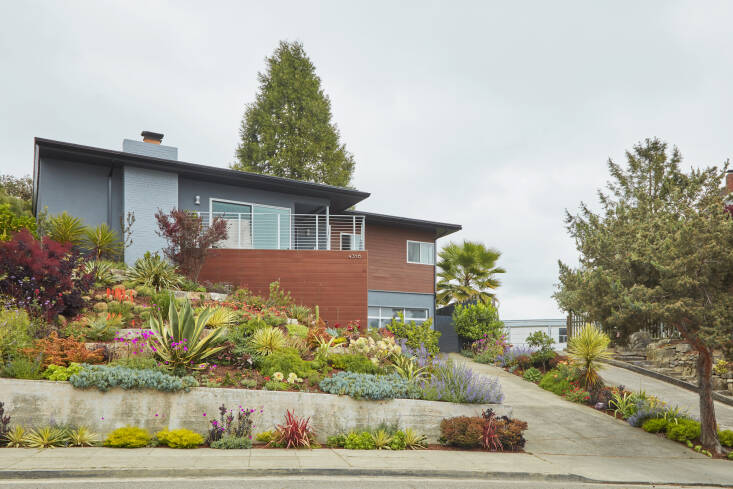 See also:
(Visited 855 times, 1 visits today)