What happens when a Japanese-style garden meets the southern California desert? For the very Zen results, let's visit a serene gravel courtyard that landscape architecture firm Terremoto designed for Mohawk General Store in Santa Monica.
Photography by Caitlin Atkinson, courtesy of Terremoto.
"This was an attempt to create a garden that was both Japanese and desert simultaneously," landscape architect David Godshall says, adding that client Kevin Carney wanted a space to have movie screenings and to create a backdrop for fashion shoots.
The garden, formerly occupied by gardening shop Potted, had existing hardscape (some concrete slabs) and a few specimen plants—including two large palms—that the team salvaged from the previous design. "For the rest of it, we started from scratch."
"We made the design process conversational," Godshall says. "We went cactus shopping with the clients. Then we went boulder shopping. After we got all the elements on site, an incredibly hardworking crew shadow boxed them into place. Then there was a lot of looking at how things looked, walking around, and shifting it around."
The custom benches are made of cedar planks on concrete bases. "We came up with the design after looking at a lot of benches," Godshall says. "I went to the hardware store and saw little concrete piers that cost seven dollars each. I realized they are beautiful objects, so we got them and then bought a nice piece of cedar for each bench."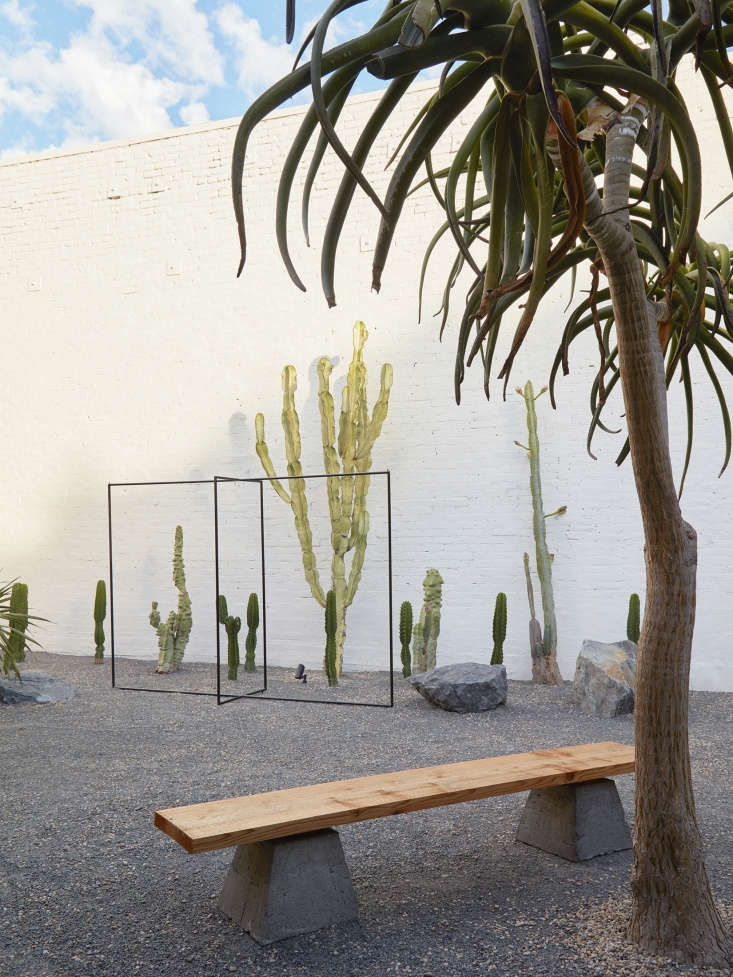 "We built a beautiful space that allows flexibility, for events, and which also is a sculptural space that needs no further justification, where people can take a phone call or do what they please," says Godshall.
"Basically all of the landscape lighting is uplighting because the garden is not trafficked a lot at night, and we didn't need to have path lighting," says Godshall. "We like the look of dark landscapes so we lit up just the major plants."
If you're designing a desert garden, get more inspiration from 10 Ideas to Steal from Desert Gardens and see our curated guides to Hardscape 101 projects, including Fences & Gates, Decks & Patios, Swimming Pools, and Outdoor Showers. For more ideas about how to create layered plantings in a desert garden, see Succulents & Cacti 101 and more of our favorite desert garden projects:
You need to login or register to view and manage your bookmarks.