Midcentury modern garden design evolved alongside the breathless optimism of America's suburbs. In the decades following World War II, greater prosperity and more leisure time seemed as inevitable as buying molded plastic chairs for the patio.
A central tenet of midcentury modern landscape design: "Gardens were to be lived in, not looked at. Outdoor spaces would be woven together in free-flowing plans," writes Ethne Clarke in her book The Mid-Century Modern Garden (Frances Lincoln, 2017).
The easiest way to remember the difference between modernist garden design and midcentury garden design is that while all midcentury modern gardens were designed in the modernist era, not all modernists embraced midcentury modern design. Restrained palettes? Modernist. Bright, primary colors? Midcentury modern. Outdoor living rooms? Both. See more at 10 Garden Ideas to Steal from the Modernists.
We have midcentury modern garden design to thank for (among other things) the rise of the backyard as a destination, lawn mower culture, and the ubiquity of the charcoal grill. And here are 10 ideas, as fresh and modern today as ever, to steal from midcentury modern gardens.
See-Through Walls
To emphasize the connection between indoors and out, in midcentury modern homes sliding doors opened onto the garden and large expanses of glass replaced walls to frame views and invite light into the house.
Patio Living
"The patio became the perfect place for a backyard grill and patio furniture made with new materials like plastic and aluminum," according to the Smithsonian Institution's exhibit, Patios, Pools, & the Invention of the American Backyard. A generation that benefited from the postwar prosperity that turned the backyard into what the Smithsonian describes as "an extension of the house, a room designed for relaxing, recreation and entertaining."
Low-Maintenance Shrubs
See more in Daring Color Ideas to Steal from the Finn Juhl House in Copenhagen on Remodelista.
Butterfly Chairs
The portable lounge chair was a midcentury modern invention that remains fresh today. "Knoll acquired the US production rights in 1947, and about 5 million chairs were sold during the 1950s alone," writes our columnist Megan Wilson.
Lightweight butterfly chairs can move from patio to poolside (or indoors to the living room in inclement weather). See more in Object Lessons: The Butterfly Chair.
Primary Colors
Geometric shapes and patterns—as evidenced by flat roofs, angled corners, and cantilevered overhangs—were typical features of midcentury modern homes. To emphasize the squares and rectangles of the architecture bright colors adorned flat panels on facades and walls in gardens.
Natural Stone
Midcentury modern garden designers placed a premium on the use of local materials, particularly natural stone, which added an organic element to low-maintenance landscapes.
No-Flower Gardens
"From inside Johnson's shimmering box, perched on a promontory overlooking a pond, the view of apparently untamed New England forest and un-mown grass was carefully planned and pruned to resemble both the naturalistic gardens of 18th- and 19th-century Europe and the midwestern farmland of his Ohio childhood," writes our contributor Betsy Gleick.
Breezy Patios and Courtyards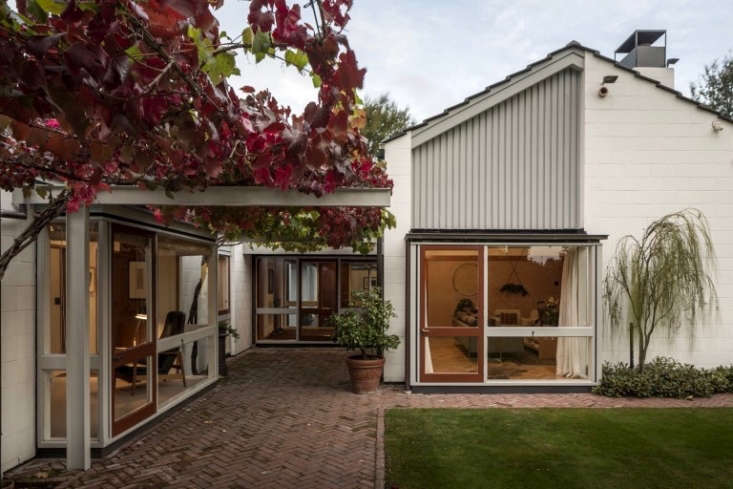 To connect indoors to out, open-air breezeways forced residents into the fresh air when they ventured from one wing or room of a house to another. See more at Garden Visit: Landscaping for a Modern House in Christchurch, New Zealand.
Specimen Plants
"In mid-century gardens, a scattering of shrubs was low maintenance yet stylish," writes our contributor Clare Coulson, in her review of The Mid-Century Modern Garden by Ethne Clarke. "While there may be a defined style to mid-century gardens, this was not an era of plantaholics and gardening enthusiasts."
Curb Appeal
An understated entry and front garden is a hallmark of midcentury modern gardens.
If you're designing a new garden or rehabbing an existing landscape, get started with tips and inspiration from our curated guides to Garden Design 101. From Shrubs: A Field Guide to our design guide to Decks & Patios, we've got growing and design tips tailored to your climate. Read more about midcentury modern design: