Ten towering yew topiaries usher you in to the gardens at Wollerton Old Hall in Shropshire. It's a breathtaking beginning to a garden that's endlessly packed with surprising twists and turns. And the story behind it is just as intriguing. Bought by Lesley and John Jenkins in 1984, this 16th-century hall was once Lesley's childhood home, where she would ride her pony in the then-Edwardian gardens. One day two decades later, she drove past on a detour and realized it was for sale and put in a bid for the home that she had loved as a child.
Today, more than 30 years on, the gardens are an astounding accomplishment. With no training (although a fair amount of gardening experience), Lesley devised a complex series of garden rooms and a croft set in four acres and laid it all out with meticulous precision so that, at almost every turn, there are stunning glimpses and stop-you-in-your-tracks moments. Yet for all the grandeur here there are so many inspiring ideas to take away for any gardener, on any sized plot, too. Here are 10 garden ideas to steal from Wollerton Old Hall:
Photography by Clare Coulson.
Tall Topiaries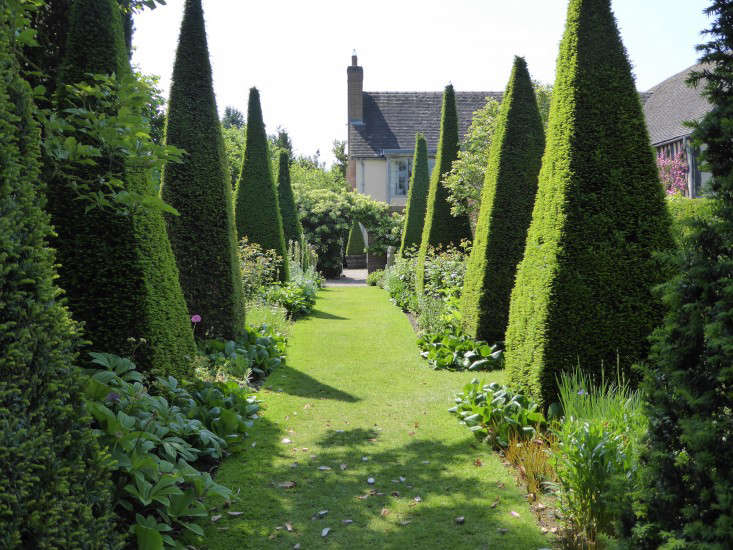 Above: By placing imposing towers in a relatively narrow area, Lesley has achieved maximum impact. For the newly installed head gardener, Gareth Manning, the annual clipping of the 14-foot-high yew pyramids, is one of the more daunting tasks.
Symmetry
Above: The cool and calm rill garden is a tranquil resting place and gives glimpses across the gardens to the yew walk. It has a masterful symmetry with box domes and towering hornbeam (Carpinus betulus 'Frans Fontaine') edging the rectangular rill. In spring terra cotta pots are filled with white pansies but by high summer these are switched for the graceful Hydrangea Paniculata Unique ($15.95 from Burpee).
Shady Spots
Above: There are wonderful views at every turn; here a walk up to a timber summerhouse is edged with Nepeta Six Hills Giant ($10.95 from Bluestone Perennials).
Painterly Color Palette

Above: Lesley was once an art teacher and that painterly eye shows in the rich planting combinations; here the gorgeous lilac Phlox Blue Paradise ($13.95 from White Flower Farm) is paired with Rosa Lady of Shalott ($27.95 from David Austin) and Salvia Nemorosa Caradonna ($8.95 from Bluestone Perennials).
Hot Garden
Above: The Hot Garden is a riot of intense colors, from zingy yellows to eye popping reds, but the foliage is equally mesmerizing. Here Sambucus Nigra ($17.99 from Proven Winners) is joined by the coppery spikes of Phormium Evening Glow (£14.50 from Burncoose Nurseries in the UK), abutilon, Ligularia dentata, golden achillea, and gorgeous waxy canna leaves.
Contrasting Textures
Above: Wollerton is packed with interesting plants and the owners excel in discovering more unusual varieties. Here the deep magenta spires of Lupinus 'Masterpiece' (£7.99 apiece from Crocus in the UK) are contrasted brilliantly with Carex Elata Aurea ($8.95 from Santa Rosa Gardens).
Unmown Lawn
Above: In the font garden, the loggia is festooned with Rosa 'Francis E Lester' (£15.50 from David Austin in the UK; Francis E. Lester is $14.95 from High Country Roses), just coming into bloom and bordered by enormous box balls. The stone "font" is surrounded with a square of unmown meadow—a simple but incredibly effective feature.
Wildflower Volunteers
Above: Wildflowers are encouraged to grow in the unmown grass surrounding the font.
The Big Reveal
Above: This garden is an endless lesson in the power of the big reveal: the breathtaking entrance to the garden is slowly revealed as you enter through a hobbit-size gate topped with branches of Hydrangea Petiolaris ($29.95 from White Flower Farm).
Rustic Wooden Backdrop
Above: Architectural features meld seamlessly with the timber structure of the ancient house. Lesley designed and commissioned the Arts & Crafts-inspired oak posts and gates in the garden which have now mellowed to look like they have been here forever. They are the perfect backdrop to lilac Polemoniums ($6.49 for a 3-inch pot) and Iris sibirica.
Cottage Garden Favorites
Above: There's no snobbery about plants here from the variegated ground elder growing happily in the shade garden to these dazzling hollyhocks that line the entrance to the tea rooms in mid summer.
For more of our favorite English gardens, see In the Garden with Philippa: Brit Style with a Black Backdrop and Garden Visit: The Tulips of Hawthorn Cottage.
(Visited 2,085 times, 9 visits today)