Last weekend there were strawberries, asparagus, and sunflowers at the farmers' market. While I stuffed my goodies unceremoniously into a backpack, I couldn't help but wish I had a beautiful straw market tote like the ones my friends in Paris always carry.
If you've got similar yearnings, here's a roundup of 10 French market totes, perfect for carting home bundles of fresh flowers and wedges of stinky cheese.
Above: A Medina Market Tote handwoven from date palm in Morocco measure 12 by 18 inches and is $48 from SHED.
Above: The classic French Market Basket is trimmed in leather; €50 ($55.13) from the French Larder at the Cook's Atelier.
Above: A Basket Tote has leather handles; available for $48 from Greige.
Above: With two sets of leather straps and a flat bottom for the comfort of your vegetables, a French Market Basket is at home at any farmers' market; $55 at Food52.
Above: For a more daring pop of color, here's a Shopping Basket with green handles (pink, orange, and blue are also available); £37 from French Baskets in Morocco.
Above: This French Market Basket with Two Handles can be carried in one hand or over your shoulder; available for $50 from Olive and Branch.
Above: This classic Basket Tote has narrower handles than some of the others; available for $48 from Greige.
Above: Woven with Moroccan materials in France, a French Market Basket is $47.99 from Petite Provence. 
Above: A straw French Market Tote handbag has two alligator handles; for more information and pricing, see Alexandra Knight.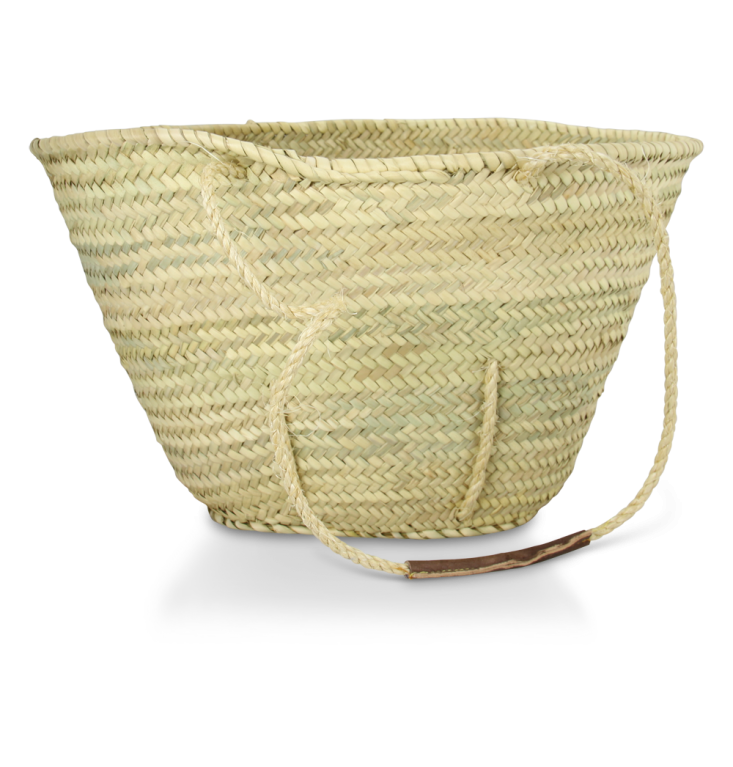 Above: With sisal handles and leather hand grips, a La Vie Quinn is $34 from Maison de Kristine.
Above: The Seville Basket, handwoven from palm leaves, offers a variation on the traditional French basket profile; €35 ($38.59) from Villa Bloemenhof.
Above: The Beldi Basket with Indigo Leather Handles is handwoven in Morocco; contact Bohemia Designs for ordering information.
Is canvas more your style? See 10 Easy Pieces: Canvas Totes. And if you're looking for the perfect tote to use in the garden, see A Tote Worthy Garden Bag.
Updated from a post originally published June 4, 2013.
(Visited 222 times, 1 visits today)