Anyone who has visited the bustling, busy medinas of Moroccan cities like Marrakesh knows that the courtyard garden— which is at the heart of almost every large house and certainly each riad—is a place of calm, a serene and soothing retreat from the noise and activity outside. These private gardens have traditionally combined Islamic, Moorish, and French influences and are a rich source of ideas for outdoor spaces.
Here are 10 ideas to steal from gardens in Morocco:
Pile on the Tiles
Cool surfaces are key in hot, arid climates but in Morocco they are generally colorful too. Zellige tiles—most famously in green and white—can create impactful geometric patterns across floors, walls, fountains, and other surfaces. This Moorish tile can be used on any scale to draw the eye to features or to create an imposing entrance.
Supersize Your Evergreens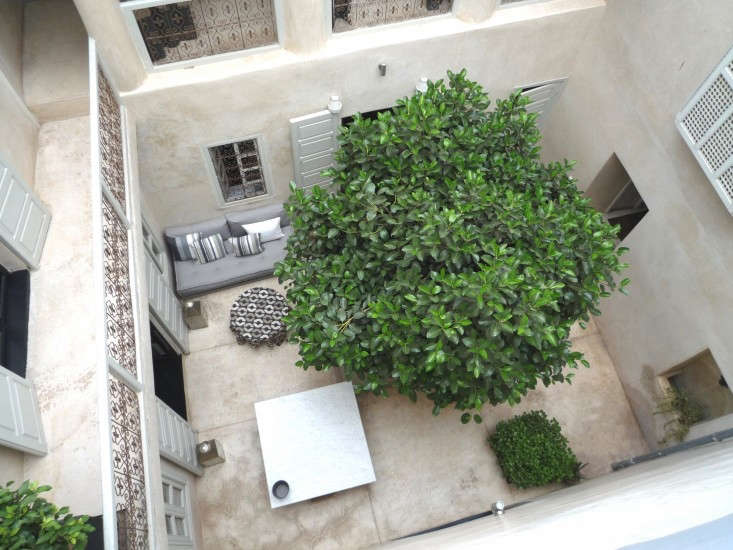 No Moroccan garden is complete without some super-sized palms or heat-loving exotics. No only do these architectural plants create cool, shaded areas, they also form beautiful shadows on smooth, matte tadelakt plasterwork or pools of water, they also create a year-round lush garden. Evergreens contrast with richly painted walls too; at the Riad Madani a deep raspberry pink plaster and aqua-green tiled floor blends beautifully with the foliage of towering banana plants. Plant them in enormous terra-cotta pots for added impact.
Cool Down With Water
In her book, The Art of the Islamic Garden, Emma Clark explains that "the idea of paradise as a garden is a very ancient one, pre-dating the three great monotheistic religions, Judaism, Christianity, and Islam, by centuries. Within the Islamic context the key elements of flowing water, shade and exuberant foliage powerfully convey ideas of both spiritual and physical refreshment." Central fountains (often set within an octagon) and soothing pools continue to be symbolic in Islamic gardens and, are often filled with green or blue tiling to catch the sun and create colorful effects on the water's surface.
Add an Awning
Sails in suitably earthy tones are a common site on the roof terraces of Marrakesh, where they provide protection from the harsh North African sun and also create a nomadic Berber ambience, especially when hoisted above some low day beds scattered with piles of cushions.
Keep It Symmetrical
The architecture of most riads dictates the orderly gardens within, often with a central focal point such as a fountain or tree neatly intersected with tiled paths. At Ksar Char Bagh in the Palmeraie of Marrakesh, symmetry is taken to a higher plane, with stunning cool courtyards inspired by the Alhambra Palace, and a breath-taking avenue of palms that edge the turquoise pool.
Don't Forget Grasses
Ornamental grasses might not seem the most Moroccan of plants but at Le Jardin Secret, designer Tom Stuart Smith has shown how effective a sea of Stipa tenuissima can look. Planted in a series of symmetrical beds, the hazy grass creates a cooling effect planted under ancient olive trees.
Light a Fire
At night, fire pits will make your guests gather and linger. For larger spaces, a few fires can create maximum impact when combined with strategically placed lanterns. Use them to light a path and define areas or to illuminate cozy nooks.
Soften the Edges
Comfortable seating areas that encourage long, relaxing evenings outdoors are almost an art form in Morocco and speak volumes about the cultural importance of food and hosting. In the beautiful hotel gardens at Jnane Tamsna in the Palmeraie, richly colored, layered rugs add more texture and tables are topped with atmospheric tea lights.
Perfume the Air
Morocco is famous for its lush roses as well as the oils and waters made from them – the flowers grow in the aptly named Valley of the Roses in Ouarzazate, where there's also a festival in May to celebrate the harvest. The flowers are also an important component of many gardens in the country too, where they fill the air with their intoxicating scent at night. In one project in the Atlas mountains, designer Luciano Giubbilei contrasts abundant soft pink roses with mass plantings of fluffy pennisetum.
Play with Color
Under the intense North African sun, rich colors can hold their own. At Jardin Majorelle, the incredible house and gardens that Yves Saint Laurent famously made his home in 1980, tall walls and hardscape elements such as the fountain shown above are famously painted in deep Yves Klein blue, with flashes of yellow and turquoise. The walls provide an incredible foil to the texture and forms of towering cacti and palms that surround the house and contrast beautifully with the terra-cotta paths that lead from the house into the gardens beyond.
See more in Rhapsody in Blue: Jardin Majorelle in Marrakech.
N.B.: For more ideas to get the look, see: