Tile is tough. It stands up to rain, wind, snow, and water rings. In an outdoor setting, where the rest of the furniture is often trying to blend in with the landscape, a colorful tiled coffee table can steal the show. Here are 10 of our favorite tile coffee tables to consider:
Above: With a 20-inch diameter, The Midge is available in six tile colors including orange as shown; $495 from Potted.
Above: A tiled Tangier Coffee Table in shades of black, gray, and white measures 31.75 by 24 inches. It is $399 from CB2; order now for shipment in September.
Above: Available in custom colors, sizes, and shapes, glass tile Coffee Tables from LA-based Plain Air have powder coated stainless steel bases. For information and prices, see Plain Air.
Above: With a steel frame (available either in black or in white as shown) and a choice of four handcrafted tile colors including azure and white as shown, a Marrakech Low Table from Skargaarden measures 25 by 25 inches and is 18 inches high; $625 from Y Living.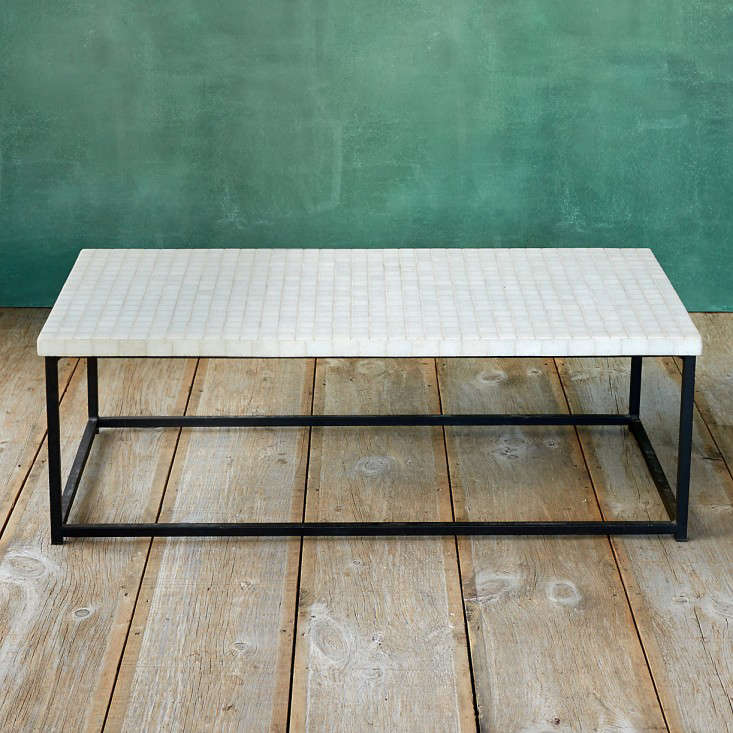 Above: A white marble Mosaic Coffee Table an an iron metal base, measures 47.2 inches long, and is $698 from Terrain.
Above: A Mosaic Tiled Coffee Table has a metal base and a white marble top. It measures 32.5 inches in diameter and has a charcoal metal base; $369 from West Elm.
Above: Photograph by Molly Winters courtesy of Ann Edgerton.
One-of-a-kind tiled Moroccan coffee tables are from Tesoros Trading Company in Texas. For more information, see Tesoros.
Above: A Mosaic Tiled Coffee Table with a marble top with a weathered gray wood base is 32.5 inches in diameter and is $399 from West Elm.
Above: Photograph via Badia Design. Available in 12 diameters from 16 inches to 64 inches, a large selection of Decorative Mosaic Round Tables is available from Badia Design in Los Angeles. A patterned tile 32-Inch Round Tabletop is $382.50 and iron Table Bases are sold separately.
Above: On sale for $149, a blue mosaic glass Tile Coffee Table has a black iron base with a powder coat finish; marked down from $399 it is at Crate & Barrel.
Shopping for patio or deck furniture? See more of our picks:
(Visited 299 times, 1 visits today)