In a living room, the coffee table often feels like an afterthought, the last piece of furniture you buy after you know how big the sofa is. (A rule of thumb for a well-proportioned coffee table is that it should be about two-thirds as long as a sofa and an inch or two lower than the other chairs' seats.)
But outdoors, a coffee table often plays more than a supporting role. If your balcony or patio is small, a coffee table may double as a dining table. If exterior space is really tight you may not own an outdoor sofa, in which case you will want to pull up chairs to ring a coffee table, campfire style.
We have nothing against square or rectangular furniture (watch for our upcoming posts on those topics), but we will say for the record that a round outdoor coffee table has the friendliest shape. No corners makes it easier to seat a crowd without dead zones. and in a tight spot where you don't have the luxury of leaving 18 inches of space between the coffee table and other furniture, you'll be happy for a round one, with no sharp edges to bang shins.
Here are ten of our favorite round outdoor coffee tables: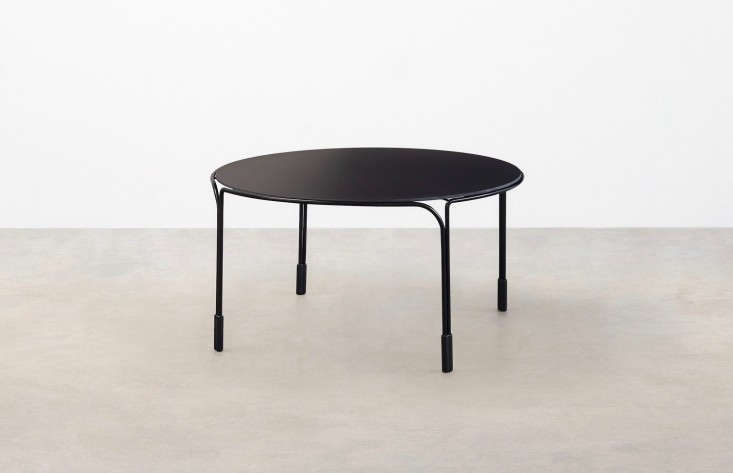 Above: Australia-based designer Trent Jansen's stainless steel Tidal Coffee Table is available with a powder coated or electro polished finish and measures 29.5 inches in diameter. For more information and pricing, see Made by Tait.
Above: Constructed of sustainably harvested teak, a Finn Coffee Table measures measures 41.5 inches in diameter and is available with either black powder-coated or brushed stainless steel fittings; on sale for $548 (marked down from $685) at DWR.
Above: Ferm Living's large Marble Table measures 27.75 inches in diameter and has a powder coated steel frame and a solid marble top; not available online, it is €368. (For US shoppers, Horne also carries the table; it is available for online purchase. The table is currently out of stock. For more information, see Horne.)
Above: Made of powder coated aluminum, weather-resistant Outdoor Cluster Tables by Christian Woo are available in two colors and three diameters, from 23 to 35 inches; from $680 to $1,150 depending on size from The Future Perfect.
Above: A Jardine Coffee Table made of tropical mix hardwood is 32.25 inches in diameter and is on sale for $229.99 marked down from $319 at West Elm.
Above: Made of recycled milk jugs, a Satellite Round Cocktail Table by Loll comes in 10 colors including Charcoal as shown and measures 36 inches in diameter; $748 from Y Living.
Above: A 31-inch teak Djuro Lounge Table from Denmark-based Skargaarden is $860 from Horne.
Above: A Serac Coffee Table available in three finishes including black as shown is made of powder coated stainless steel and measures 33.5 inches in diameter; $1,343 from All Modern.
Above: From Barlow Tyrie's Haven collection, a 40-inch teak Conversational Table is $1,289 from Curran Home. N.B.: Stock is limited; the design is discontinued.
Above: A solid cast aluminum Henry Coffee Table made in the USA is available in three colors including black as shown and is $649 from Rejuvenation.
Mix and match with more of our favorite outdoor furniture pieces, including 10 Easy Pieces: Garden Benches and 10 Easy Pieces: California-Style Essentials for the Garden.
(Visited 232 times, 3 visits today)