Every spring, the riot in the garden raises expectations so high that it's nearly impossible to believe I'll ever have to live in a post-peony world. But come June, it's time to fill–fast–all those big holes the spring bloomers left behind.
Here are ten favorites–annuals and a few obliging perennials for a temperate zone–that make me forget, come August, that I ever cared for anything other than the blowsy extravagance of a late-summer garden (sorry, peonies):
Cleome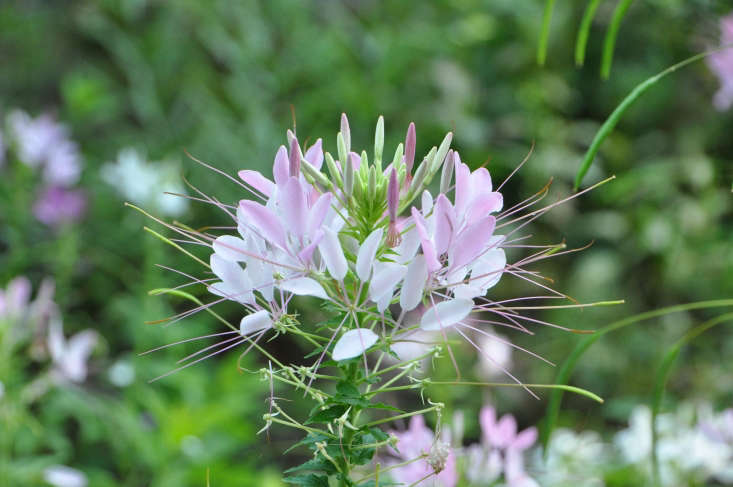 Above: Cleome practically explodes, growing from a seedling to a 5 foot tall preener by August. Although it's an annual, you'll probably not need to buy cleome twice; it enthusiastically self sows and will try, next year, to claim the garden for itself. To keep it corralled, pull out unruly volunteers before they develop thick, spiky stalks. A packet of Cleome, Queen Mixed Colors seeds is $4.95 from Burpee.
Nicotiana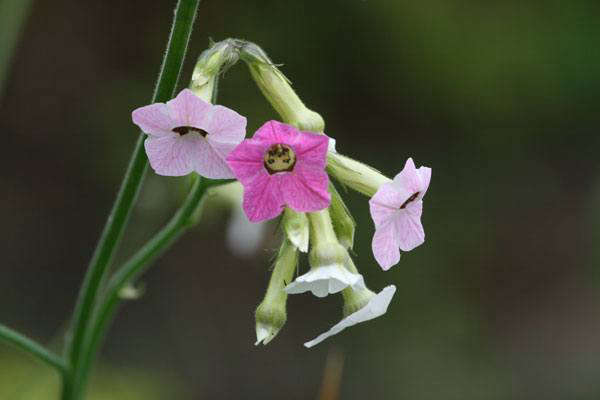 Above: For full sun or bright shade, consider pink Nicotiana. Fast-growing Nicotiana Mutabilis blooms white and then ages to a deep pink; it's $6.95 for a 4-inch pot from Annie's Annuals.
Dahlia
Above: With their strong stems, showy flowers, and propensity for facing you dead-on—as if posing for a model's headshot—dahlias can pretty much carry the summer garden without any extra help, thank you. The downside is you must dig up tubers in the winter, in climates where temperatures drop below 20 degrees F. For a pink flower the size of a dinner plate, consider Dahlia 'Onesta'; it's $9.95 from White Flower Farm.
Cosmos
Above: In bright sun, Cosmos plays well with others; its delicate, fringed stems won't overwhelm the flower standing next to it. Pinch back spent blossoms to keep it flowering through late summer. While nurseries tend to sell mixed colors as flats of seedlings, you can order one specific shade from Annie's Annuals, where for example Cosmos 'Prom Dress' is $5.95 per plant.
Verbena
"You know this plant—it's one of the greatest all purpose, make your garden look good no matter what plants," notes Annie's Annuals. With purple flowers at the tips of giant, 6-foot-tall stalks, Verbena Bonariensis draws attention away from problem spots in a garden; $6.95 for a 4-inch pot from Annie's.
Coleus
Above: For shaded window boxes or container plantings, Coleus, Ipomoea, and Caladium grow quickly; strong complementary colors look especially good in shade. Coleus Dipt in Wine is $7.95 from White Flower Farm.
(Visited 82 times, 1 visits today)