Is it a garden cart or is it a wagon? The best of breed can do double duty. Here are 10 of our favorite ways to haul loads in the garden, at the beach, or from the market:
Above: Design house Atelier Tradewinds updates its classic last-a-lifetime collapsible garden cart by adding a hard-sided wicker basket. The Wicker Wagon is €990 from The Van.
Above: Also from Atelier Tradewinds, the canvas version of The Wagon is rustproof, rot-proof, and waterproof, Made from lightweight aluminum, polyester, and marine grade plywood, it has 12-inch pneumatic tires and is available in eight colors (including black as Shown) for €840 from The Van. For more about it, see The World's Best Collapsible Wagon.
Above: A Black Edition garden cart from Kyboka has quick release stainless steel wheels, a black canvas cover and two straps to hold it securely, and a weatherproof storage bag; €699.
Above: A Small Garden Trolley has a steel mesh base and sides which drop down for loading and unloading;  £84.99 from Machine Mart.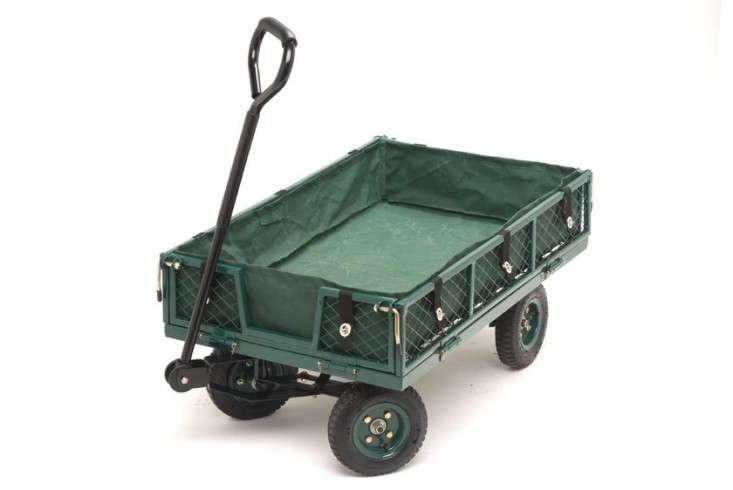 Above: An All-Terrain Landscapers Yard Cart has pneumatic wheels and can haul loads of up to 550 pounds. It's $129 from Gardener's Supply.
Above: A Mac Sports Folding Wagon has a steel frame and nylon shell and can carry loads of up to 150 pounds; $74.99 from Target.
Above: From On the Edge, a red Folding Utility Wagon is $119.99 from Amazon.
Above: With an extra wide wheel base and sturdy steel frame, a Wooden Garden Cart by Carts Vermont can haul loads easily over uneven terrain. It is $319 from Grow Organic.
Above: A Collapsible Aluminum Transport Cart has a pair of extendable legs for added stability and is €490 from Manufactum. For US shoppers, the Tipke Industrial Cart is $319.95 from Carts on the Go.
Above: A Little Mule Multi Cart is adjustable and can operate as a wheelbarrow, dolly, or hand truck; $199 from Gardener's Supply.
For more ways to haul heavy loads, see:
(Visited 1,506 times, 6 visits today)