Of course the English climate is able to support the greatest range of plants on the planet and of course the English sensibility is to thank for the creation of the world's loveliest cottage gardens. But did it ever occur to you that the English also have a much more comprehensive range of high-quality garden tools and accessories than are available to the average American gardener? Here are ten essentials from the English gardener's kit:
Above: Bamboo hand rakes imported from Japan are used by the gardeners at Great Dixter: "As well as for raking leaves in intricate spaces, they also come in handy when cutting hedges as they can be used to even up the hedge after the first cut in order to identify any rough bits."  A Japanese Hand Rake is £10.80 from the Great Dixter garden shop.
Above: Before the weather warms up, cover rhubarb to coax it to flourish early. A Traditional Terracotta Rhubarb Forcer is £60 from Burford Garden Company, which notes: "Simply fill the terracotta forcer with straw and position over the emerging rhubarb bud, to protect from frost and provide a cosy environment."
Above: Started from owner Tina Guillory's home on the Norfolk coast, the Carrier Company is known for its stylish, hardwearing gardener's attire: smocks, aprons, and bags. A Short Jute Apron with an adjustable neck strap is £45.
Read more about the Carrier Company in The Well-Dressed Gardener.
Above:  A weatherproof Traditional Single Handed Grass Shear with carbon steel blades and hardwood handles are the tool of choice for "light topiary use," says London's Clifton Nurseries. Made by gardening tool maker Spear & Jackson (based in Sheffield, South Yorkshire), a pair is £16.95 from Clifton.
Above: Made of cast iron, Barrington Spiral Plant Supports have a dual purpose; in addition to supporting sweet peas and other climbers, they serve as whimsical pieces of  garden sculpture; £14 apiece from Garden Trading.
Above: In the garden, cloches protect tender plants from cold temperatures. A small Victorian Style Glass Bell Jar is £19.99 from Crocus.
Above: A Mini Water Butt to collect rain water measures 26 by 26 by 17 centimeters and is available in three colors including white; on sale for £8.95 (marked down from £15.95) at The Balcony Gardener.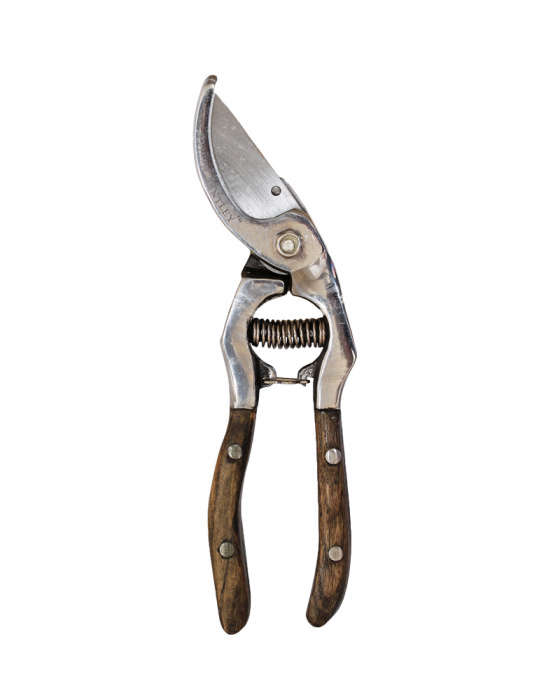 Above: Founded in 1895 in Sheffield, England, garden tool company Joseph Bentley makes two sizes of wood-handled Secateurs with stainless steel bypass blades designed to prune roses and shrubs; depending on size, prices range from 299 to 349 KR from Artilleriet. For US shoppers, a pair of 8-inch Stainless Steel Bypass Secateurs is available for $19.99 from Joseph Bentley US.
Above: Offered by the garden shop at Great Dixter, "these decorative terra cotta cane tops are designed to sit on top of canes in the border, helping identify them and providing protection to the eyes when working and bending." An assortment of five Terracotta Cane Tops is £12.50.
Above: Gate Hurdles from rural England for centuries have been hand-split, shaved, and trimmed using the same techniques and tools (axes, mallets, and draw knives) At Green Man Wood Crafts in Wiltshire, Gate Hurdles are made to order, available in standard or custom sizes, at prices ranging from £17 (for a 2-by-1-foot size) to £70 for a 6-by-6-foot hurdle.
(Visited 217 times, 1 visits today)