Sometimes working in a creative field can feel like living in a Tom Cruise spy film. Like when you open an email from your editor inquiring if you might be willing to create a desktop Zen garden of the "non-tacky, non-cheesy" variety. Talk about Mission Impossible. But I've always said that extreme challenges often lead to the most innovative solutions, so I chose to accept this, ahem, task. 
Of course, my first thought when I read "desktop Zen garden" was of those tiny, sand-filled trays, with stones and little rakes. (Do these qualify as the "cheesy" kind?) But the more I thought about it, the more I realized that the reason that these versions didn't resonate with me was because they were someone else's idea of Zen. (Plus those gardens don't have any plants.)  I needed a different approach.
Then I thought about what a Zen garden really is. Specifically, it is a small-scale landscape–most often with rocks, sand, and minimal plantings–designed to conjure the elements of a grander vista. More broadly speaking, it is a place of tranquility, where one is in harmony with nature: a place not just of contemplation, but also one that encourages a thoughtful interaction and exchange with the natural world.
Where is this place for me? After I asked myself this question, the answer was clear: the coast of Maine. From there the project was easy as I set about to create my own miniature, desktop Down East.
N.B.: Is Maine not your particular Zen-scape? This general idea can be adapted to any mini garden, provided you consider a few basic principles. See below for a list of materials and step-by-step instructions:
Photography by Justine Hand.
Above: After I had my concept, I faced another challenge: The Maine seashore is outside. My mini coast would be inside, a place not suited for many outdoor plants, in particular that signature of the Maine profile: the stately evergreen. So with the help of an expert at Winston Flowers, my local florist/nursery extraordinaire, I selected some look-alike plants that do very well indoors.
Supplies included (from L to R, above): Calocephalus, a native to Australia reminiscent of the gray "old man's beard" that hangs from the trees in Maine; European cypress, one of the few evergreens that does not need to be planted outdoors, and club moss, which reminded me of the many ferns blanketing the forest floor.
Above: The next step was to create a base of soil, rocks, or other material.
Another thing to consider: there is no such thing as a plant that does not need light. But those of you creating a desktop garden for a windowless space need not despair. Hannah at Winstons recommends choosing plants adapted to low light situations and then moving them into a bright conference room, or taking advantage of your boss's corner office, over the weekend.
Above: For the focal point of my garden, I chose a miniature European cypress (Chamaecypari Iawsoniana "Ellwoodii").
Note that if you choose to plant a mini tree, like I did, you will need to treat it as a bonsai, trimming it (hand pinching recommended) regularly to keep it small. But part of the idea of a Zen garden is that it does require interaction and considered care.
For more on bonsai, see Ask the Expert: Bonsai Basics with Eric Schrader.
Above: I anchored the cypress with club moss (Selaginella kraussiana 'Aurea') and Calocephalus (also known as silver bush).
Another piece of practical advice from Hannah: When choosing a group of plants, be sure to select varieties that prefer the same soil, light, and water conditions.
Above: For the final strata of my "shoreline," I layered some moss from my yard. Then it was just a question of the last touches: beach stones and a stick to conjure the ocean-tumbled rocks and driftwood of the Maine Coast.
Above: Like a miniature Maine horizon, my Zen garden will remind me of my favorite summer landscape all year long. (The painting, in case you're wondering, is by my 8-year-old son, Oliver, who rather serendipitously was learning about Chinese watercolors.)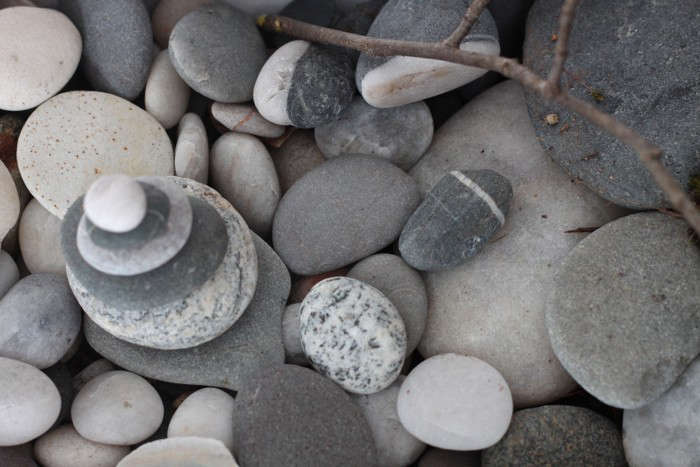 Above: Finally a use for all those beach stones I've collected over the years!
Stones are an important element of most Zen gardens. In ancient China, where these gardens originated, rocks were used to represent the legendary mountains of the immortals. In and East-meets-West combo, I used stones to make a mini cairn like those that mark the trails in Maine's Acadia National Park (while at the same time creating the requisite harmonious balance in my composition). Also, Zen gardens are not static places, and the stones as well as the plants reflect this. I can imagine playing with my rocks, adding new ones, and even rolling them in my hands for a little calming reflexology.
Above: Texture is also an important principle in Zen gardens. Here feathery plants contrast with spiky sticks and smooth stones.
Above: Though water need not be present (and would certainly not be recommended near a computer), in Zen gardens it is often implied. Rather than relying on ripples of raked gravel or sand, I conjured water with rocks that look like an ocean or river bed.
Above: A day later and my Zen garden is already beginning to inspire. I love the way the light is hitting the greens this morning.
Above: Though the garden is seemingly simple, a slant of sunlight reveals its subtle complexity.
DIY Desktop Zen Garden
Supplies:
Calocephalus or Silver Plant

, available in a 4-inch pot at Annie's Annuals; $7.95

European or "false" cypress, also known as C

hamaecypari Iawsoniana "Ellwoodii"

  or Port Orford Cedar; readily available at this time of year

Club Moss

, available at Pernell's; a 3-inch pot is $10

A shallow vessel. One could even use a pie plate. With all those rocks, I chose a lightweight plastic planter that looks like enameled wood (similar ones are available at

Terrain

).

Beach stones. Mine have been collected over the years, but if you don't live near the coast, Water Color Sky sells groups of

Nine Ocean Tumbled Stones

; $4.99.

Quality potting soil such as 

Coast of Maine Bar Harbor Blend

; $21 for 8 quarts
Continued Care:
Maintenance of your garden depends largely on the type of plants you use. Mine will require weekly waterings and decent sun. If you choose a desert theme, your plants will require less water. Plants in dry office spaces may also benefit from regular misting. (Note: The world's easiest desktop garden is stones in a dish with a few air plants on top.) Be sure to consult an expert about specific plants.
N.B.: Do you think a desert motif might be more in keeping with your concept of Zen? Let Michelle's succulent Tabletop Garden inspire.
(Visited 57 times, 3 visits today)