Keeping fragrant flowers in a communal office can be tricky. For some of us, it's a treat to have a fresh smelling arrangement to clear the air. But others might not be so keen on it. One way to keep everyone happy is to make the arrangement small and contained for a personal desk. Another more exciting way is to mix a floral scent with a more earthy, herb-y small–a foliage, for example, that is aromatherapeutic, and that most people find pleasant.
I have a full-on obsession with geranium, you name the type; it's a serious love affair. The leaves have a citrus-y, bright smell, known to have a balancing effect on mood. And I haven't met anyone who does not like the scent of geranium. 
For step-by-step instructions for creating a fragrant floral arrangement for the office, see below:
Photographs by Sophia Moreno-Bunge.
Above: For this fragrant arrangement, I decided to make a base of geranium, then added a few paperwhites–my favorite winter flower–and gardenia, for the true flower lovers. 
Above: My materials. 
You could try mixing your own choice of fragrant foliage (lavender, eucalyptus, pine) and whatever fragrant flower you like (and don't forget to look up their aromatherapeutic properties!).
Above: A base of gardenia and geranium.
To recreate this arrangement, you'll need a bunch of fragrant geranium, a bunch of paperwhites, a gardenia plant to clip (you can plant it afterwards), clippers, and a small vase (about 3 inches by 4 inches). First, fill your vase with water. Next, create a base of geranium stems cut long enough to allow the leaves to rest on the lip of the vase. Measure each stem by holding it up to the vase before cutting.
Insert each stem diagonally into the vase. Turn the vase as you go, to make sure you cover every side of your arrangement.  You can choose to make your arrangement loose by adding fewer geranium stems.
Above: A fragrant gardenia bloom.
Next, you can add a few stems of gardenia (or whatever flower you choose). With gardenias, try not to handle the flower too much, because its petals can easily turn brown.
Above: Nir Paperwhites have a more moderate fragrance than other paperwhites; a ten-pack of bulbs is $11.95 from Willow Creek Gardens.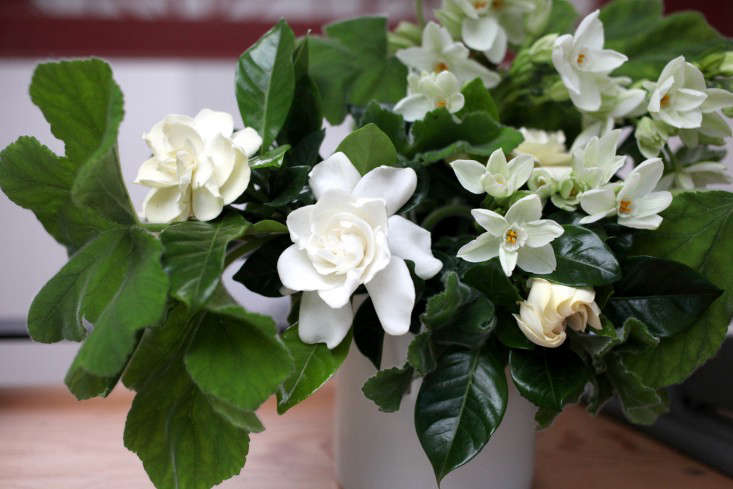 Above: For a final step, add paperwhites. I added them in a cluster, making it look as if they were growing in a little patch within the arrangement. 
For more of Sophia's floral arrangements, see DIY: A Wild and Foraged Winter Bouquet.
See also: Bottle-Fed Paperwhites and Get Your Paperwhites Drunk for Better Blooms.
(Visited 66 times, 1 visits today)