Wente Vineyards is the country's oldest continuously operated family-owned winery, established 125 years ago. Good to know: if you happen to be passing through Livermore, CA, the winery is offering its annual autumn garden tour on October 9 (it's well worth a detour).
For more information, go to Wente Vineyards.
Photographs by Marla Aufmuth for Gardenista.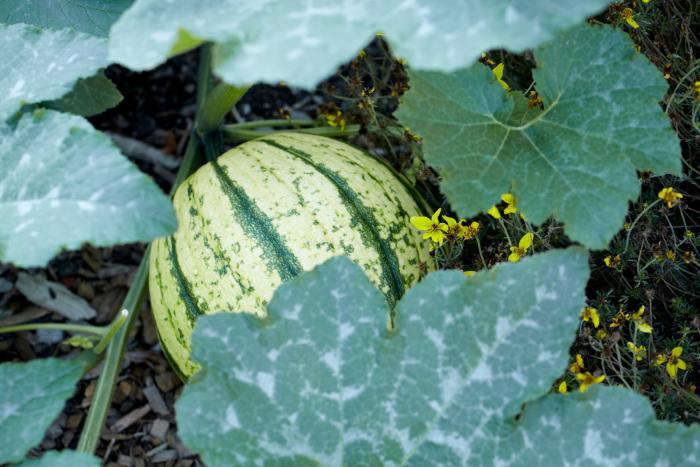 Above: Tomorrow, Head Gardener Diane Dovholuk and Executive Chef Matthew Greco will be leading a Garden Tour and Tasting in their kitchen garden. For more information, see Wente Vineyards.
Above: Diane Dovholuk had been a server in The Restaurant at Wente in the 1980s. She slowly started developing an unused corner of the grounds into a garden. She began composting food scraps from the restaurant and talked the vineyard manager to run irrigation to the garden rows. Over time, she took over more space and it's now a 1,000-square-foot vegetable garden that supplies much of the produce and inspiration for the restaurant.
Above: The greenhouse has greens started for the winter garden. These Ethiopian Greens are very popular. The seeds are from Artisan Seeds.
Above: This year eggplant was a bumper crop. Chef Matthew Greco uses eggplants in a dip with chilies and roasted tomatoes.
Above: Diane Dovholuk, head gardener at Wente Vineyards, describes the blazing magenta amaranth that towers over the peppers and peeks up behind the tomatoes in the kitchen garden as the "attitude plant." Executive Chef Matthew Greco plans on using them for grain. This is a newly formed collaboration, and restaurant specials evolve from chef and gardener working together.
Above: Diane couldn't remember how many different varieties of tomatoes she was growing, but the general answer was "a lot." These beautiful heirlooms are "Solar Flare." Currently sold out. Solar Flare seeds are available seasonally from Heritage Tomato Seed; check for availability.
Above: The chef showed his Texas roots with his purple tomatillo appetizer. He pickles them, then batters and fries the veggies. They are served with a buttermilk dressing.
Above: Wente Vineyards is now run by the fourth and fifth generations of grape growers and wine makers. Their wine is well known, but the chef's garden is a hidden gem.
(Visited 62 times, 1 visits today)