Are those mushrooms edible? The weekend forager needs to know. Handing out life and death in equal measure, the fungi family is a fascinating one. So we accepted an invitation to hunt for mushrooms in Sussex with alacrity, after being promised expert advice.
October is the best month for foraging: mushrooms and toadstools spring up after rain, when the ground is still warm. Here are some tips:
Photography by Jim Powell for Gardenista.
Mushroom enthusiasts are not led by their desire to eat; greed is more likely to lead one astray. It's all about finding and learning: "It's a slow process," says Anne Yarrow, our expert, "and a very enjoyable one."
The small number of mushrooms that we know about range from good to eat to deadly poisonous. In between there is edible (not always worth the trouble) and poisonous (will make you ill). The vast majority of mushrooms are mysterious to us and likely to remain untested. The case of the Brown Roll Rim highlights our lack of knowledge: it has been moved over from "edible" to "deadly" after it was discovered that its toxins were cumulative and that it would get you in the end.
A Sussex trug is ideal when foraging, its rigid, flat base keeps different species separate. Always take a guide book: we took Roger Phillips' clearly illustrated Mushrooms.
The forest surrounds our meeting place, the Ashdown Park Hotel. The whole area was a Norman hunting ground, and villages and estates still have the atmosphere of clearings in the woods. The woods are inviting.
Puffball Mushrooms
The window of opportunity is small; when the spores begin to ripen, slime soon follows. Yes, they are officially "edible," but like an old lettuce in the back of the refrigerator, they are best avoided.
Bay Boletus Mushrooms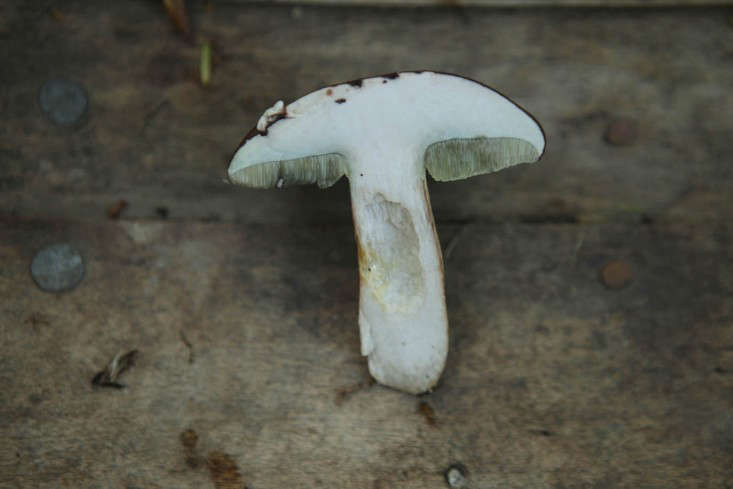 Bay Boletus has a good working relationship with the tree roots it congregates around; they are micorrhizal partners. In describing their co-habiting life, our guide Anne helps me to understand why we use micorrhizal powder when planting bare root shrubs:
Mycelium, the root-like structure that spreads around mushrooms, join the rootlets of a woody plant, feeding on its carbohydrates. The plant in turn uses this network for drawing water and as a vital mineral source. It's a mutually beneficial relationship.
Toughshanks Mushrooms
"The natural system comes to a halt without fungi," says Anne.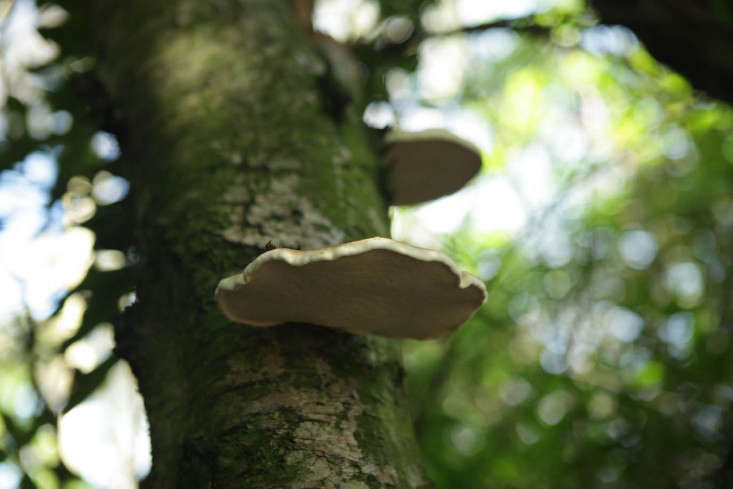 Picking mushrooms should be done responsibly, as is the case with all foraging. However, a toadstool is simply the fruit of the fungus. The important part, the network of root-like mycelium, is left behind in the leaf litter. It is important not to leave a gaping hole after picking a mushroom; spread the leaves back in order to protect the invisible structure that has been left behind.
Inkcap Mushrooms
Fungal benefits: fermentation, penicillin, food and folklore. Mold on cheese. Fungal drawbacks: parasitic pathogens, invisible spores, deadly poison. Mold on bread.
The dedicated mushroom knife by Opinel has a brush attachment at one end.
N.B.: Foragers, take note. There's more to read:
(Visited 112 times, 1 visits today)