Our judges have selected the finalists, now you choose the winners. Vote for the finalists in each of 12 Considered Design Awards categories, on both Gardenista and Remodelista. You can vote once a day in each category, now through August 15.
In the Best Amateur-Designed Small Garden category, our five finalists are Nicole Gjeldum, Joni F., Nicola Wilkes, Bill McKinney, and Pete Joseph. 
Project 1
Nicola Wilkes | Llantwit Major, UK | Simple Scandi Style Garden
Design Statement: "We wanted to make the most of our odd, triangular shaped garden. Our aim? Turn the biggest negative of our house into the biggest positive and combine the following: seating, BBQ area, play area for children (not one trampoline or swing in sight), shade, canopy, black, white, and rustic style."
Chosen by: Gardenista editor in chief Michelle Slatalla, who said: "I love this modern white garden, with its flexible lounge, dining, and work spaces. It can become anything you need today (and then transform itself in a new way tomorrow)."
Above: "Scandinavian-style, simple family garden."
Above: "Built-in seating area."
Above: "Seating area softened with sheepskins that are kept in a basic bin by the back door."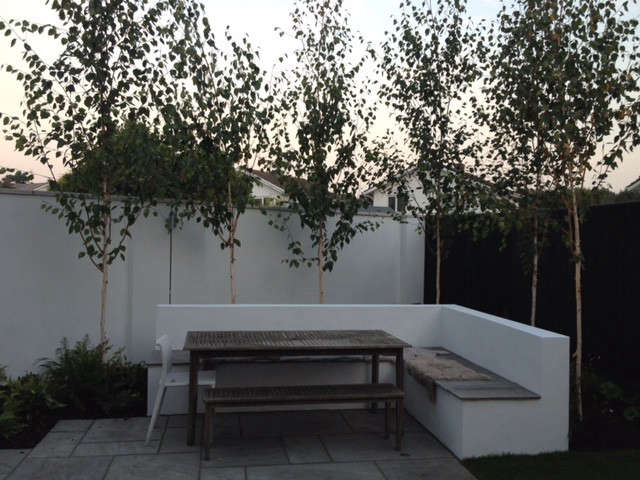 ---
Project 2
Bill McKinney | Philadelphia, PA | Edible Urban Small Garden
Design Statement: "I live in the fifth largest city in the US. The neighborhood is part of the second poorest Congressional district in the US. Space is at a premium, and my response is an edible space, so kids can also learn about what they can do with their space: aquaponics, container, chicken, and rooftop gardens."
Chosen by: Guest judge and event designer David Stark, who said, "This is space use at its finest. I love  that this garden is about function but at the same time, and while probably not intending, it has an industrial look that really complements its setting. A little nature goes a long way in this environment."
Above: "Third story and second story aquaponics with a background of the Philadelphia skyline."
Above: "Side-of-house aquaponics system. The system also produces 50 pounds of tilapia a year."
Above: "Second story aquaponics system with tabasco plants used to make hot sauces."
Above: "Rooftop container garden and chicken coop."
---
Project 3
Joni F. | New Suffolk, NY | Teardrop Delight in New Suffolk
Design Statement: "For 12 years we drove by this house and thought, 'Why doesn't someone love it?' We were able to buy it and sell our beloved house around the corner. With the help of a landscaper we did some serious planting. The front teardrop has evolved over 10 years."
Chosen by: David Stark, who called the project a "Lovely garden that has a good balance of broad, sweeping strokes as well as smaller, intimate details. The weathered, natural fence works really hard and beautifully offsets the beds from the rest of the landscape." 
Above: "Every week the garden evolves with color and new sights."
Above: "Fragrant roses."
Above: "Third-floor overview."
Above: "Lavender blooming through a locust fence needed to keep horses out."
---
Project 4
Nicole Gjeldum | Naperville, IL | Garden Rooms
Design Statement: "Our garden is made up of many garden rooms, from our children's garden and small vegetable patch to our rambling paths through our shade gardens. My goal from the start of creating this garden eight years ago has always been about creating an oasis on a basic city plot."
Chosen by: Michelle Slatalla, who said: "In this garden, you have no way of knowing if you are in the country, the city, or suburbia. And that's its genius–it's its own universe, in nature."
Above: "Garden room–a stroll through the side garden room to enter the back garden."
Above: "The sitting garden–a great area of the garden to take in the view."
Above: "The patio garden–this is our sunken patio that is filled with groupings of container plantings."
Above: "Dry stream bed–plantings along the dry stream bed."
---
Project 5
Pete Joseph | Leesburg, VA | Greenhouse with Recycled Materials
Design Statement: "I converted an existing pergola to a greenhouse with windows and doors pulled from a dumpster."
Chosen by: David Stark, who said, "The structure is adorable and inventive, and I love its scale relationship to the trees and lawn it is nestled in. While the garden itself is clean and simple, the greenhouse did just the right trick of providing a focal point to reinforce its lush green expanse."
Above: "Greenhouse built with recycled materials."
Above: "Backyard. Greenhouse gets plenty of shade in the summer, direct sun in the winter."
Above: "Double-paned windows and door on northern exposure."
Found your favorite? Vote once per day in each of 12 categories across both sites, now through August 15:
You need to login or register to view and manage your bookmarks.