In the September edition of the Chelsea Flower Show, it has been refreshing to note that actions speak louder than words, and instead of merely being reminded to be "sustainable" at every turn, we have been able to experience a version of future gardening so thoughtfully done that the result is genuinely thought-provoking.
The most successful show gardens offered planting that wasn't simply overhauled when the late spring show was postponed to the autumn equinox. After all, trees are still interesting at this time of year, and late summer flower color offers more drama than the blues and pale yellows of May. Even irises, in the hands of the masters, had a presence—in the sponsor's show garden designed by Harris Bugg. The sword-shaped leaves were green, and the seed pods, instead of flowers, were doing fine.
Join us as we take a tour and see what's trending:
Photography by Britt Willoughby Dyer.
Urban Natural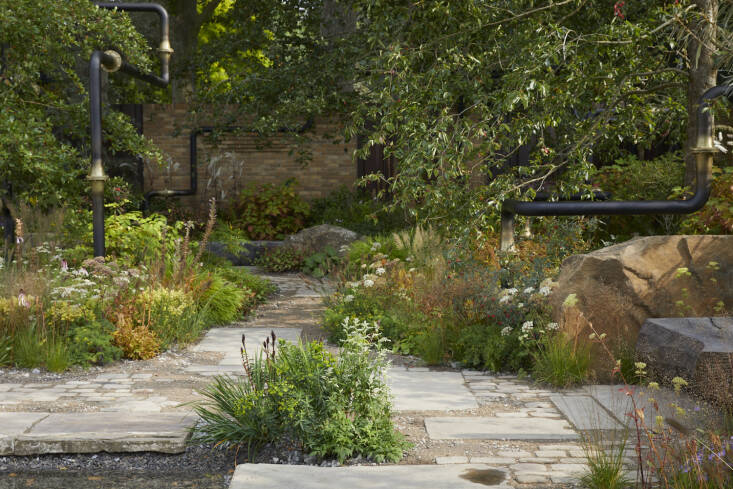 Talked-about design duo Charlotte Harris and Hugo Bugg of Harris Bugg Studio found inspiration in small, abandoned urban spaces, sometimes known in the UK as "pocket parks." They roughly translate as the community parks that bring oxygen and greenery to a town or city. Nothing is brand new in theory, everything is post-industrial, or as natural as a boulder or an old tree trunk smoothed into a bench. Rusted steel is waxed, wood is charred, bricks step back and the exquisitely detailed planting is allowed to sing.
Rediscovered Verb: "To Senesce"
A catch word that has had people checking its definition, and then using it with abandon, is "senesce," which the leaves and grasses are happily doing in the M&G garden. As they decay elegantly (or senesce), flowers such as Aster cordifolius become even more luminous. When the Chelsea date moved from May to September, Harris and Bugg were able to keep 70 to 80 percent of their original plants, because by coincidence, they'd chosen specimens that were intended to do well over time, not just for show week. That meant some of their plants, like Hydrangea quercifolia and Actaea simplex 'Atropurpurea', are looking at their best now, in September.
Organic Ovals
Steam-bent wood furniture and curved arches made a less formal counterpoint to the soft landscaping this year, but the biggest and most pleasant surprise came from Best in Show winner the Guangzhou Garden: a cluster of bamboo hubs, one reaching almost 30-feet. With no advance publicity, these ethereal forms seemed to come from nowhere, and yet it was all designed in Bath by Peter Chmiel and Chin-Jung Chen of Grant Associates. The geodesic structures are made from laminated moso (Phyllostachys edulis), the world's fastest-growing bamboo.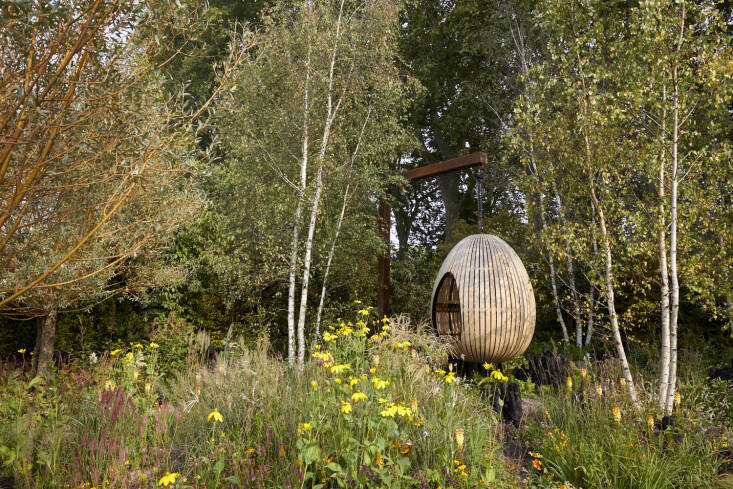 Above: In the Yeo Valley Garden, a steam-bent wooden egg hangs over a stream; it is cantilevered and glass bottomed.
Tom Raffield's egg-shaped "hide," as in bird hide, hangs over a stream in the Yeo Valley Garden designed by Tom Massey. It is cantilevered, so that it can be winched up towards the tree canopy, and glass-bottomed, better to see the babbling brook. After the show, it will take up residence at Yeo's public garden.
Red Hot Pokers Cool Down
It has been a long and hard road for red hot pokers, victims of their own mid-century popularity in colors that were far less beguiling than today's subtle hues. This variety, Kniphofia 'Redhot Popsicle' was in the Blue Diamond Forge Garden, another garden that got it just right in terms of September color, partly because they had always intended to evoke an image of fire in flowers, and smoke in grasses, even back in May.
Eternal Flames
With yellow crab apples and hawthorn trees dripping with berries, the gardens that were happily seasonal fulfilled a need. There was much purple but the plants that made some of us stop and gape were rich and velvety, with fiery colors. Texture can be more intriguing with saturated color and vice versa, in the bold cones of Echinacea 'Salsa Red', and  hirsute stems of Helianthus annuus 'Claret'.
Conversations on Carbon
Charcoal logs from Yeo Valley's organic dairy farm in Somerset are talking points, Chelsea-style: "The biggest conversation in the world right now is carbon," says Tim Mead, Yeo's CEO. The importance of keeping carbon in the soil, greatly aided by biochar, as well as covering the land above it with diverse plants to increase microbe and fungi diversity below the ground is a fascinating, and hopeful, subject.
Take-It-or-Leave-It Hardscaping
The gardens that do well at Chelsea leave no stone unturned, and this is literally true of the emerging fascination with uneven pathways. The soil from which plants emerge is no longer uniform and dark brown: it's real, it has stones and grit. Larger rocks were chosen here, as a footpath that forces people to slow down. A private garden is one place where health and safety is not regulated. In a show garden, the hope is that a judge doesn't trip.
For ease of passage, bits of cobble, railway station slabs, and unclaimed pieces of metal blend in with a selection of aggregates to form the horizontal planes in the Harris Bugg garden. Either way, they were no easier to assemble than commissioned slabs, but they resonate in this more reflective Chelsea.
Good Trees
The Guangzhou Garden is intended as a dialogue about ecological urban planning, with a large surface area of exquisitely planted water, and notably well-shaped conifers. The supremely light touch is continued with a serene haze of airy blue salvias (Salvia uliginosa—seen in more than one garden) and white thalictrums (Thalictrum delavayi 'Splendid White') across the sunnier areas. The garden was commissioned by Guangzhou City, which has a proud record of progression from being of one of the most, to one of the least, polluted cities in China. It is a feat of imagination with a dreamy quality, not least because it is so green and textural. Andrew Grant of design practice Grant Associates makes a succinct summary of the garden's ethos: "Imagine a world where cities are defined not by their architecture but by their landscape and ecology."
For more on the 2021 Chelsea Flower Show, see:
(Visited 340 times, 1 visits today)