Have you ever tried to propagate plant cuttings? It can be challenging. But it doesn't have to be. Enter Rootcup.
Michael Good (a former Apple engineer and head of the product development company good3studio) created Rootcup, a cup which cradles cuttings until roots develop well enough to be transplanted. The idea came from his friend's daughter, who picked a rosemary cutting that Good placed in a sake glass on his kitchen table. Good and his wife added water to the cup until roots developed; rosemary thrived and ended up in their garden. They moved on to try succulent cuttings, and before they knew it all their sake glasses were filled with different roots.
After a few attempts to make lids for the cups from aluminum foil (to keep the cuttings out of water) Good ended up making a clay prototype, which led the way to the Rootcup (made from a super-durable non-toxic elastomer).
The assembly and packing is done at a rehabilitation workshop in San Francisco (Good's home town) by people who are unemployed due to disability. One might wonder what Good's next invention might be—in an interview with Treehugger he mentions taking on the orchid—he definitely has our attention.
To learn more, go to Rootcup.
Above: A set of six Grey Original Rootcups is $30 from Rootcup. The original Rootcup is available in three colors: gray, green, and clay.

Above: Big Rootcup (same concept, just in a larger cup) is $14 from Rootcup. The cup also comes in three colors.
Above: The lid holds a cutting's leaves above water to prevent rotting,
Above: The Rootcup protects a cutting's roots from light, which helps them grow.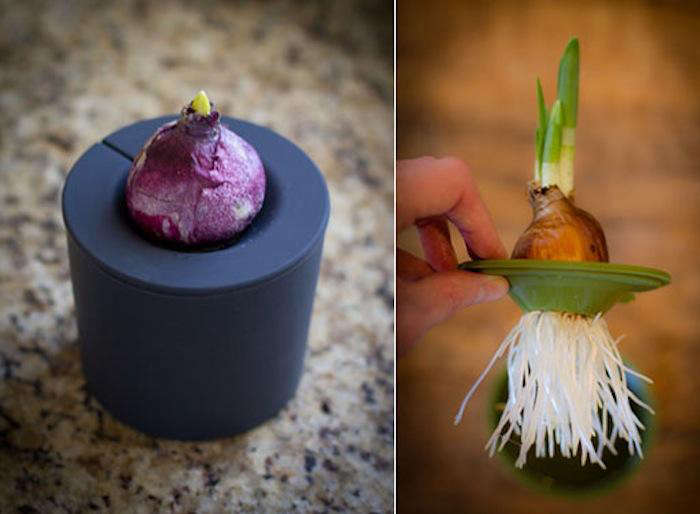 Above: A thriving bulb.
Eager to root cuttings? For another of our favorite techniques, see our video How to Clone Herbs in the Kitchen.
(Visited 58 times, 1 visits today)