Robert Frost's "The Road Not Taken" may be an icon of American poetry, but it was written about a friend in England who was plagued by indecision. The path of Frost's days of walking and talking in Gloucestershire is easy to trace today, in yellow woods of wild daffodils.
Photographs by Kendra Wilson.
"Two roads diverged in a yellow wood," Frost wrote in 1916. Referring to his spell in Gloucesterhire when he lived among English poets and was becoming a better poet himself, there is no doubt which yellow wood he is referring to: Dymock. In late March, the hedgerows and woodland in these parts are still carpeted with Narcissus pseudonarcissus.
The wild daffodils in the valleys around May Hill in Gloucestershire are smaller than the garden varieties, no higher than a hand's length. They thrive in damp, undisturbed woodland, and they are left in relative peace in pockets of preserved land with names like Betty Daw's Wood. The poets walked for hours around here–Robert Frost and his close friend Edward Thomas in particular–leaving their families and cramped quarters way behind.
Wild narcissus is not only under threat from forestry and farming but from the domesticated daffodil. When larger, cultivated varieties are grown near the wild colonies, the pure species strain is lost.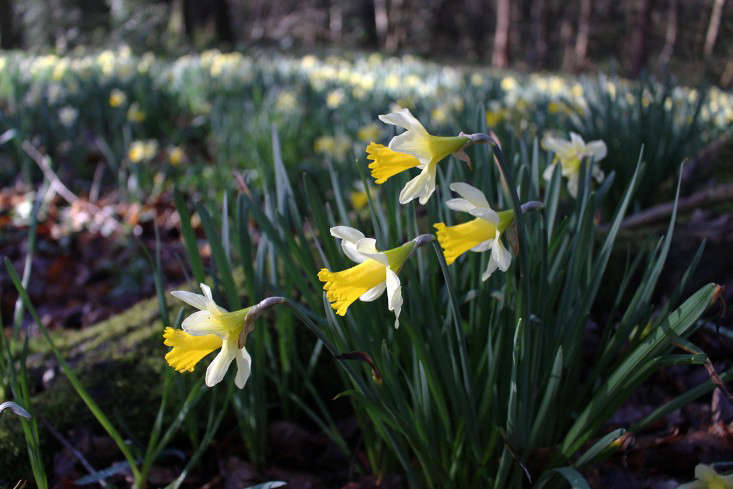 Though Americans have their claim on him, Robert Frost is a central figure with the English group known as the Dymock Poets. None of the poets, who descended on and around the Old Nail Shop in the parish of Dymock in western Gloucestershire, came from the local area. They were tolerated by locals however, and their writings were closely intertwined with the landscape. This period of camaraderie and inspiration was brief. One of the regulars, Rupert Brooke, was killed almost immediately on enlisting for battle in 1914.
Robert Frost's involvement with this group was very good for British poetry. Frost formed an intense friendship with prose writer Edward Thomas over the seasons of spring and summer, 1913-14. It took the American energy of Frost to turn the angst and self-doubt of Thomas into something more fruitful. Edward Thomas, who is remembered in Poet's Corner at Westminster Abbey, began to write poetry because of the friendship and encouragement of Robert Frost, having been a paid poetry critic for years.
Frost and family returned to the States after war was declared, and Edward Thomas had agreed to join them, in theory. His plans were hampered by his "Shall I-Shan't I" way of thinking.
Robert Frost said that he wrote "The Road Not Taken" about a friend who, "whichever road he took he would be sorry he didn't go the other." It was written about Edward Thomas.
The poem's gently mocking tone, in which it is clear that neither path is necessarily better, so riled Thomas that he rushed off to enlist and joined the Artists Rifles regiment within days.
Robert Frost had written: "The best way out is always through." Edward Thomas told Frost that he had made the decision finally "to go through." One of our best-loved pastoral poets, Edward Thomas only began writing poetry in 1914 and by the end of the war he was dead.
The summit of May Hill, crowned with Corsican pines. It is the physical focal point of the area and an imaginative one, inspiring reams of verse both good and bad.
For a different kind of narcissus experience, find out about the World's Best Narcissi from the Scilly Isles. In the mood for more introspection? Recline on The Poet's Sofa at Remodelista.
Finally, get more ideas on how to successfully plant, grow, and care for daffodils with our Daffodils: A Field Guide.
Interested in other bulbs and tubers for your garden or indoor space? Get more ideas on how to plant, grow, and care for various bulbs and tubers with our Bulbs & Tubers: A Field Guide.
Finally, get more ideas on how to plant, grow, and care for various perennial plants with our Perennials: A Field Guide.
(Visited 187 times, 1 visits today)