San Francisco Bay Area-based o2 Treehouse specializes in designing and building "arbor-textual creations" for residences and commercial properties.
Since 2006, when founder Dustin Feider coupled his background in furniture design with his passion for outdoor climbing to start building treehouses, he and his crew have built dozens all over California.
In September of 2014, the team built a two-story structure on 30 acres in Calistoga near Northern California wine country. For a client who wanted a treehouse that complemented a ranch-style house just 5 yards away, Feider came up with a design that includes interior space, a slide, a swing, and a cantilevered platform.  Let's take a look around.
Photography courtesy of o2 Treehouse.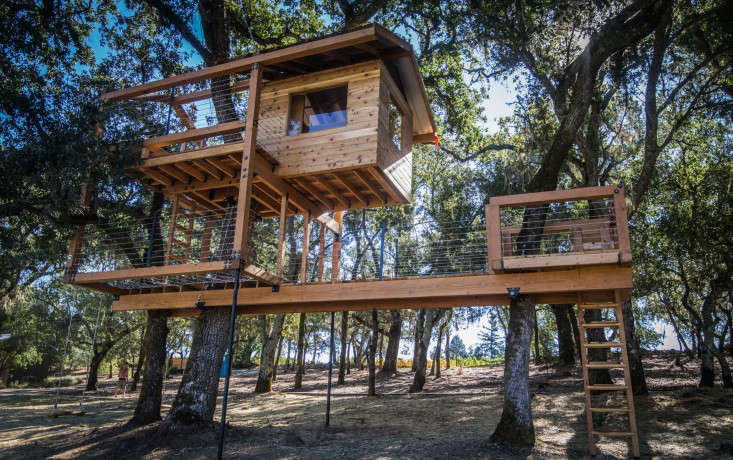 Above: From initial sketch to completion, the project (which measures 27 feet long) took six weeks. The structural beams are made from kiln-dried Douglas fir and the siding is coated cedar.
Most treehouses are suspended by cables, but this particular design required a different setup to ensure it would withstand the elements. To allow the tree to sway normally in the event of heavy wind, the structural beams sit on bolts.
Before
Above: Laying out the bones of the building.
Above: The treehouse in its final stage. After installation comes the process of caring for the tree by aerating the soil. This guarantees minimal damage to the tree and its roots, which can become suffocated in compacted soil created during construction.
After
Above: Fabricated offsite, the roof is made from Galvalume panels, a mixture of steel and aluminum.
Above: Quarter-inch cable railings line the cantilever.
Above: The structure was built around the canopy to ensure that visitors had a view of a "wonderful part of the tree," said Feider.
Above: The second-level interior.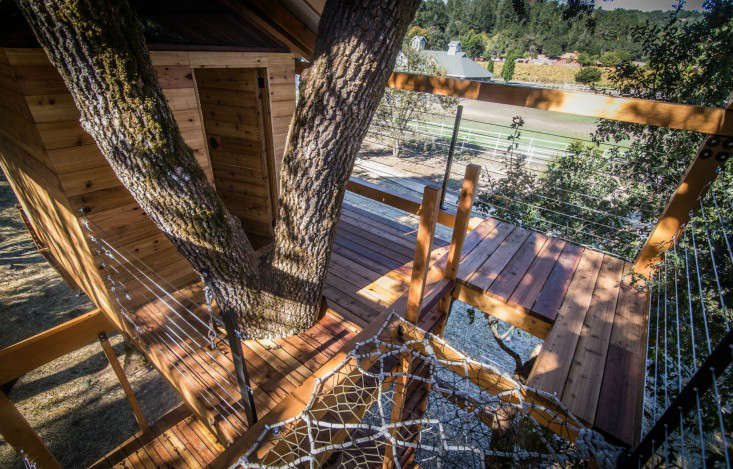 Above: Feider enlisted a local weaver to create a floor mesh from marine-grade rope.
For similar projects, take a look at Architect Visit: An Indestructable Cabin on Stilts by Olson Kundig.
(Visited 155 times, 1 visits today)